Krypton Season 1: Decrypting Krypton Episode 6
The latest episode of Decrypting Krypton is hosted by Matt Hiscox and his guest host Anais Lucia. The episode also features interviews with artist Jordan Kotzebue and actor Cameron Cuffe. We also get to learn exactly what a Superman push-up is and they talk about the big surprise reveal that takes place in the episode. Spoilers ahead for the episode.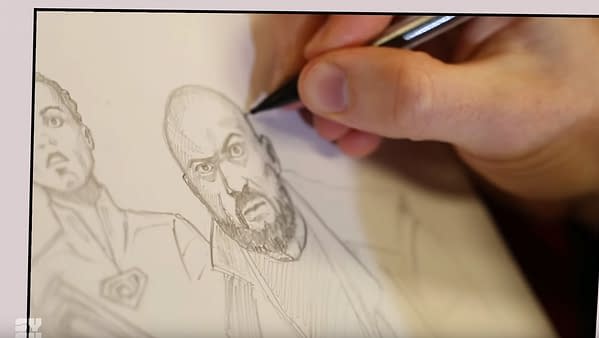 The series is dealing with the previous reveal of the Black Zero leader actually being General Zod (Colin Salmon) who has come back in time to stop Brainiac from stealing Kandor City, because the theft of the city is what leads to the weakening of the planets core and eventual destruction of Krypton. In the comics Brainiac does steal Kandor but it is not the cause of the planets destruction, but it works really well for the plot. This revelation changes everything we've though up until now and in a way makes Zod the hero as he wants to save the planet and Adam (Shaun Sipos) the villain as he wants millions to die to save one… yes it's Superman, but still one person. But the other big reveal here is that the Cythonnites are protecting a weapon created by both the Houses of El and Zod, the creature named Doomsday. And already the one glimpse we get of Doomsday is so much better than the cave troll we saw in Batman v Superman: Dawn of Justice.
The hosts and Kotzebue talk about how they want to side with Adam, but logically it makes more sense to pull for Zod. The discussion then turn to Superman push-ups that are described by Cuffe as a standard push-up until you reach the top and you through your arms and legs out wide like you're flying, then catch yourself back in push-up position. Cuffe says he can do 27…
There is not talk about the Brainiac reveal this episode, which will likely be the topic for episode seven.
Krypton airs Wednesdays a 10 PM on Syfy with only four episodes left in the season.