The summer press tour for the TCA (Television Critics Association) has been going strong for the better part of a week, and Sons of Anarchy creator Kurt Sutter had some things to say about FX's upcoming Mayans MC during the network's segment.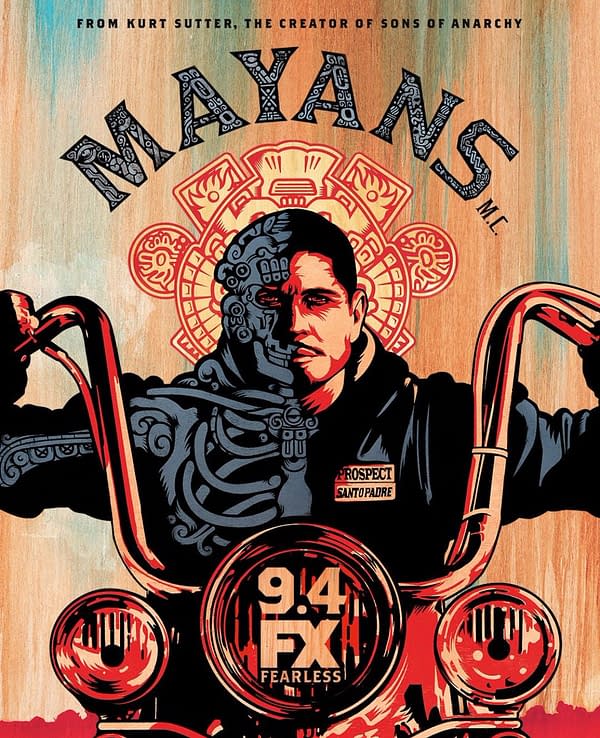 Specifically, on whether or not we'll be seeing much of the SoA mythos rearing it's grim reaper head in Mayans, AND the reveal of a special appearance of a Teller family member. Gemma Teller, played by the amazing Katey Sagal, will reportedly appear in a flashback sequence in the series' September premiere episode.
"It's a flashback to eight years ago and a way of letting us know that he's in Stockton where the two worlds will collide, at least in memory," Sutter said.
He also hasn't let go of the prequel series idea, telling the tale of Jax (Charlie Hunnam) Teller's dead father, John.
"I love the idea of doing the first 10 of a prequel. It would be a 10-off. I'll try to find a way to introduce that during the course of the Mayans."
The big thing for Sutter with Mayans MC is keeping the new series as it's own thing, and not mess with the established mythos of the previous series.
"I don't want to mess with that mythology," Sutter said. "That mythology can live in imagination. But flashbacks wouldn't be stepping on what is happening now."
Mayans MC is set to premiere on FX on September 4th 2018.
Enjoyed this article? Share it!