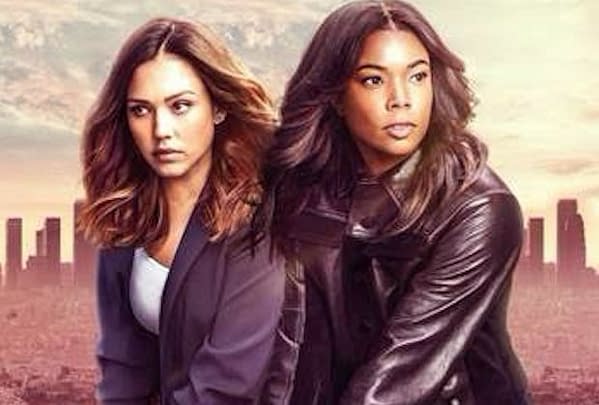 It looks like NBC's unexpected loss is Charter Communications' gain in a major way, with the media company giving a 13-episode series order for Gabrielle Union and Jessica Alba-starrer L.A.'s Finest.
Set to premiere in 2019 exclusively on Spectrum, former CSI: NY showrunner Pam Veasey will serve as series showrunner and will executive produce alongside Alba, Union, Sonnier Margolis, Jerry Bruckheimer, Doug Belgrad, Jonathan Littman, KristieAnne Reed, Jeff Gaspin, and Jeff Morrone. The series is a joint production from Sony Pictures TV, Jerry Bruckheimer Television, Primary Wave, and 2.0 Entertainment.
Charter Communications recently ventured into original scripted programming by signing co-production deals with AMC Networks and Viacom and hiring television executive Katherine Pope to lead its efforts:
"Charter is excited to partner with top producers Sony, Bruckheimer and the rest of the incredible team behind and in front of the camera on our first Spectrum Original Content endeavor," said Pope. "Our content partnerships offer us a great opportunity to provide Spectrum customers with the dynamic, authentic and unique programming that drives value for their Spectrum subscription." – Pope
In the pilot written by Brandon Margolis and Brandon Sonnier and directed by Anton Cropper, L.A.'s Finest follows Union's Special Agent Syd Burnett (from 2003's Bad Boys II) as she moves to Los Angeles and joins the LAPD. Free-spirited former DEA agent Burnett has a fresh start in her new job as an LAPD detective; with Nancy McKenna (Alba) as her partner, a working mom who view's Burnett's freedom with some envy.
Joining Union and Alba are Ernie Hudson as Joseph Burnett; Zack Gilford and Duane Martin as Ben Walker and Ben Baines; and Ryan McPartlin as Patrick McKenna.
"Charter has a strong passion for the project and we could not be more excited. Immediately we knew this innovative new platform was absolutely the right home for L.A.'s Finest." – Jeff Frost, President, Sony Pictures
Enjoyed this article? Share it!