[UPDATED] Legion Season 2 Recapped at SDCC
Info courtesy of Bleeding Cool's Marcos Salinas:
A trippy Legion season 2 recap just aired at the show's panel at San Diego Comic-Con, and we're going to break it down for you now in the most descriptive manner we can.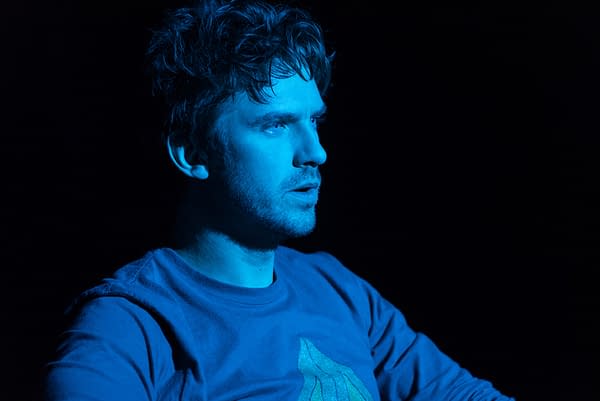 The recapopens with an egg cracking open, and a black mass extends out of the shell. A character from the future says this is from an alternate timeline, but David/Legion (Dan Stevens) believes it is Farouk, the Shadow King. The future person says that it is impossible because Farouk is dead in the future.
We cut to dancing and unnerving musical shift. The camera shifts to multiple angles, attempting to impart the sense of disorientation. A large insect creature infects David's friends with its inky black liquid. David fights it on another plane and sees it as small and far less dangerous.
The theme of a multiverse and a many timelines continues to come up, and we are shown women with mustaches and many voices. We see Lenny (Aubrey Plaza) at this point.
Lenny wakes in a room covered in sticky notes made into patterns. She has been chasing a mystery, the heart of which turns out to be an electric octopus. The light of the creature glows through the window. She's asked if she loves someone, and she says "Don't be stupid."
David drills into a bearded man while a woman watches, and darkness inks out of the man here too.
David battles Farouk's physical form and readies to smash his head with a rock, not unlike Cain and Abel.
The trailer ends with David escaping from imprisonment. His jailers ask what to do now, and someone says, "Now, we pray."
I'm going to cop to my own ignorance of the show, but Marcos and I tried to relay it to you as best as possible.
Update, July 22, 8:35 p.m. CDT: A previous version of this article misidentified the video clip shown as a Legion season 3 trailer and not the Legion season 2 recap that it actually was.
I could make excuses for my mistake. I could mention that Marcos was the only one on hand to go to the Legion panel even though he doesn't watch the show. I could mention that I was just trying to pick up work and help the site by taking the workload of relaying the apparent Legion season 3 trailer even though I myself have yet to watch Legion. I could mention that it was the mistake of two people with good intentions just trying to do their job. I just did mention those things, as you can see.
That said, it doesn't change the mistake and me making a public mistake that is embarrassing for Bleeding Cool, and I did make the mistake. I could have left the job on my end to someone familiar with the show. I am sorry for this, and I apologize to the audience and my peers with Bleeding Cool.