STARZ doesn't get enough credit for their series, but I personally think Sweetbitter might change that. While only half-hour episodes, the series has tremendous promise.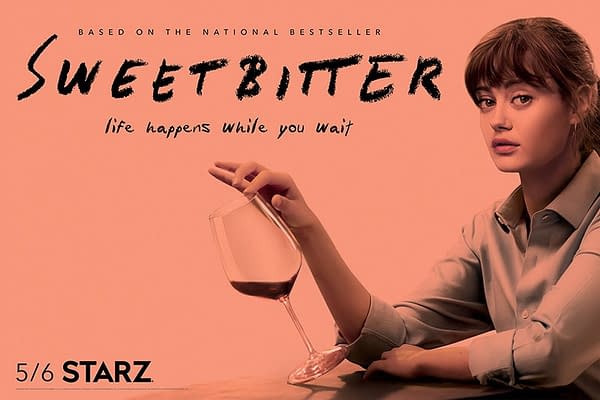 True, it's right up my personal alley — as someone who has a love affair with the culinary world, Sweetbitter is exactly the type of show that caters to me. This is series is based on Stephanie Danler's book of the same name, and this is her first writing credit on a series, which shows tremendous promise and obviously belief from STARZ.
The premiere episode of the first season of Sweetbitter series, 'Salt', was short but sweet and did its job introducing us to main character Tess, played by Ella Purnell.
Episode 2's synopsis reads:
When Tess forgets her wallet at the restaurant, she goes back to discover what happens after-hours: shift drinks. Simone teaches her about the coding of our tongues, leading Tess to become even more enthralled by Simone.
Things that happened in s1e2:
The episode opens with Tess walking alone on a bridge at night, going over the various taste notes. And then she throws up.
She's working service at the restaurant, running items, restocking ice, running drinks
The end of the night comes, Tess sees the tease of Jake (Tom Sturridge)'s tattoo
Will (Evan Jonigkeit) gives her the go ahead to finish bussing and clock out
Howard (Paul Sparks) catches Tess in the kitchen sniffing a chop in the garbage, thinking she was trying to eat it.
He gives her a taste of one of their potato dishes, and she's instantly blown away
Tess stops at a food stall on her way home and orders food only to discover she's left her wallet at work
The kitchen is empty, but the staff has taken over the bar and restaurant area, smoking and drinking.
"Chef drinks, owner's way of saying thanks."
Sasha (Daniyar) slams a drink and heads out
Simone (Caitlin FitzGerald) orders a glass of wine for Tess, who's obviously a little out of her element.
Simone asks Tess what she tastes in the Riesling, still not sure if she likes her or not
"Sweet, sour, salty, bitter."
Tess asks if Simone would teach her more, "It's not lessons, it's just talking."
Howard says goodnight to everyone as the rest of the staff takes off, and Simone walks home with him
It's down to Tess and Nicky (Todd Gearhart), but Sasha comes backs and snags Tess and takes her to Homebar where the staff goes after hours
I love Sasha, omg.
Jake grabs Tess's hand and buys her a drink (she's up to three shots now, and that glass of wine)
Tess gets smacked in the face, due to Sasha, and Ari (Eden Epstein) pulls her into the bathroom to numb the cut, with cocaine. Which Tess takes a hit of after the fact.
Will is at the bar now when Tess comes back out, and he buys her a drink too (4 shots and bump of coke)
The rest of the crew joins Tess and Will at a table, and another round of shots comes round (5 shots)
Ari makes mention of the bartender being her "the one", Heather (Jasmine Matthews) responds with my favorite line of the show so far
"I need an abacus to keep track of all your ones."
Tess babbles, telling a story about John Lennon and how she discovered that God wasn't real.
She's playing this drunkness so so well, it's not too much, it's not slurring completely, but it's just enough that you can see how messed up she is.
She sees Jake and the bartender getting friendly, her observation of them is more trying to learn than it is straight up voyeuristic, or at least that's how I'm seeing it.
The episode ends where it began, Tess walking alone muttering the four tastes, and getting sick
***
While I wish maybe these were hour episodes, the two I've seen so far are making me (forgive the pun) hungry for more.
Sweetbitter airs on STARZ on Sundays.
Enjoyed this article? Share it!