Looney Tunes Cartoons Bans Guns: "We Can Do Cartoony Violence"
Having screened the preview shorts as well as what's been released on the streaming service so far, it's pretty easy to understand why Looney Tunes Cartoons ranks at the top of HBO Max's "must watch" list. Produced by Warner Bros. Animation, and executive produced by Pete Browngardt (Uncle Grandpa) and Sam Register (Teen Titans Go!), the 80, eleven-minute episodes combine that classic look of the original series with themes and storylines that reflect more modern times. One aspect of the original animated run that isn't making the transition to 2020 is Elmer Fudd's trusty rifle (or any firearms for that matter) in response to gun violence in the U.S. In an interview with the New York Times, executive producer Peter Browngardt confirmed that Fudd is only limited by his imagination when it comes to hunting that "wascally wabbit." Just as long as it doesn't involve a gun: "We're not doing guns. But we can do cartoony violence – TNT, the Acme stuff."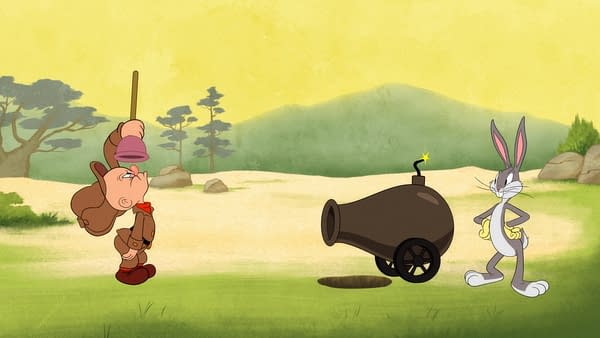 How the Looney Tunes cartoons would evolve with the times was one of the "What If…?" themes that went into making the series and one of the reasons why the series does right by the original shorts: "I always thought, 'What if Warner Bros had never stopped making Looney Tunes cartoons? As much as we possibly could, we treated the production in that way." To that end, Browngardt believes the series reflects our times, just from a slightly different perspective: "We're going through this wave of anti-bullying, 'everyone needs to be friends', 'everyone needs to get along'. Looney Tunes is pretty much the antithesis of that. It's two characters in conflict, sometimes getting pretty violent" [Ed Note: Probably would've been a good idea to leave out that first part because it makes it sound like Looney Tunes is in favor of bullying].
In the previously-released short "Pest Coaster", Bugs (Eric Bauza) finds his junk food-fueled day at an amusement park blocked by nemesis Yosemite Sam (Fred Tatasciore). Bugs wants on the Murderizer in all the worst ways possible, but Sam will do anything to keep that from happening. Thankfully, they both have long histories of level reasoning and rational debate so there wouldn't be anything to worry about, right? Following that, "Wet Cement" sees Porky Pig (Bob Bergen) and Daffy Duck (Bauza) in a battle of wills over wet cement on a sidewalk. Porky's looking to do his job by leveling off the cement for a sidewalk fix. Except that's just too much temptation for Daffy to resist, meaning he might end up one seriously stuck duck.
In "Tunnel Vision", Wile E. Coyote continues his efforts to get his hands on the Roadrunner (Paul Julian). Unfortunately, his unexpected artistic devotion to "realism" could prove his downfall. Finally, a Saturday morning "watch-along" featured three cartoon adventures starring Bugs, Daffy, Sylvester (Jeff Bergman), Tweety (Bauza), and Elmer Fudd (Bergman) to enjoy. So if you're in the mood for a little feline ghost-busting, Fudd's new idea to deal with Bugs, or Daffy falling victim once again to chance and circumstance (you can check out the animated shorts via the links below).