This article contains spoilers for Marvel's Luke Cage season 1, episode 6, 'Suckas Need Bodyguards'.
.
.
.
.
.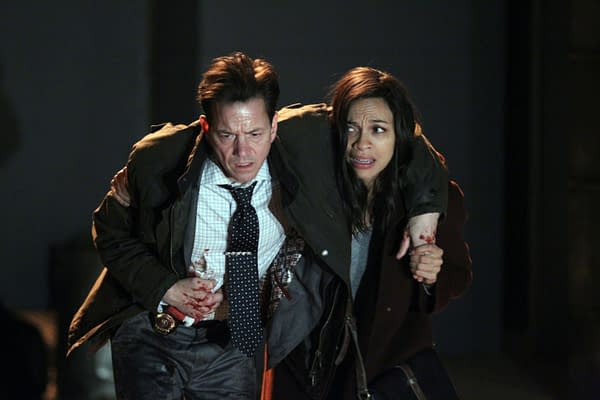 This episode opens with a tie-in to Marvel's Jessica Jones as we see Luke Cage (Mike Colter) out jogging while we hear Trish Walker (Rachael Taylor) doing her radio show. She is talking about Luke and pointing out that those who know him speak highly while those against him have never met him. She says that people are taking notice of the difference he is making.
We then move to a meeting between Detective Rafael Scarfe (Frank Whaley) and Cornell "Cottonmouth" Stokes (Mahershala Ali). Scarfe has the guns Cottonmouth needs to become square with Domingo, but he wants $100,000 to turn them over. Cottonmouth isn't going for that, and they fight over Scarfe's gun. Cottonmouth gets it and shoots Scarfe in the gut, leaving him bleeding.
Mariah Dillard (Alfre Woodard) is doing an interview when Luke comes by to tell her that he's going to put her and her cousin out of business. Luke then has breakfast with Bobby Fish (Ron Cephas Jones) at what turns out to be the restaurant owned by the mother of Claire Temple (Rosario Dawson). Fish is pushing him to be a hero for hire.
Meanwhile Mariah goes to see Cottonmouth. He tells her about Scarfe and she's not happy, but she tells him he needs to take care of Luke. And even if he's bulletproof, he can be poisoned, drowned, burned… she Cottonmouth to find his weakness and squeeze. Cottonmouth calls the police lieutenant and tells him he got the guns out but that Scarfe is bloody and in the wind. Cut back to the restaurant and Claire has arrived. She talks with Luke for a minute about his abilities and what he's going to do with them. He gets uncomfortable and leaves. She follows.
The captain orders Misty Knight (Simone Missick) and Lieutenant Perez (Manny Perez) to find Scarfe and bring him in. He's being considered both a suspect and a victim. Claire catches up with Luke and they walk to the barber shop, where they discover the wounded Scarfe inside. He won't go to the hospital because Cottonmouth will kill him. Claire starts working on him.
We cut to Scarfe's apartment as Misty and Perez look around. We learn that Scarfe had a son named Earl who got ahold of his dad's gun one night and killed himself by accident. Misty says that Scarfe jokes but rarely smiles. Claire gets the bullet out of Scarfe's thigh, but the wound in his stomach hit his liver and she can't do anything for it there. Scarfe tells Luke about Cottonmouth, the guns, and that he was the one that killed Chico. Luke starts to strangle Scarfe, but Claire asks him to stop and he finally does. Scarfe says he has detailed notes on all the murder Cottonmouth had him cover up, how he uses Spurlock Mortuary to dispose of the bodies, and a list of all the cops on Cottonmouth's payroll. He can bring Cottonmouth down. The notes are in his apartment.
Luke leaves Claire with Scarfe and heads out. He gets into the apartment without being seen by Misty and Perez, who are staking it out. He gets in and gets the notes, but they realize someone is inside and race in. Luke jumps out the window before they get to the apartment, leaving an indentation in the cement. He gets back and they leave using Claire's mom's van.
Perez gets a make and partial plate on the van and gives it to Cottonmouth, who puts the word out that he wants Scarfe dead and it's worth $100,000. A group of thugs find the van and give chase. Luke parks in an alley and the thugs open fire, but he punches a whole through the side and into the building, giving them an escape. Misty wants to head to the shots fired call, but Perez tries to stop her. She uses her phone to trick him into confessing to being in Cottonmouth's pocket. She struggles with him but gets the drop and forces him to cuff himself.
Meanwhile Mariah's interview goes off the rail when the reporter asks her about her family's crime connections, her cousin Cornell, and the millions of dollars found in her office at Crispus Attucks. She doesn't respond well to the questions and ends the interview.
Back with Luke, the three thugs catch up and open fire. Luke stops to take care of them as Claire keeps going, trying to get Scarfe to City Hall. They get outside and the last thug comes racing at them with the SUV, but Luke steps in front and stops the vehicle. This is just as Misty arrives and sees this. Scarfe isn't doing well. He tells Misty that he's sorry as he dies.
Misty and the cops go and arrest Cottonmouth. The reporter asks Mariah about her cousin's arrest before they are thrown out of the house. Claire and Luke walk back to the barbershop. He says that Claire is safe and the van was insured; that's all that matters to him. Claire insists that he's special and she wants to help him figure out his powers. He suggests they get coffee and she tells him she's not sleeping with him, pointing out that he didn't even drink the coffee at breakfast. The captain tells Misty that the higher-ups are more concerned about headlines than convicting Cottonmouth.
Enjoyed this article? Share it!