"DC Super Hero Girls": Back and Better Than Ever – Together [SPOILER REVIEW]
The new DC Super Hero Girls series on Cartoon Network premiered on March 8 (International Women's Day) to much fanfare and positive reviews. However, after an excellent hour-long premier and four strong (if narrowly focused) follow-up episodes, the show disappeared. For five weeks viewers wondered when or if the show would return. Finally, on May 12th, the show returned with "#Beeline," its best episode so far.
What followed has been a series of consistently strong and well-written episodes that develop individual characters while highlighting the best aspect of the show: the friendship between the Girls.
Together, the DC Super Hero Girls are better than ever.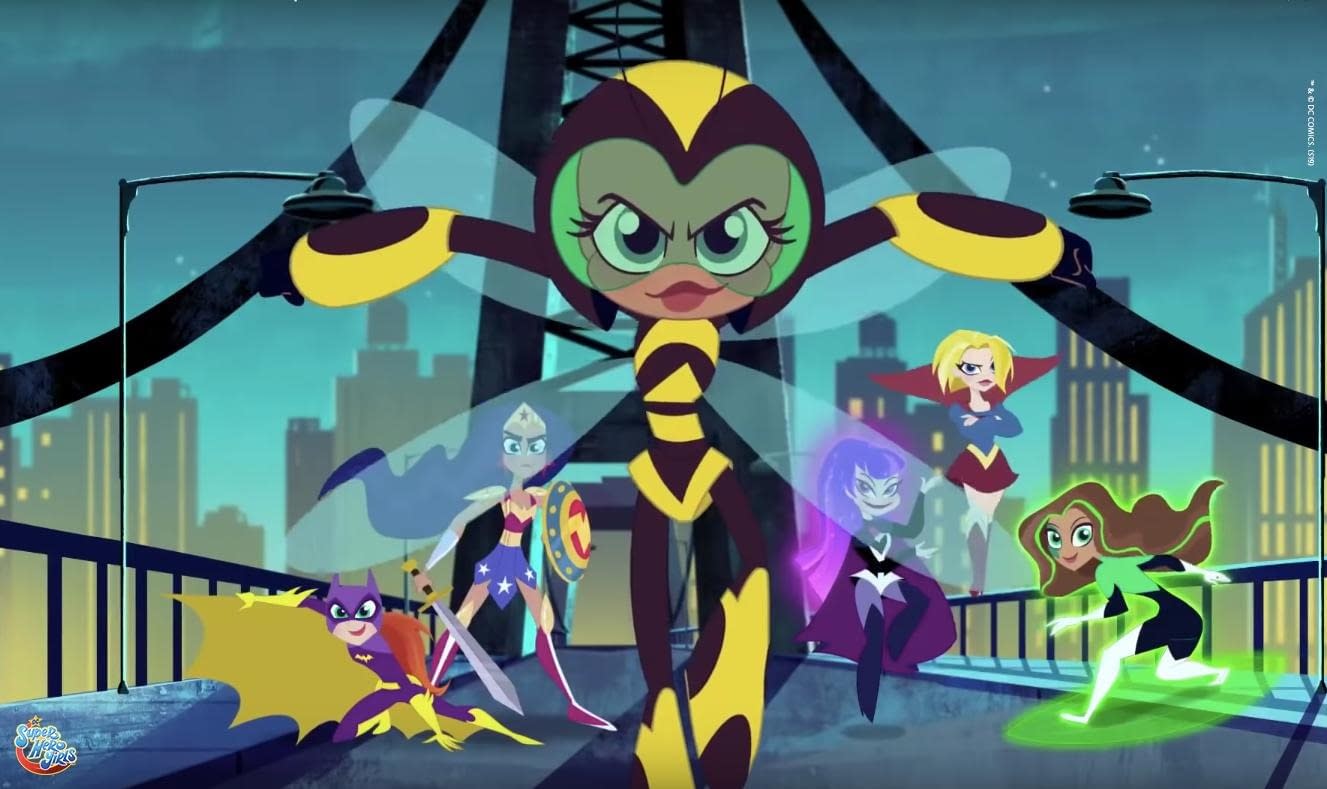 Making a "#Beeline" for Bumblebee
Airing after the five-week hiatus, "#Beeline" was the first episode of DCSHG to focus on Karen Beecher, AKA Bumblebee (Kimberly Brooks). When Karen stumbles on Harley Quinn (Tara Strong) and her gang of female villains planning to blow up a bridge, she has to overcome her self-doubt and self-criticism to save the day. In contrast to earlier episodes, "#Beeline" a model for the new direction the show is going.
While the episode did focus on Bumblebee, her interactions with the rest of the Girls helped to complete the story. Far from a one-woman show, "#Beeline" made it clear how hard Karen has to struggle to be heard. All of Bumblebee's friends have very strong individual personalities, making Karen's quiet nature and lack of confidence more pronounced. While her friends want her to succeed, Bumblebee runs the constant risk of being trampled by the other Girls. It is only when she is truly alone, and scared, that finds the courage to fight.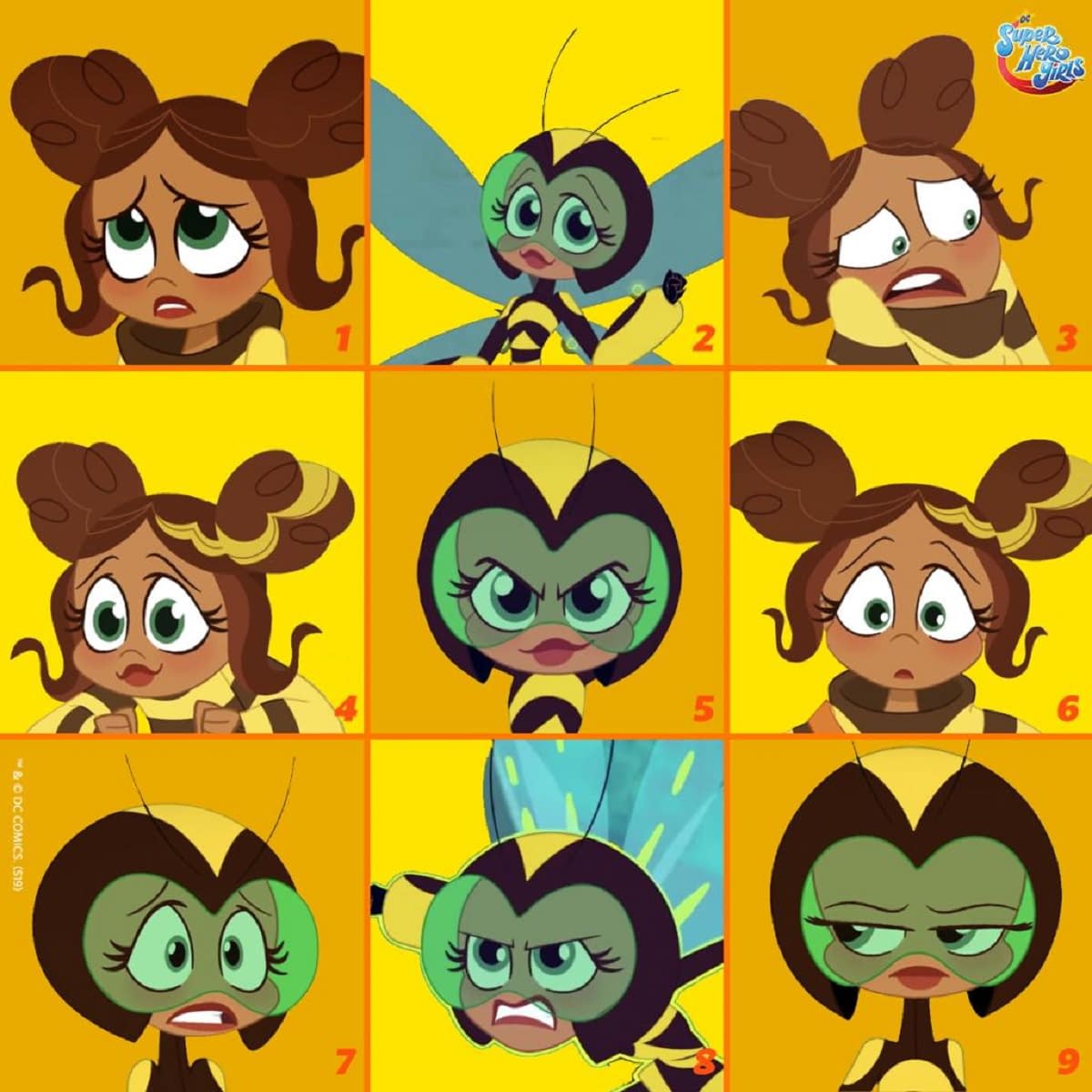 Lois Lane asks "#SuperWho?"
Next up is "#SuperWho?" In this Supergirl (Nicole Sullivan) centric episode, we learn some interesting things about Kara's backstory. Apparently, she is Superman's (Max Mittelman) cousin and former babysitter. However, while he was on Earth growing up and making a name for himself, Kara was stuck in stasis. Now, Supergirl is finding it hard to see all of the good press her former baby cousin is getting from school newspaper editor Lois Lane (Grey Griffin).
While the Girls are encouraging Kara to just be herself and help people, she becomes obsessed with press coverage of her good deeds. Her mental competition with Superman ends in the two Kryptonians having a Batman vs. Superman-style slapfight in the middle of Metropolis. When their destructive antics create a toxic sludge monster, Bumblebee once again saves the day with her chemistry knowledge. In the end, Supergirl has to sacrifice the limelight to save Metropolis, but doesn't really learn anything. In fact, she came off as kind of awful, and the "Supergirl accidentally breaks things" running gag is getting kind of tired.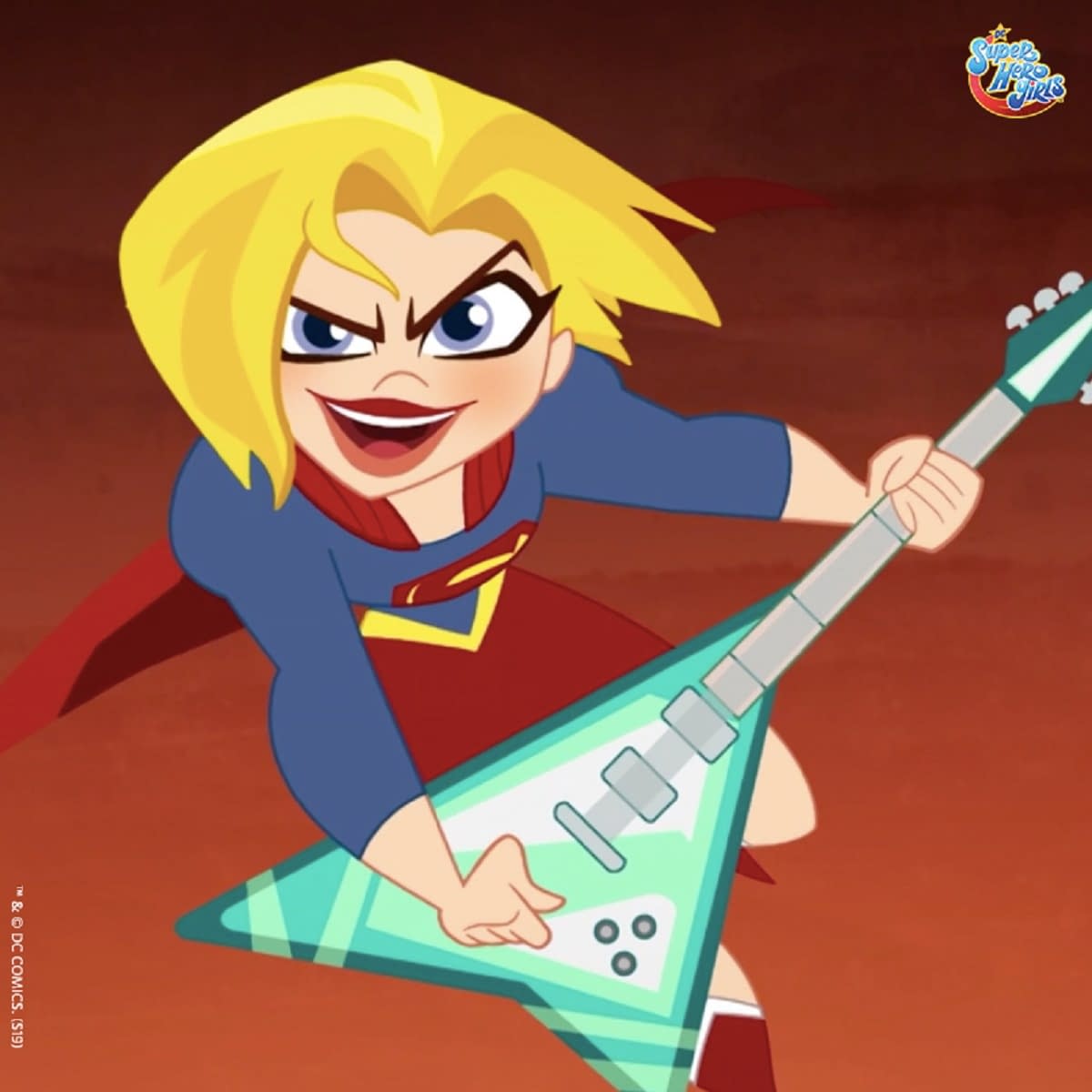 Introducing Livewire Is A Shock To The System
In "#ShockItToMe," Leslie Willis (Mallory Low), AKA Livewire, also wants column inches in Lois Lane's school paper. But instead of news coverage, Willis wants a gossip column. When Lane turns her down, Livewire decides to use her electrical powers to create her own online burn book. The Girls learn that laughing at someone else can quickly turn into being the one laughed at.
Diana (Grey Griffin) finally brings the Girls out of their embarrassment and into the fight. Together they turn the tables on Livewire and deliver a shock to her system. While short and a bit heavy handed, the episode is a good look at cyberbullying and gossip, and the ever-moving line between the two. News articles are constantly reminding us that bullying starts as young as Kindergarten, so I'm glad DCSHG, who's target demographic is smack dab in the middle of elementary school, decided to tackle to topic. I just hope the message got through Wonder Woman's naive, fish-out-of-water speeches.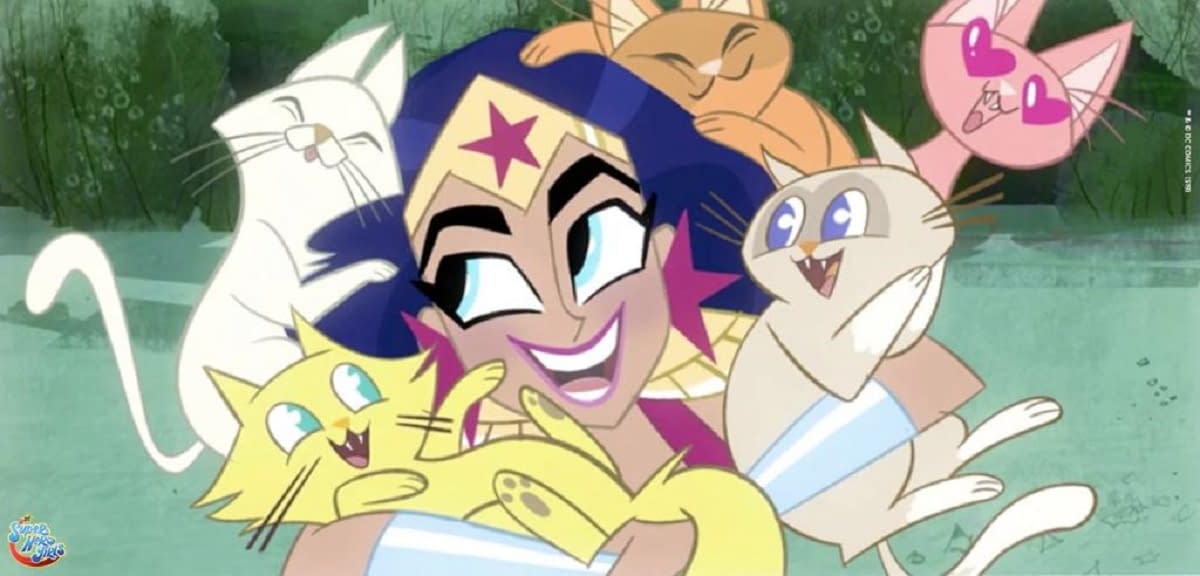 Giganta Is The Next Big Thing
While viewers got their first glimpse of Giganta (Grey Griffin) in "#Beeline," it isn't until "#SheMightBeGiant" that we learn anything about the villain. Doris, AKA Giganta, is a weightlifting bully who steals the strength serum her scientist parents developed to build extra-large muscles. She then uses those muscles to chase Bumblebee. In fact, its the bullying from Doris and Leslie (Livewire) that inspires Karen to develop a Bumblebee suit with enlarging technology.
However, when a super sexist athletic store employee makes Giganta lose her head, Bumblebee's enlargement suit fails and none of the other DC Super Hero Girls can stop the villain. Supergirl and Wonder Woman both fail, Batgirl (Tara Strong) makes a good effort with grenade tennis, but no one can stop Giganta. Finally, Bumblebee steps up and learns that sometimes small can be just as dangerous as large. Eventually, Bee bugs Giganta into knocking herself out. After all of her efforts, Karen finally learns to accept herself as she is. And the bullies have no idea what they're in for.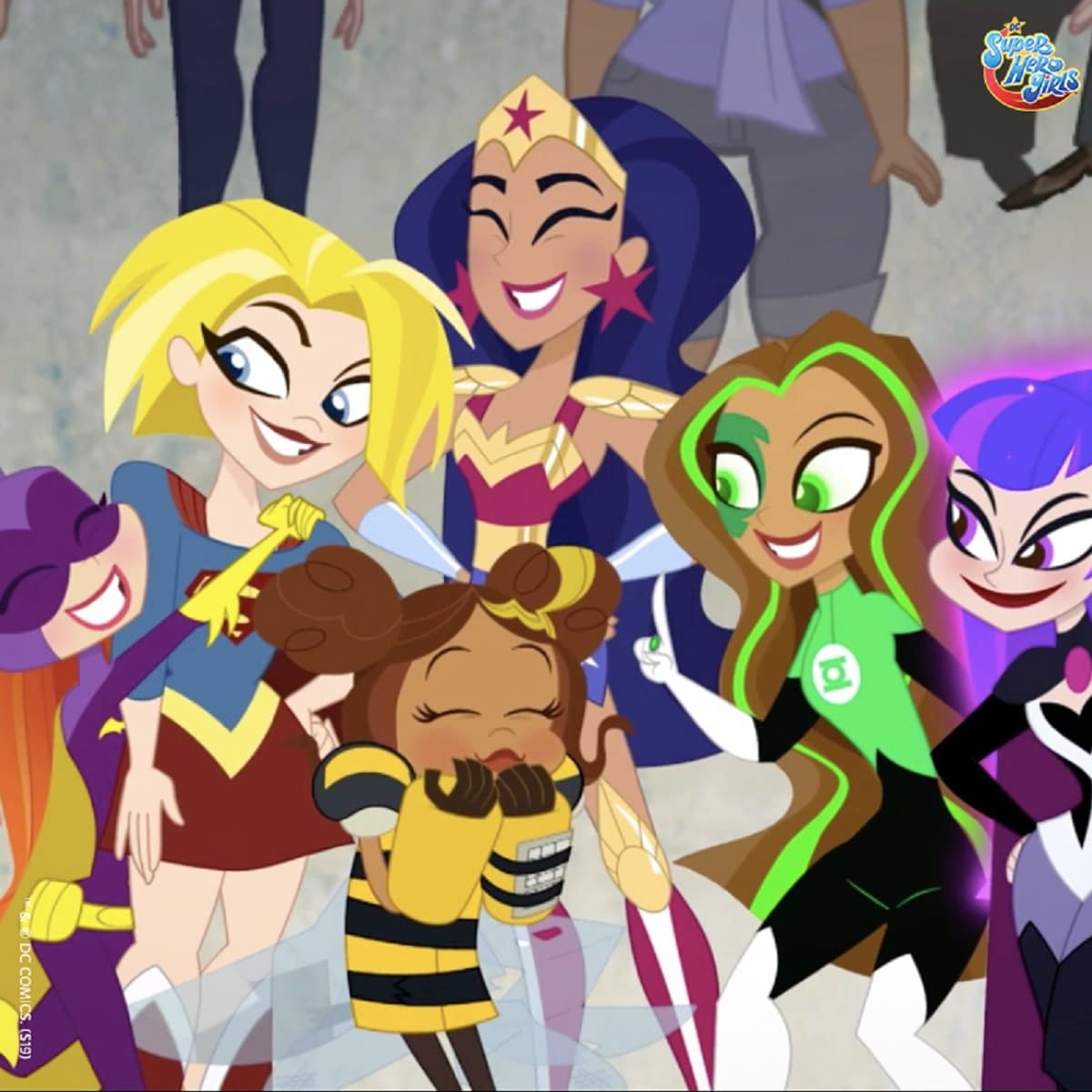 Catwoman Pounces In "#FightAtTheMuseum"
Unfortunately, Supergirl still hasn't learned her lesson. At the beginning of "#FightAtTheMuseum," Supergirl is literally punching her way through Metropolis crime. Refusing to listen to strategy or work with the other girls, we see the same over-confident, self-absorbed Kara from "#SuperWho?"
It is only when Catwoman (Cree Summer) uses Supergirl's own brute force in the commission of a robbery that Kara realizes she needs to change. A well-prepared villain and some kryptonite do what Wonder Woman's chess lessons never could, teach Supergirl to plan ahead and ask for help. Kara uses a Rube Goldberg contraption and a pearl to save herself. Calling on the Girls for support, the stolen loot is recovered. Catwoman, however, is in the wind.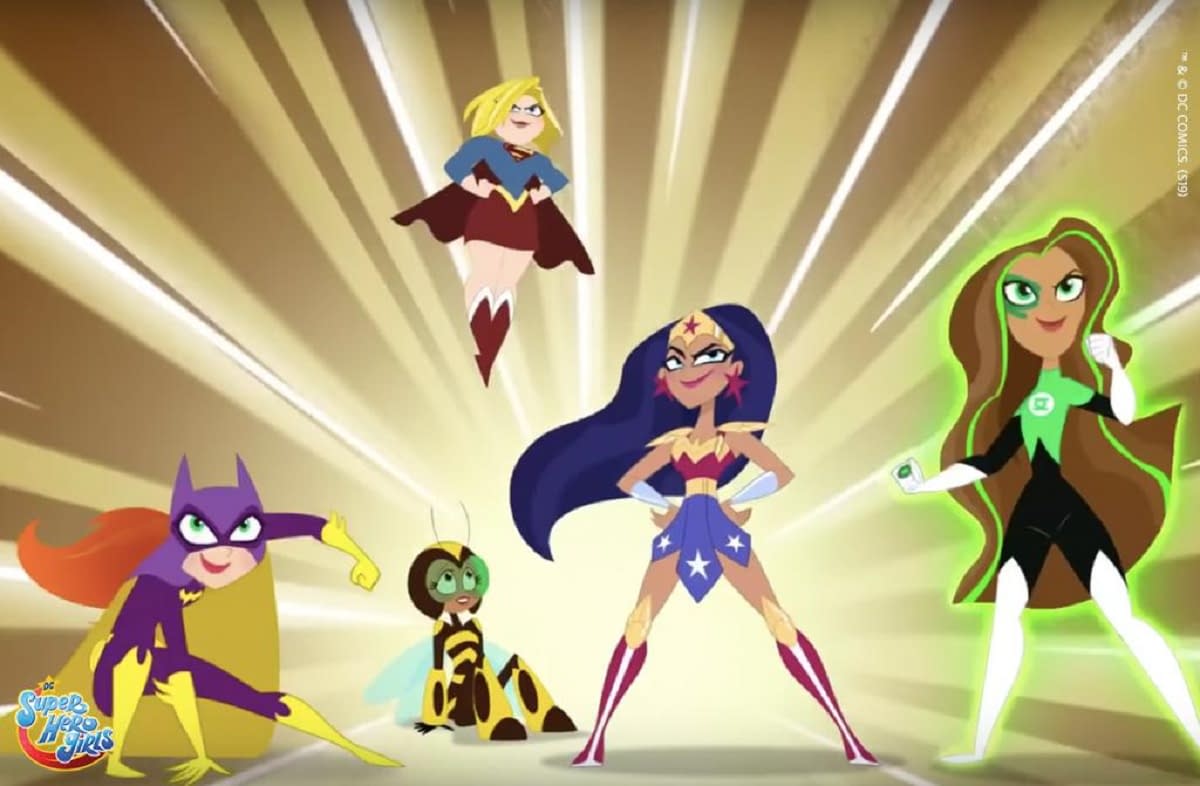 The DC Super Hero Girls Are Better (And Stronger) Together
The DC Super Hero Girls premier "#SweetJustice," was a fantastic mix of world-building, character development, and animated entertainment. However, the first four regular season DCSHG episodes were good, but lacked the magic of the premier. The 20-minute format and one or two character stories just weren't as fun or interesting to watch. It seemed like the show's five-week hiatus came when momentum was already low, and I was worried the show wouldn't come back at all.
Fortunately – starting with "#Beeline" – this latest wave of new episodes has renewed the show's energy and magic. Writers have hit the perfect balance of individual character development with group dynamics. Seeing the Girls figure out their individual strengths and weaknesses against the backdrop of their group friendships gives the show a level of continuity and depth it didn't have before. Plus, its just more fun.
DC Super Hero Girls airs Sundays at 4 p.m. on Cartoon Network.