Marvel's Luke Cage Season 2: Daughters of the Dragon
Netflix has released a new clip from the upcoming second season of Marvel's Luke Cage season 2 that features Misty Knight (Simon Missick) and Colleen Wing (Jessica Henwick) having a drink together in a bar when the brother of a criminal Misty put away decides to pick a fight with her. This wouldn't go well for the guy normally, but here we see that this is post losing her arm but not quite having gotten the cybernetic replacement one. At one point she tries to punch the guy with her missing appendage. She lost the arm in a fight with Bakuto (Ramon Rodriguez) in the final episode of Marvel's The Defenders. Misty and Colleen fighting together is something the fans have been waiting for, as they are a team in the comic, going by the name: Daughters of the Dragon.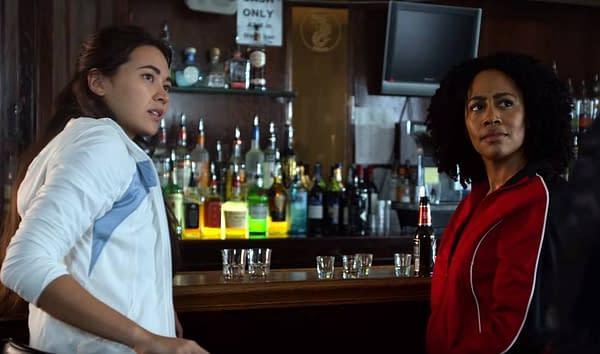 The Daughters of the Dragon, as a team-up, first appeared in Marvel Team-Up #64 (1977) by Chris Claremont and Marshall Rogers. The name comes from an insult thrown at them by the Iron Fist villain Davos aka the Steel Serpent… who has appeared in Marvel's Iron Fist as played by Sacah Dhawan. They would be recurring supporting characters in the Power Man and Iron Fist comic series, got their own mini-series in 2005 and were part of the Heroes for Hire series in 2006.
Photos released for the new season have shown Knight with her cybernetic arm and both actresses are said to appear in the upcoming second season of Marvel's Iron Fist as well.