@Midnight Replacing The Late Late Show; Stephen Colbert to EP: Report
Reports are "The Late Late Show" is ending, with a reboot of Comedy Central's @Midnight from EP Stephen Colbert taking CBS' 12:30 am slot.
---
With a mix of a little bit of the old and a little bit of the new, Stephen Colbert (Tooning Out The News, Hell of a Week with Charlamagne Tha God) is reportedly changing the face of late-night once again. Deadline Hollywood is reporting (though all involved parties are not commenting) that once James Corden exits his post-The Late Show with Stephen Colbert talk show, "The Late Late Show" franchise will end after nearly three decades. In its place will be a revamped version of the popular late-night comedy/game show @Midnight, stemming from Funny or Die, with Colbert reportedly set to executive produce.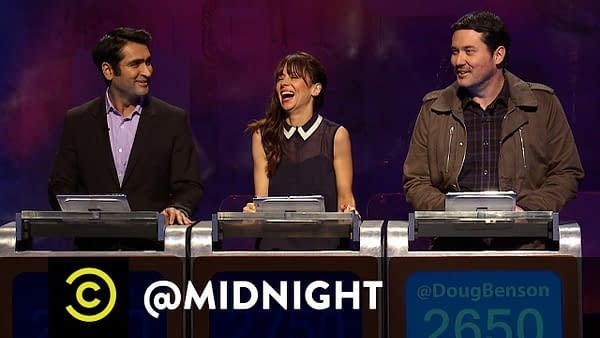 Running for 600 episodes on Comedy Central from 2013 to 2017, the original series was hosted by Chris Hardwick (who is reportedly not directly involved in the reboot effort). While the format included a number of recurring challenges, the late-night comedy/game show included dedicated competition rounds such as "Rapid Refresh" (where answers are selected based on an online meme or headline), "Hashtag Wars" (a tweet-based competition round), and "Live Challenges" (where the contestants are required to work out a creative response over the course of a commercial break). In the end, the final two contestants face off in the final round, FTW ("For The Win").
If the move does happen, it will mark yet another change in the ever-evolving late-night landscape as the networks look to protect their post-10 pm programming blocks from affiliates looking to get back those hours so they can sell the time for profit on a local level. First kicking off in January 1995 with Tom Snyder, "The Late Late Show" brand would also find hosts in Craig Kilborn and Craig Ferguson as well as Corden. If @midnight gets the green light, that will leave Seth Meyers as the only late-night talk show host holding down the 12:30 am timeslot.