Nailed It! Season 1: Shark Bait, Emoji Cakes, Animal Mud Baths and…Donald Trump? (BC REWIND)
Catastrophe-themed baking competition Nailed It! premiered on Netflix in early 2018 with an interesting take on food throw-downs: three amateur bakers compete to replicate masterpieces and well…fail miserably. The dreadful recreations, ghastly presentations, and casualties of kitchen creations are enough to keep the viewer laughing uncontrollably. Add comedic host Nicole Byer (with co-host Jacques Torres) as the key ingredient and you have a show that is a wonderful "palate cleanser" to a stressful day.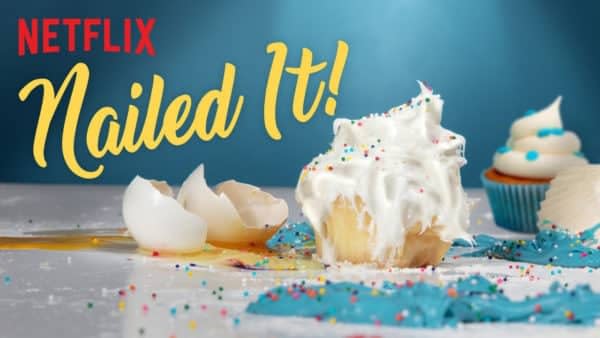 Nailed It consists of two rounds:
● Round #1 – Baker's Choice: Contestants are given 30 to 60 minutes to recreate a small cake-like sculpture and, before you ask, our 3 little disaster-makers are provided with instructions. The survivor of the first-round wins (wait for it… wait for it)… a gold, glittery, hideous-looking chef's hat!
● Round #2 – Nail It or Fail It: Competitors must recreate a beautiful cake in two hours. Each competitor is given a "Panic Button" which allows them to seek guidance from one of the judges for a total of "three whole minutes."
● By the time the flour settles, the best of the worst walks away with $10,000–and sometimes a blender.
In case you need a reminder, here are some of funniest moments from the first season:
"I drink vodka, it makes my day wonderful"
Episode 1 "First Date to Life Mate" introduces us to the wonderful dynamic between hosts Byer (comedian) and Torres (pastry chef and chocolatier). To roll out the season they couldn't have picked a better guest judge: the lovely, vivacious, and approaching her expiration date Ms. Sylvia Weinstock (cake designer). I am sold on any show that has vodka as it's main ingredient. Celebrating all things love, contestants in the first round are asked to model first kiss, proposal, and divorce cake pops…..have I peaked your interest yet?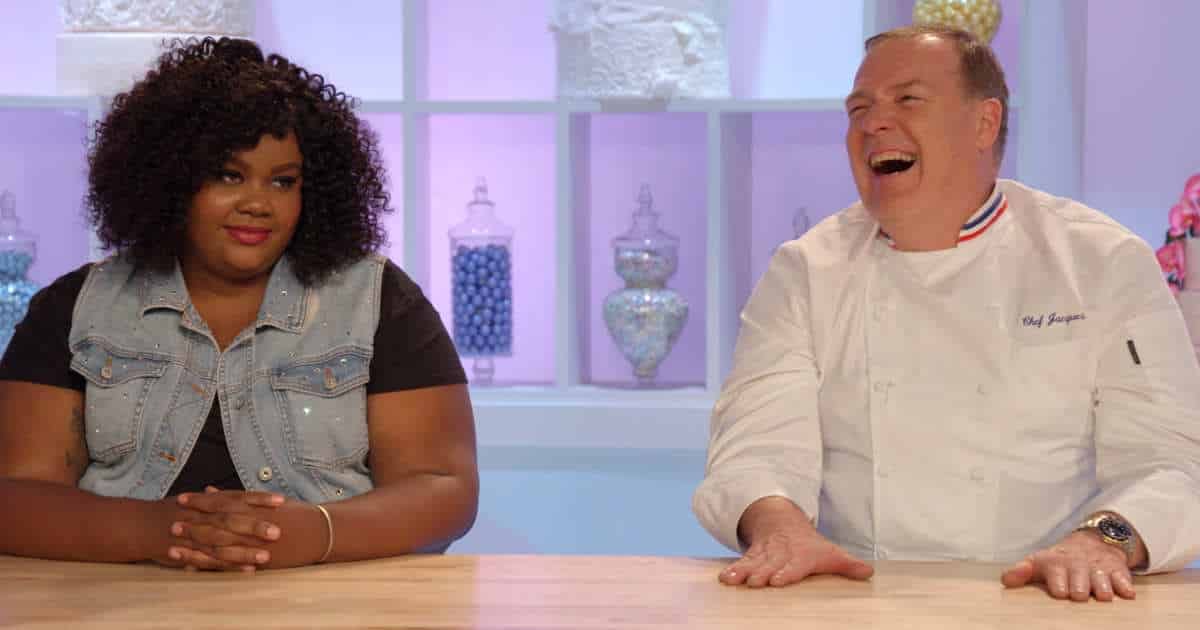 Episode 2 "Fantasyland" continues the comedy when Jacques airbrushes Nicole's tongue – if the blunders of the contestants don't make you laugh, the relationship between our head judges will, especially in this episode.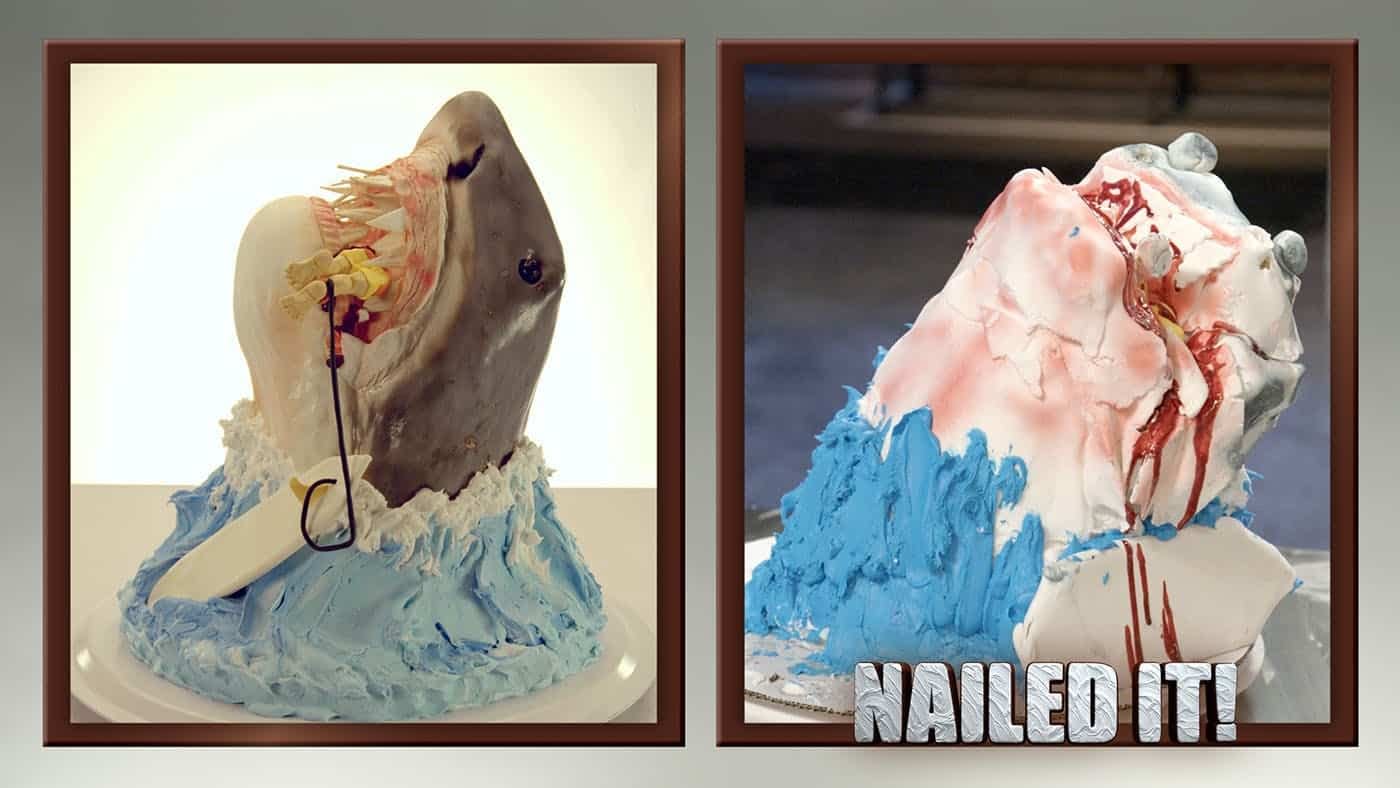 Episode 3 "Head Under Water" has the contestants recreating–you guessed it!
Ok, maybe not….they have been asked to recreate none other than animal mud bath cakes. Selfishly, this was my favorite episode because the final challenge was a shark sculpture eating a surfer: being a huge die-hard fan of Jaws, it brought a little pang to my heart.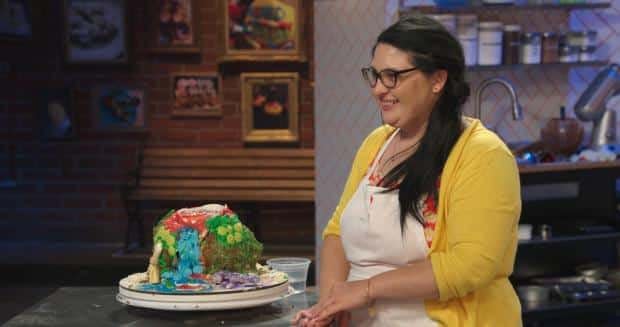 "I put your dinosaur in my mouth….that was a MISTAKE"
Episode 4 "Weird Science" makes it all about cocktails, cocktails, cocktails! I got to watch multiple volcanos erupt, and the judges mix cocktails and drink. The delicate, delicious creations collapsed under the hands of the contestants, with most resembling something a 4-year-old would make. Possibly because the contestants were also drinking the "Kool Aid."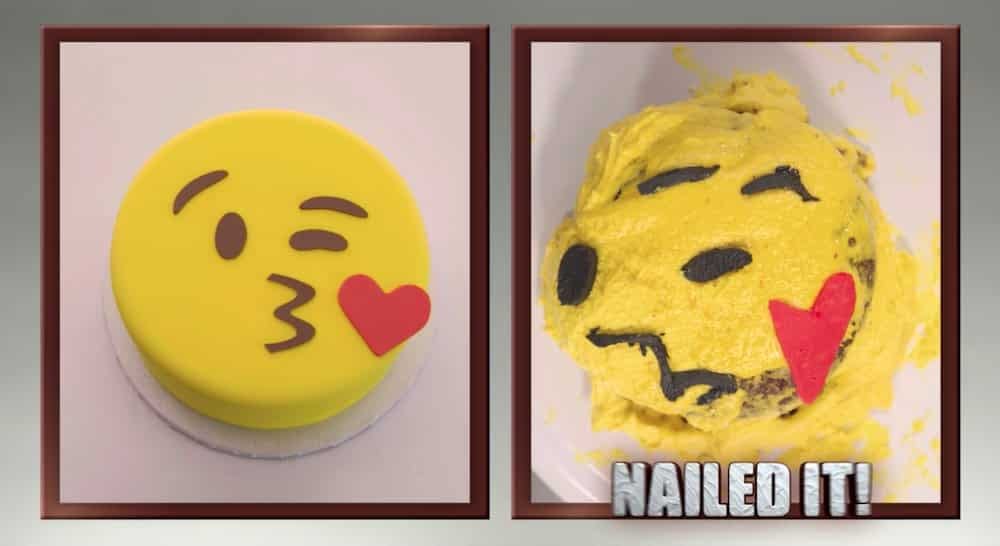 Episode 5 "Big in Japan" is all about saying hello to emoji cakes – and probably the most disastrous episode of them all. The cakes were unsightly, to say the least–although apparently don't judge a book by its cover because it sounds like they tasted great. For the second round, the contestants had to create a sushi cake. Failure, such utter failure–and yet I give them so much credit for their "innovations".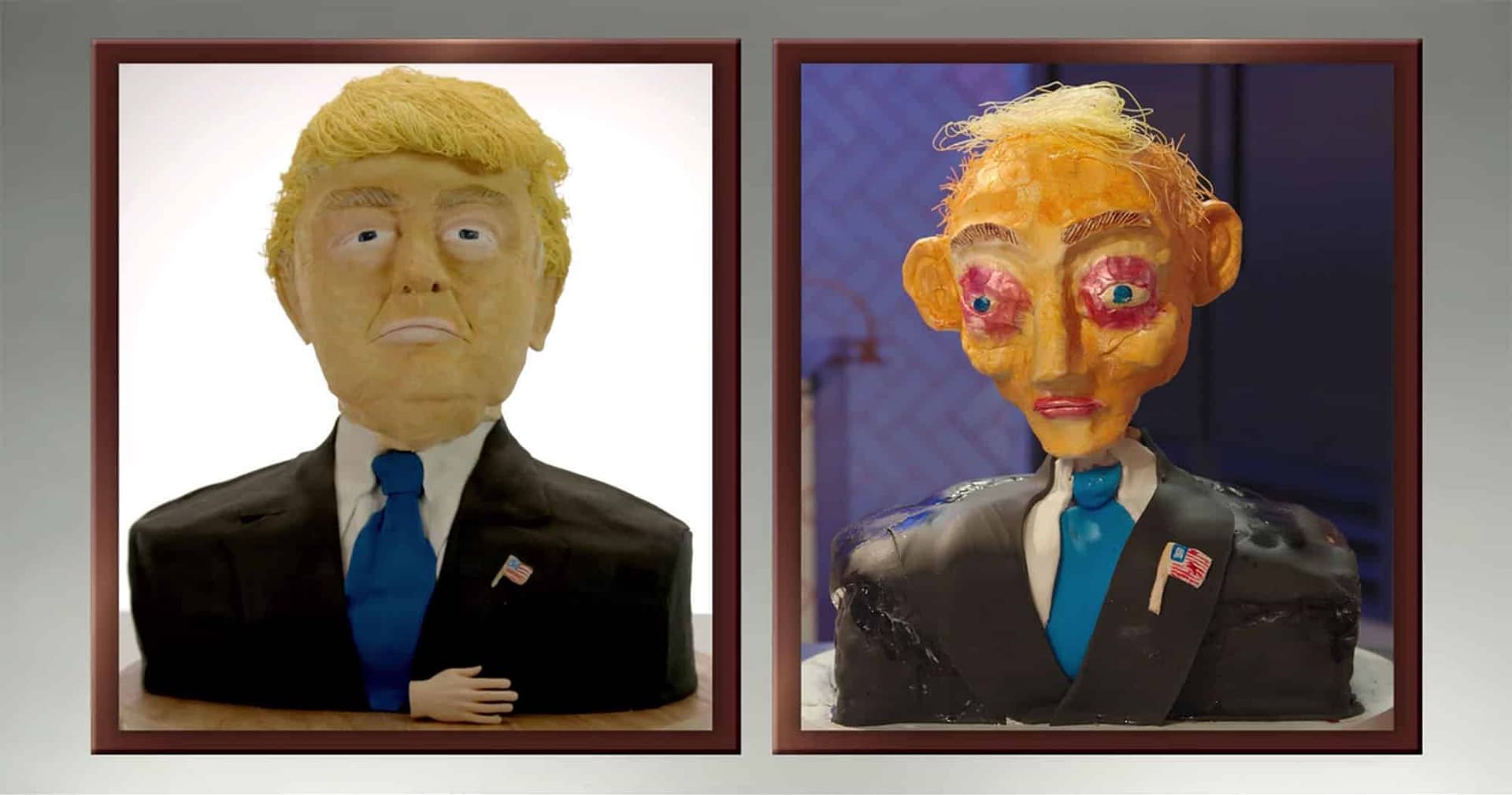 "Bring me the head of Trump!"
Episode 6 "In Your Face" is a collision of art and food, as contestants are asked to recreate models of their own face. Terrible selfies, no editing options in this round. Ingredients are missed…cakes are left raw…Cheetos (???) are used…and nobody "nails it". That means the final round Donald Trump cake must be nailed not failed.
Here's what Byer had to say about the challenge when she visited Conan O'Brien's TBS talk show :
So if you are looking for a cooking competition show where creations spiral out of control, the hosts engage in provocative behavior, and contestants lose their sanity as they shave points off their ego, Nailed It! is your must-see.
Margo Staten is a Ukrainian born, raised in Brooklyn, organically driven, coffee loving, twice-divorced mother of one baby Einstein. Has a passion for books, yoga in the park and all things 80's and New Orleans.
Images: Netflix