NatGeo's MARS: Chat About Space, Exploration, and Red During SDCC
NatGeo's MARS series is based on the 2015 book How We'll Live on Mars by Dr. Stephen Petranek and blends drama with real-life interviews from experts across various areas to explain events unfolding in the story. If you haven't seen the first season of the show (and you really should), here are some of the basics:
It's the year 2033. A crew of six astronauts launch from Florida on a journey to be the first people to set foot on Mars. During the descent into the Martian atmosphere, there is a malfunction with their spacecraft, the Daedalus. They land 75.3 kilometres away from their planned habitat, and their progress is being monitored back home on Earth.
At San Diego Comic-Con (SDCC) 2018, there was a panel for MARS season 2 followed by a pressroom with Petranek (award-winning author of How We'll Live on Mars), Andy Weir (bestselling author of The Martian), Susan Wise Bauer (author of the History of the World series), former NASA astronaut and author Leland Melvin, cast members JiHae (Mortal Engines) and Jeff Hephner (Chicago Med, Code Black), and series showrunner and executive producer Dee Johnson.
We were lucky enough to be included in the pressroom portion of the day: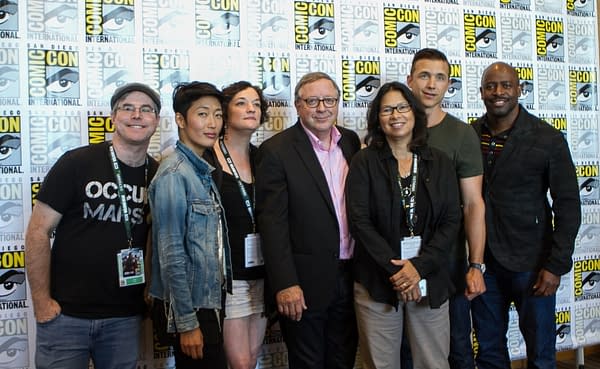 "I think the greatest opportunity of humankind is to become a space-faring species," Dr. Petranek began during our roundtable session. "If we stay on Earth, we're all gonna die. Eventually. You have to move on if you want the species to survive."
He continued, saying that in the mere three years since the release of Weir's The Martian, public perception of the possibility of going to Mars had changed, and the NatGeo series continued that with the Big Thinkers side backing up the storytelling aspect of the show.
Dee Johnson jumped in, saying that the series being on NatGeo meant that there were certain expectations. "Having the documentary part of the series, even if it's an analogy [to] explain what's going on, it really did help make it feel REAL." She commented that after their success with season 1, there are apparently now two additional "Mars shows" in the pipeline at other networks, citing a collective consciousness that's happening with the red planet.
"Season 2 takes us literally into new territory. With no laws, no government, and no safety nets of any kind, what is it like to be among the first settlers of Mars? Not only do we explore dangers and mysteries of this brand-new world, but we also explore what it means to be human in a place where so few exist," Johnson teased.
Jeff Hephner minced NO words when answering the big question: did he want to go to Mars? "NOPE," he responded, with zero hesitation. (JiHae, on the other hand, said she'd consider it when things got a little more stable). "I would not go to Mars. At all. It's dangerous shit. I didn't even like putting the helmet on in the pretend suit — I'd be like, 'PEACE. OUT.' I wouldn't want to, but it does take a special breed of cowboy to do it."
JiHae asked him what if he HAD to — if things got so bad that he had no choices other than to go or die. "I'd go down with the ship," Hephner responded.
Talk of what it means to be one of those pioneers (Hephner likened them to Magellan and other explorers who boarded a ship and "went") with the desire to know more was prevalent, as well as the lifetime commitment of those who do chose that path:
"You'd give up so much to go. Fresh air, blue sky, the ability to swim ever again," JiHae said. "I admire those who do."
"When Elon Musk said us being an interplanetary species is a survivalistic imperative, I thought that was a little far-fetched, for me personally. But then when doing research for season 1, I get what he's saying. We've explored so much of the Earth as we know it, and it's in our DNA to continue to explore," she continued.
Susan Wise Bauer commented that humans have always been curious about Mars; about the planet, and what possible life there could look like. "It's also probably the color and size, too." She laughed and continued, saying that human interest in Mars had always been there, but now we could "sort of imagine a reverse invasion."
"As to why the obsession, rather than the Moon let's say, it's tangible in a way. It's got an atmosphere–"
"And water ice," Andy Weir interjected.
"Yeah, and it's attractive to people who like wandering around in alien country. It's like Mordor, but there's no evil there. And so I think this generation who has grown up on stories of people wandering in alien places for purposes greater than themselves are really ready for Mars," Wise Bauer continued.
"I'm not sure what caused the sudden upswing with Mars again ['You,' I commented]. I'm going to go with Susan's theory where it's because we have the technology to make it seem like it's just in reach. It was great for me, because I happened to publish a book right at that time."
Astronaut Leland Melvin commented that he thinks exploration is a good thing, and that Mars is in that exploration path. "We're exploring it now with robots as emissaries, but it's in our DNA to explore. It's going to be the Moon and Mars."
"When I was interviewing to become an astronaut, John Young [commander of the Apollo 16 mission, ninth to walk on the Moon] said to me 'Leland, once we stop exploring as a civilization, we will falter.' I think it becomes a balance, and it's something we have to do. Do we do it in giant leaps or baby steps? That's the real question," he continued. "How do you make the journey shorter? How do you exercise enough while in space so that when you step off you don't break your leg? These are are the questions, and the balance of not decimating our budget to get there."
On the question of privatizing space travel, Leland surprised us all by saying he hopes more people get to experience what he did. "I think there will be less fighting, less wars, if people can experience what I did, see the colors I'd never seen before. Coming over the Sahara, and the Nile, and the Pyramids, Libya and Iraq and Iran, and seeing this peace, and I'm doing it with Russians and Germans and people who used to fight each other. THAT gave me a different perspective on our planet."
***
Thank you so much to the entire NatGeo and MARS team for the show, and their time during SDCC.
Season 2 of MARS is set to premiere on November 12th, 2018.