NBC's 'Timeless' Series Finale Won't End with Lucy, Wyatt or Rufus
With production on the final two episodes of Erik Kripke and Shawn Ryan's Timeless recently wrapped and less than a month to go before the two-hour series finale premieres on NBC, star Matt Lanter (Wyatt Logan) wants to make one thing clear: they're not gonna' make it to the end – and neither is Lucy (Abigail Spencer) or Rufus (Malcolm Barrett).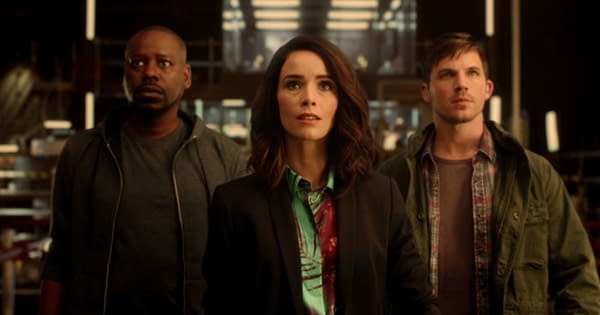 Relax, Timeless fans – take a moment and pick your jaws up off the ground and shove your hearts back in your chests: Lanter is talking the literal end of the series finale – as in, the last thing viewers see before credits and local news teasers roll. Here's what he had to say to Entertainment Tonight:
"What I think is pretty cool is the end end — the very end — doesn't end on us. It doesn't end on the team. It's larger than us three, or it's larger than the team, which I think is cool. It's a little bit of a closed chapter for our characters, but things are left open at the end of this series finale."

– Matt Lanter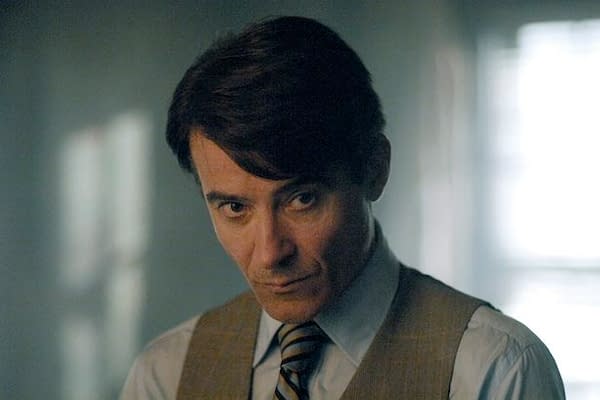 Meanwhile, star Goran Visnjic's ("frenemy" Garcia Flynn) also spoke with ET during their set visit- and while Visnjic avoided major spoilers (other than Flynn rides a horse and speaks Spanish) on the fates of anyone in the time-travelling drama/action series, he did offer a look behind the scenes at returning to the series one "last" time:
● If there are any fans out there wondering if the series finale will stay true to the show they've grown to love (and save), Visnjic says there's no need to worry:
"We're doing two episodes, which were made really for fans. You would never see episodes like this on television; this is really made for fans. We're going to close all the loops. We're going to tie all the loose ends. We're going to come back with a storm of words that our fans love and memories from previous episodes. Every day, we come in and I'm like, 'Oh my god, can I say this because they are going to remember I said that in episode two!' And the writers are like, 'Yeah, great!' So it's a very unusual two-part series finale."
● The experience of reading the final scripts was an emotional one for Visnjic – and not a convenient one considering he was on a plane at the time…and what's with that "And then [something] happens that I'm not very happy about" line below???
"I was reading it on a plane. They sent me the script and I didn't have internet. I'm like, 'Aww, f**k, now?! Come on, let's go up in the air,'" the self-proclaimed sci-fi fan shared, chuckling at the memory. "They turned on the internet, and boom, I download it and I start reading the episode and I start [Visnjic begins to fake cry]. And then [something] happens that I'm not very happy about. But in the end, there is this big [moment] going on and I'm trying to stop the tears but I'm crying. The stewardess was like, 'Hi… oh… are you OK?' I'm like, 'I'm sorry, I'm working.'"

"When I read it, let me tell you, I had goosebumps. My god, this is going to be a really cool ride. Normally you can't do it because you don't have the luxury of completing something or finishing it or you think it's a season finale. This was done specifically for the fans, so they're going to be really happy when they see these two episodes."
● As series finale's go, Visnjic sounds more than satified with how Flynn's story "ends" – and promises Flynn fans they won't be disappointed:
"I emailed our writers and I wrote in an email, 'Guys, if I was writing a two-part finale for Flynn, it would be something like this.' I can't be happier with what they did for Flynn these two episodes. It's cool. It's awesome. It's fun." / "There are going to be satisfying moments for Garcy fans, put it that way."
Launched with a mysterious criminal stealing a secret state-of-the-art time machine to destroy America by changing the past, Timeless focused on the soldier (Lanter), the history professor (Spencer) and the scientist (Malcolm Barrett) assigned to use the machine's prototype to travel back in time and make things right. Cast members also include Visnjic, Paterson Joseph, Sakina Jaffrey, and Claudia Doumit.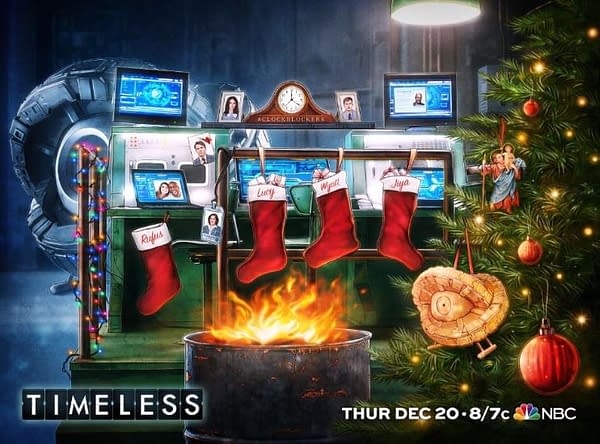 Timeless is produced by Davis Entertainment, Kripke Enterprises and MiddKid Productions in association with Sony Pictures Television; and exec produced by Kripke, Ryan, John Davis, John Fox, Marney Hochman and Neill Marshall.
The two-hour series finale of Timeless airs Thursday, December 20 at 8 p.m. ET/PT on NBC