Need a "Mr. Robot" Season 1-3 Recap? Creator Sam Esmail's Got You Covered! [VIDEO]
USA Network's Mr. Robot came back this week with the premiere of their fourth and final season. Oh, you haven't watched it yet? Why not?! You need a quick recap to get up to speed before diving into the new stuff?
Well, friend, we and creator Sam Esmail have more than got you covered.
In case you didn't figure it out already, this is basically nothing but spoilers. I guess this is a warning or whatever.
Oh no. Spoilers. How terrible.
But you have been warned…
So, the video is like 7-1/2 minutes long, and it's broken up into three parts: one for each season.
He goes through it all starting with season 1. He traces Elliot's journey from "cyber security expert by day, vigilante hacker by night" to "I'm crazy, I hallucinate my dead dad and he tells me to do sketchy illegal stuff". Not concerning at all, friend, especially not to Angela and Darlene. So Elliot is the leader of Fsociety and they successfully take down E Corp and erase all debt and credit.
Season two opens with Elliot isolating himself in prison so the Dark Army (rival Chinese hackers – the villain to our team of white hat hackers) doesn't get him while he focuses on coming to terms that he has a very split personality. After his release, he uses his position of power as architect of the whole hack to try and fix it…until Tyrell shoots him. What? He said to stop anyone who tried to get in the way – even him!
That brings us up to season 3. Elliot and Mr. Robot are at odds more than ever, basically not even vying for time in control anymore. The ominous "stage 2" is talked about and Elliot is confused as hell as to what that is, but he knows that he needs Mr. Robot's help to stop it. Darlene is informing on her brother for the FBI and Angela is acting as Elliot's handler for the Dark Army.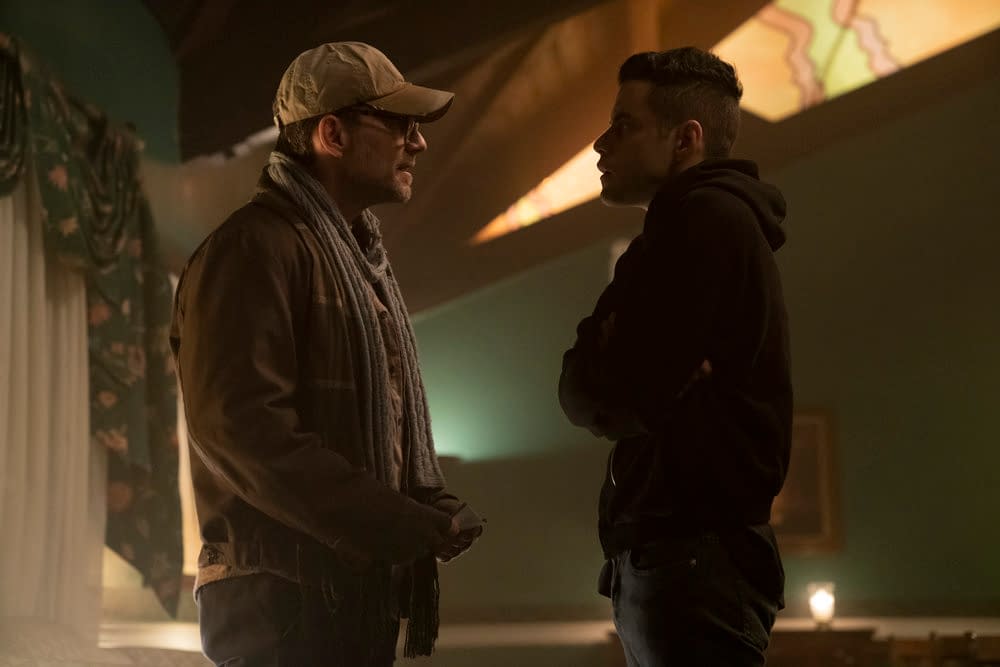 Elliot and Mr. Robot finally stop the Dark Army from blowing up an E Corp records facility, but Angela picks up the torch and hacks for the Dark Army and allows them to blow up 71 buildings. Big oops, Angela. And she can't really come to terms with what she did; also Phillip Price is her dad.
Dom and Darlene slept together, but only because Darlene was trying to get her badge to get into the FBI's server. Then Dom's partner Santiago goes all cray cray and we learn that he's the Dark Army's mole at the FBI. But not for long! He gets the ax and Dom inherits his job now…oh, and she is pissed at Darlene.
"Season 4 is the first time we really see [Elliot and Mr. Robot] working together with the common goal to take down WhiteRose."
Oh, Sam, we're counting on it, along with holiday cheer, hacker style.