Time, Space and History be Damned- Outlander Cast Holds Court at Madison Square Garden for NYCC
Written by Amanda Gurall
NYCC was fortunate enough to host Outlander again, with even more passionate and joyous fans in the audience. There was so much plaid! Their excitement reached a fever pitch by the time the guests were introduced and it was electric. One of the happiest moments at a convention for me is getting to experience the pure happiness and celebration that fans bring to the event. We even witnessed a proposal on stage before the panel started! There were about 5,000 happy people in attendance to listen to the stars and creators of the show discuss season five which begins on February 16th, 2020.
In person were series author Diana Gabaldon, Executive Producers/Creators Ronald D. Moore and Maril Davis with castmembers David Berry (Lord John Grey), Maria Doyle Kennedy (Aunt Jocasta), Duncan Lacroix (Murtagh) followed of course by "King of all men" Sam Heughan (Jamie) and "Queen of all women" Caitriona Balfe (Claire). Richard Rankin and Sophie Skelton who play Roger and Brianna appeared via a video clip and explained that their absence was due to them filming in Scotland at the moment leaving us to wonder does that mean we might be getting an all Roger and Brianna episode next season? We did learn that Roger will be struggling to acclimate and Brianna will be dealing with the aftereffects of the brutal Bonnet attack in season four.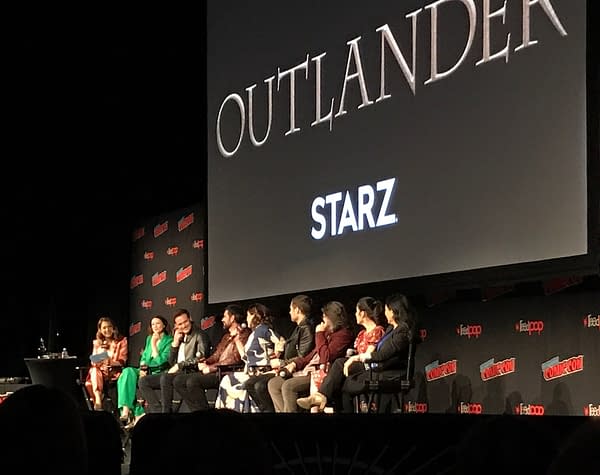 The production team was quick to praise their fantastic crew back in Scotland which is something we don't always hear at panels. The true appreciation for the hard work of the people who do not get stage time was wonderful. Producer Davis mentioned that shooting in Scotland while recreating colonial North Carolina is visually successful due to Production Designer Jon Gary Steele and his department's attention to detail.
Gabaldon was asked about new characters in season five and said she was most excited to meet ADSO the cat but stayed quiet about any new humans. Her favorite scene they have filmed so far was one in which the words "f-cking bastard snake" were uttered. They kept Murtagh alive in the show despite his demise in her books because they adored actor Lacroix so much. Are there any characters that viewers think are dead but may return? She has stated that once she kills a character they stay dead however Caitriona Balfe hinted that we might possibly see Geillis Duncan (played by Lotte Verbeek) again.
Aside from history and brutal violence Outlander is of course known for the sweeping romance between Claire and Jamie. The actors gave no spoilers but Balfe said, " It's so wonderful to play a relationship that keeps growing and growing, deepening and deepening." She continued,"The love they have for each other just keeps expanding and you don't think that's possible from season one but it does- they are there for each other and support each other through really tough, tough times." Both actors acknowledged that season five will bring massive obstacles as they decide to stay in their current time or not. What would season five Jaime say to season one Jamie about Claire? "Don't go near her! She just turns his world upside down and every time he looks at her I think Jamie sees his own demise," Sam Heughan joked, "He would do anything for her, he would die for her and I think that's what's important."
So did the room, as fans went just a little wild.
Gabaldon is hard at work on book nine which she says is her longest yet. Looking ahead to February we can expect to see more challenges and passion from Claire and Jamie while pivotal decisions must be made. In the trailer for season five, we heard Claire utter these words, "I have to keep us safe here. Time, Space, history be damned."