"The Expanse" Team Launches Season 4 Premiere, Panel at NYCC [SPOILERS]
When it was announced that The Expanse was moving to Amazon Prime, fans were not only thrilled that the show was saved but also pleased to hear that the streaming platform meant that there were fewer language, content and time restrictions. It has definitely been a positive move towards keeping the series closer to the books by James S.A. Corey from what we got to see in the first episode of season four here at NYCC.
There are possible spoilers ahead because I have to admit that although I started the series I didn't continue and had no real reason, that seems to happen in a time where we have so much fantastic tv coming at us in a constant stream. Skipping to the start of season four as I did was an interesting experience and it has me completely ready to start a watch as soon as the convention ends.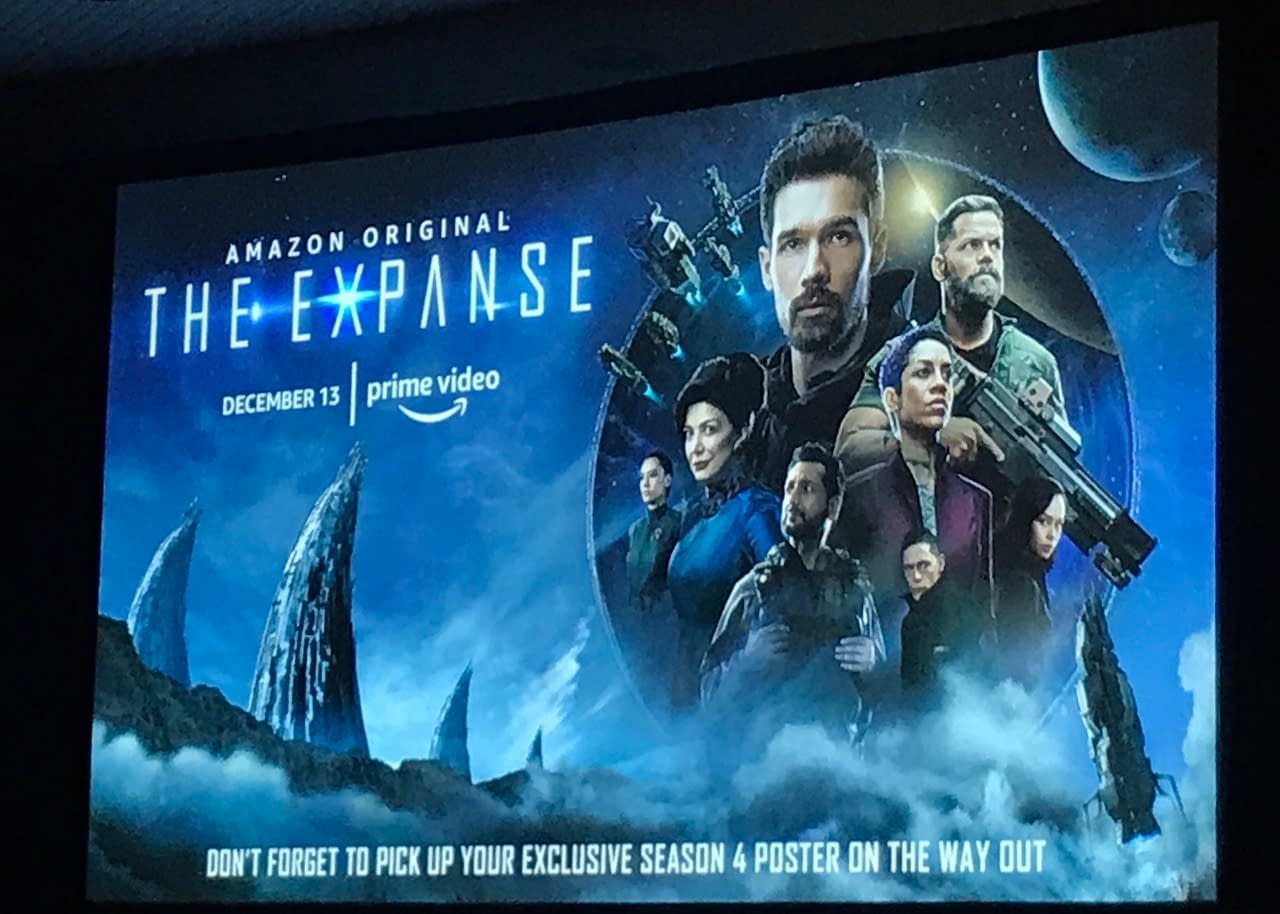 The episode opens with a shot of the Sol ring which I'm guessing is a transportation system because there is a lot of strife over who gets to go through. We meet the everyman hero who is smart and cautious with his actions and very handsome so he seems like a solid guy to root for.
We then go to Earth and Luna and I had the pleasure of being introduced to a boss queen extraordinaire- this might have been the moment I started to really get into the show because as viewers already know, actress Shohreh Aghdashloo brings everything to her role as Avasarala. Apparently 50% of Earth is unemployed, a situation we are most likely going to approach as the robots take over in reality so as usual Sci-Fi hits social issues and, hopefully, gives us solutions to work towards.
There's a Mars colony! Now we are talking! I love a good colony and all the inner workings. It looks like there is some serious attention to world building and detail from the Art Department as well as surprisingly decent effects work for a series. We find Bobbie who I'm pleased to see is a war hero although she's got to work on the psychological ramifications of being such if she's going to move forward.
If I say too much more I fear I'll ruin the premiere but I will say that there is a space fight complete with satisfying slow motion wreckage reminding us of the power and majesty of zero gravity. There is advanced medical technology that I was immediately jealous of and some spooky wind chimes in the soundtrack – possibly signaling a villain not to be trusted going forward. An optimistic young character is going to have a hard time and we meet another new character who may be a huge problem for the heroes.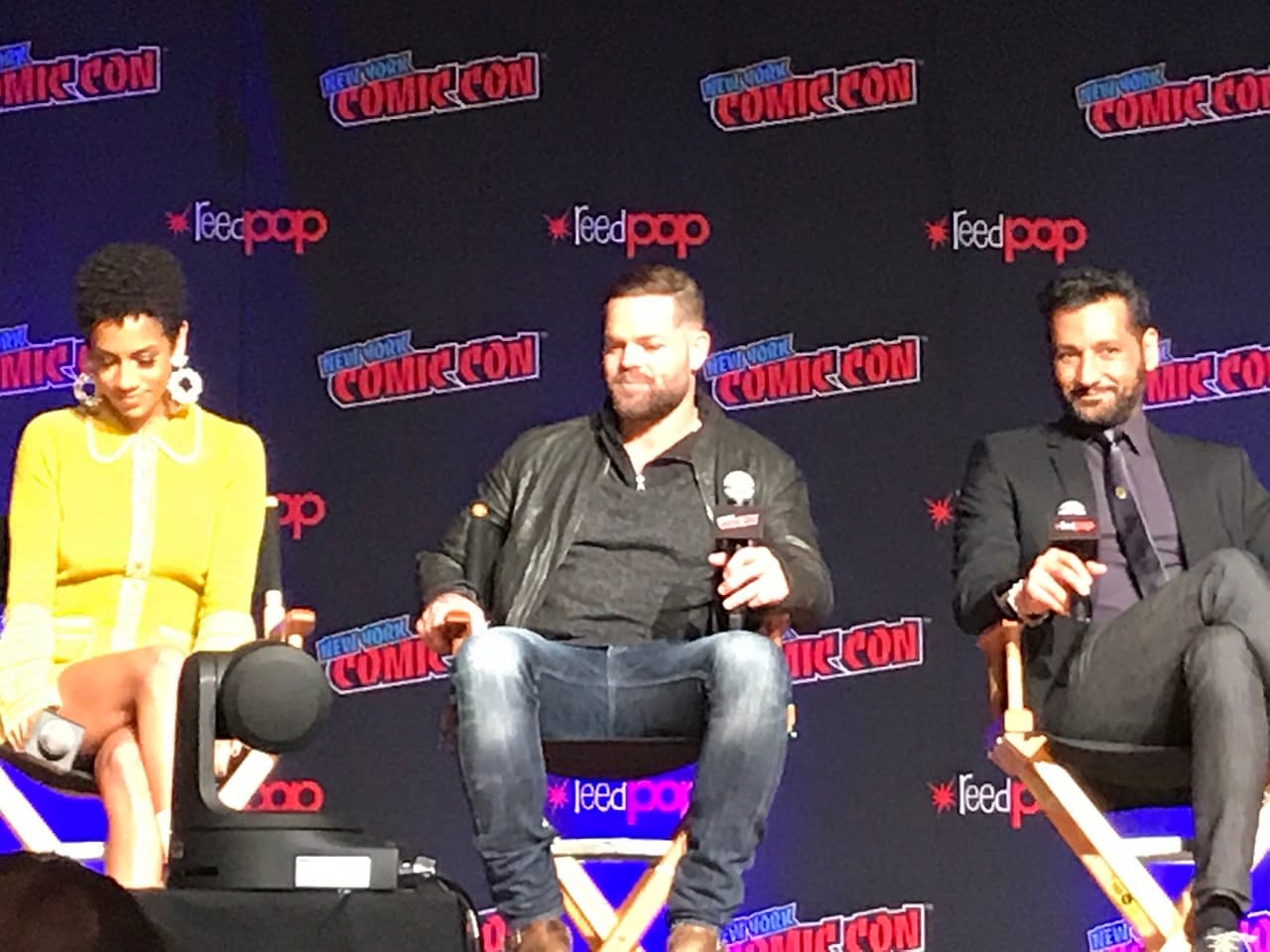 The most exciting part of the episode is the arrival on a whole new world, which is why space-based stories really get to me emotionally. I'm guessing that magic of adventure, discovery and a new start for humanity is behind a lot of fan's love for Sci-Fi. The big guns and impressive ships are fun, too – but the heart of most properties is the wonder and pure magic created when transported to a new world.
Executive Producer Naren Shankar was joined on the stage by cast members Steven Strait (Jim Holden), Dominique Tipper (Naomi Nagata),Shohreh Aghdashloo (Chrisjen Avasarala), Cara Gee (Camina Drummer), Wes Chatham (Amos Burton), Cas Anvar (Alex Kamal), and Burn Gorman (Adolphus Murty).
Gee spoke about the new season of The Expanse and what opening the ring means to the Belters and to everyone in general as every character has different priorities and plans. Drummer and Naomi in particular have different points of view and a different way of approaching how the nature of the universe has changed.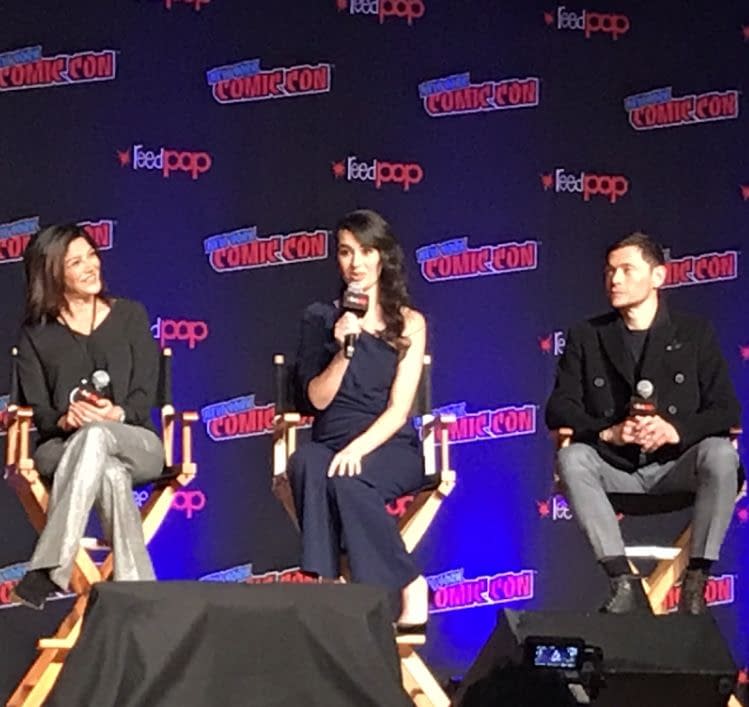 Filming in Toronto for the new planet Ilus was cold and difficult but yielded beautiful results. The production used drone footage of an actual quarry that somehow looks startlingly alien and hauntingly beautiful with very little post production effects.
A fan asked about the legacy of this show and whether the cast has every thought about young people watching and being inspired to become a scientist or to work for NASA, with Strait responding that that was a goal of the series: " I hope so. Thats the dream." Moderator Kyle Hill (Science Editor for Nerdist) assured the cast that he is already seeing the influence of the show on kids and young adults he meets in his work. This thrilled producer Shankar because Star Trek was such a huge inspiration for him growing up and he is honored to continue to inspire kids with his own work.
When asked how the show handles political influences and real world issues that arise, Tipper responded,
"When we are talking about genre specifically I think it's always been one to push boundaries especially in representation. I think this show is part of being at the forefront of it, allowing us to perch humanity at a different way because it is set in the future. It's one of the best shows out there as far as having a cast that looks like this." [Tipper gestures towards the panel]
Strait added,
"The thing that I've always loved about sci-fi is that you can use it allegorically in a very poignant way. You can talk about very prescient things that could be very divisive in a way that's digestible for a larger audience. I think that especially today that's a very important thing to do."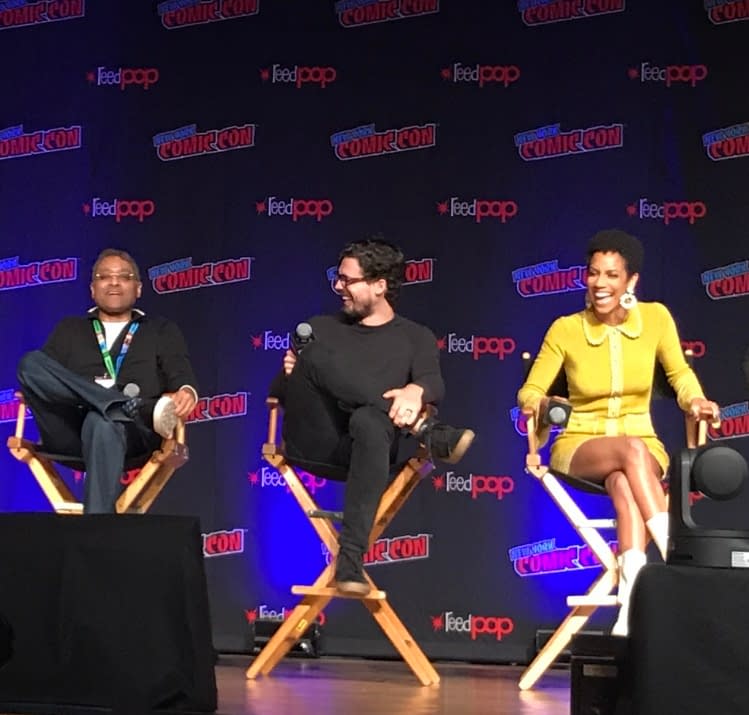 Optimism and hope are vital to continuing when life brings starkly difficult situations like the characters face in this new season. New worlds, new life and new challenges all came about with the opening of the ring and regardless of how it ends up for them individually, those working together for good are going to be inspiring to watch when the season's first episode "New Terra" hits Amazon Prime on December 13, 2019.