Always a Boy Scout? Amazon Prime Brings "Jack Ryan" Team, Episode to NYCC [FIRST IMPRESSIONS]
Lead actor and Executive Producer John Krasinski (The Office), Noomi Rapace (The Girl With the Dragon Tattoo) and Michael Kelly (House of Cards) were on stage at NYCC this weekend to premiere the first episode of the second season of Amazon Prime's Jack Ryan.
Krasinsky found out there would be a season two before they completed filming season one, which is a testament to Amazon's confidence in the series. The budget was generous if the first episode is an indicator because the show is cinematic and involves many international locations and complicated action scenes. Rapace and Kelly said yes to the project immediately upon being asked so we've got a lot of support for season two. Is it warranted or does everyone just love Krasinski?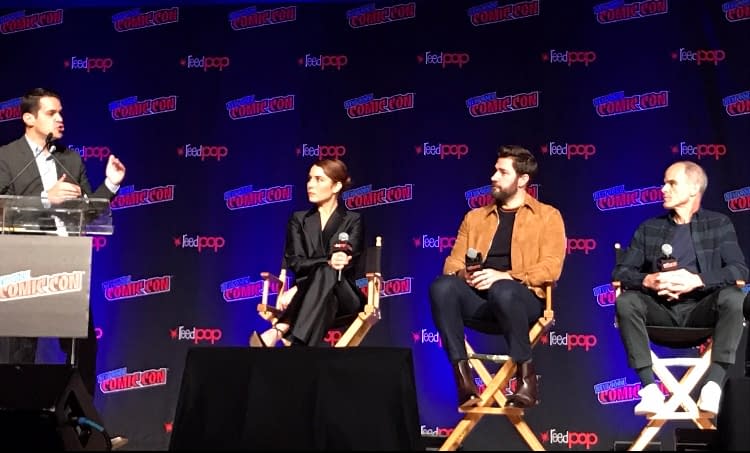 The entire season will drop on November 1st and I think it will be worth setting aside some time to check it out if not binge because so far its a solid show. That said I'm not sure it will bring anything new to the genre so if you're looking for a decent but typical action show with intrigue and high production value I think you'll be pleased.
Agent James Greer (played by the great Wendell Pierce of The Wire) has a situation that makes his stay in Russia untenable and Ryan has accepted that he will no longer be behind a desk because without spoiling the high stakes have become personal.
It opens with a little boy and his father on their fishing boat in the South China Sea who witness a missile exploding their blue sky. Who exactly is behind this? The action moves to Venezuela and involves a mysterious cargo ship and the powers behind its' trade route. The Venezuelan election is also in the forefront of the story, and as you might expect there is corruption and international influence that Ryan has to unravel.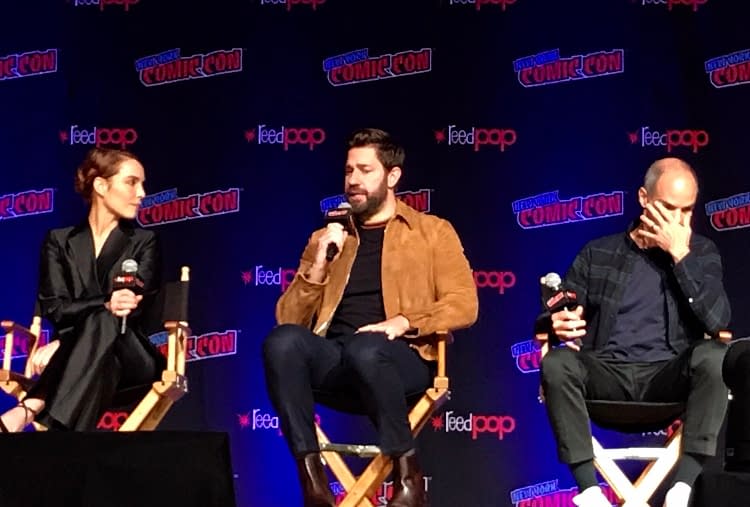 Rapace plays Harriet "Harry" Baumann as a German intelligence officer who Ryan meets in Venezuela. Rapace called her a chameleon who can go from high heels to combat easily. She's such an emotionally and physically strong actress I think she's going to make a great addition to the cast.
So too will Kelly as Mike November, a seasoned CIA operative who will be working with Ryan. Kelly had to work out again to go back to his Dawn of the Dead guns days, refreshing muscle memory for prop gun use. He was thrilled filming in a Blackhawk because after the intense scene was completed the pilot had to circle around to land and he got to ride and take selfies. Kelly was quick to add that Krasinski did the same. Filming was often exciting but could be very difficult and gruelling, with a lot of quick changes if the location or Krasinsky's new direction warranted it.
Ever-appreciative and passionate, Krasinsky ended the panel by saying this:
"The truth is, and I really mean this when I say it's very nerve wracking being executive producer and doing a show like this because you're inviting people on hoping you can deliver for them not only the product but the experience. I think that for me, I do love working hard and I love collaborating. I love some days being spontaneous and rewriting things on the day of…that was one of the most exciting experiences to have every single person to come to set, look me in the eye and say "We've got this we can do it."