Penguin: "Creative Greed" Brought Colin Farrell Back for Series
Colin Farrell offers an update on filming on HBO Max's Penguin and explains how "creative greed" led him to the "The Batman" spinoff series.
---
With all of the talk this week about the ten film & television projects that DC Studios' James Gunn & Peter Safran unveiled as part of the first wave of their new DCU, now seemed as good of a time as any to check in on how things were going with Matt Reeves' The Batman "Elseworlds" universe. In this case, the spotlight shines back on writer/showrunner Lauren LeFranc & HBO Max's upcoming Colin Farrell & Cristin Milioti-starring The Penguin. So who better to have to offer us some new insights into how production is going and what viewers can expect than Farrell himself, who had a few things to share with Deadline Hollywood during a recent interview?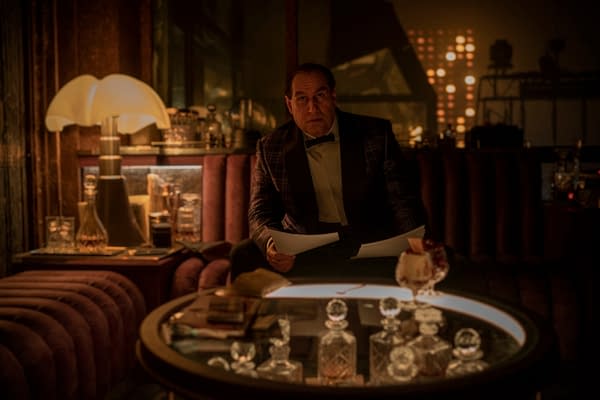 In the following clip, Farrell confirms that filming starts this month, in about two weeks (even he can't believe it). Following that, Farrell explains that it was "greed" that brought him back… but not greed for money (though he initially jokes that it was) but "creative greed" to explore more about a character he had fun playing. In fact, Farrell shares how he was expecting the make-up & effects to hinder his ability to get into the character, but instead, he found it freeing. And he's read the first five scripts from LeFranc, and he's found them to be "brilliant." Here's a look:
"The only thing I had an idea was that I wasn't nearly getting to explore the character as much as I wanted to. Because there was all this extraordinary work done by [makeup artists] Mike Marino and Mike Fontaine and his team, and I just thought it was the tip of the iceberg, pardon the pun, that we were getting to do the six or seven scenes that we did in the film. I was grateful for them, but I wanted more," Farrell shared during an interview with Variety ahead of last month's Golden Globe Awards ceremony. In fact, Mike Marino & Mike Fontaine's makeup work inspired Farrell to discuss Oswald's future with producer Dylan Clark. "Honest to god, any thought I had about an extended series was to do with Mike Marino's work. I just knew there was so much to do with it — age it up, age it down. He's just such a genius, Mike, so it was his work that was the inspiration, really," Farrell added. Now, here's a look at a video of the interview, followed by a clip of Farrell sharing what happened when he took a trip to a Starbucks in character after the first makeup test:
Based on characters created for DC by Bob Kane with Bill Finger, The Penguin is produced by Reeves' 6th & Idaho Productions and Dylan Clark Productions in association with Warner Bros. Television. Reeves, Farrell, LeFranc, Clark, and 6th & Idaho's Daniel Pipski & Adam Kassan serve as executive producers, and Rafi Crohn is a co-executive producer. Emmy Award-winning director Craig Zobel (Mare of Easttown) is set to direct two episodes and executive produce.