The fine folks behind Pennyworth took a quick moment to drop a couple of new trailers for the upcoming Epix series, and we've got a new poster for our troubles, too: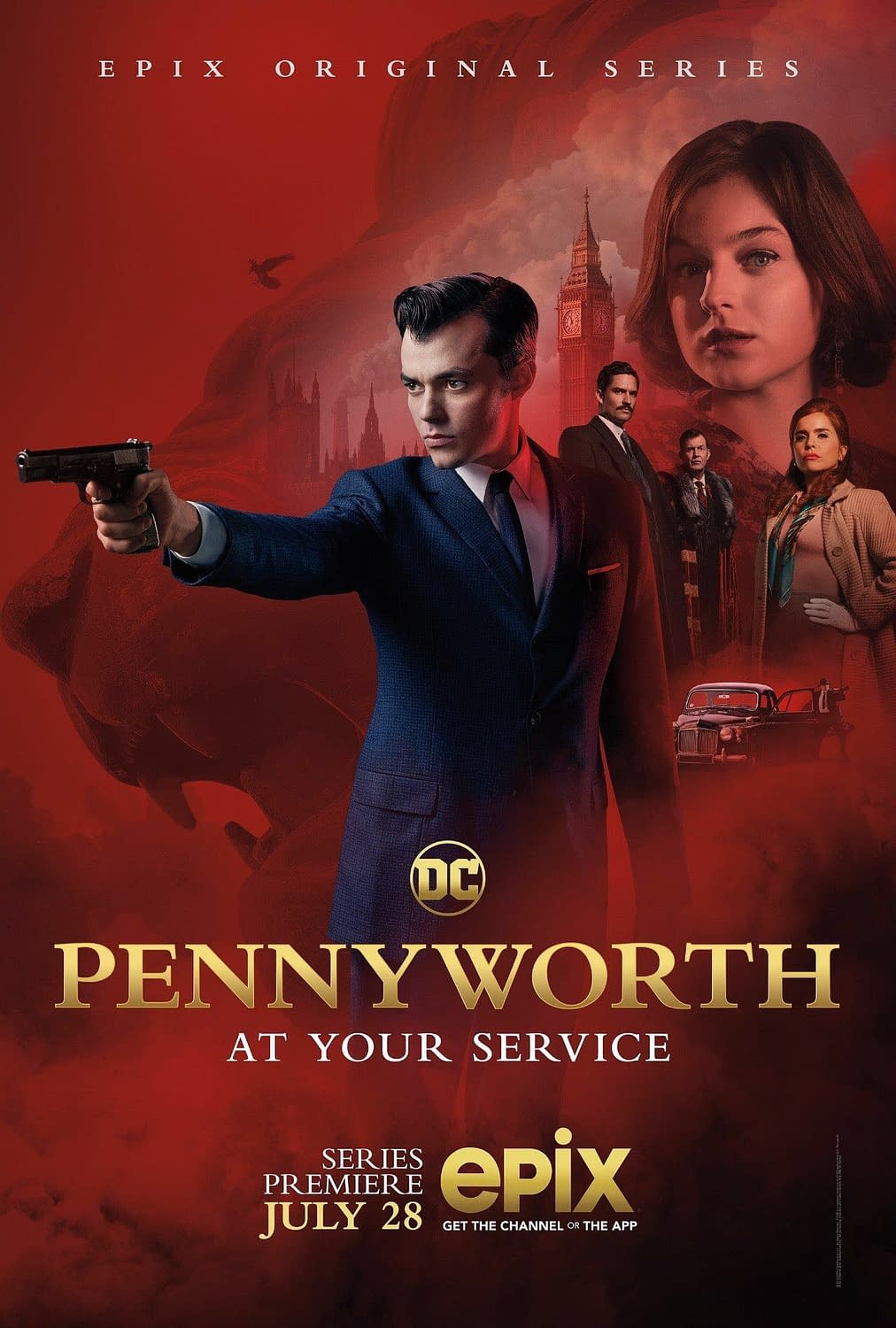 Pennyworth stars Jack Bannon as the young Alfred Pennyworth, who has set up a security agency of his own after leaving the British secret service. Soon, he meets Thomas Wayne (Ben Aldridge), who is in need of some help.
From Warner Horizon Scripted Television, DC origin story Pennyworth is a ten-episode, one-hour drama series based on DC characters created by Bob Kane with Bill Finger. It follows Bruce Wayne's legendary butler, Alfred Pennyworth, a former British SAS soldier who forms a security company and goes to work with Thomas Wayne, Bruce's billionaire father, in 1960's London.

In addition to Jack Bannon (The Imitation Game, Ripper Street) and Ben Aldridge (Our Girl, Fleabag), cast members include multi-award-winning recording artist Paloma Faith, Jason Flemyng (The Curious Case of Benjamin Button), Ryan Fletcher (Outlander), Hainsley Lloyd Bennett (Eastenders), Emma Paetz (Gentleman Jack), Polly Walker (The Mentalist, Rome) and Emma Corrin (The Crown).

Bruno Heller (Gotham, The Mentalist, Rome) serves as executive producer/writer and Danny Cannon serves as executive producer/director (Gotham, CSI series).
There has been some debate as to whether Pennyworth is a prequel proper to Heller's previous Batman work, Gotham, or just a prequel to the Batman character as a whole. Bannon definitely feels like he's cut from the same cloth as Sean Pewtree's Alfred, but we'll know for sure soon enough.
Series producers Heller and Cannon even played it pretty coy when asked about the relationship between the two series at a recent Television Critics Association press tour:
"So much of what 'Gotham' was is what we did here. It's so much a story about how the world was different then, and how much will change in order to create what comes after."

"I think it's fascinating to say, 'Why does he go to America? Why does he end up in Gotham? Why does he serve Thomas Wayne the way he does? Why is he a good mentor to the greatest hero of all time?'"
We've had two trailers drop today, the first of which is a big, sexy looking hype fest for the series proper:
And then there's this little ditty, which found its way to Pennyworth's official Twitter feed a few hours before the first trailer dropped. In it, we're introduced to Pennyworth's potential major villains, the Raven Society:
Have you heard of the Raven Society? You will. Get a sneak peek at @EPIXHD's new series, #Pennyworth. pic.twitter.com/xKjXnIacAm

— PENNYWORTH (@PennyworthEpix) June 10, 2019
Pennyworth debuts on Epix this July 28th, we'll see you then!
Enjoyed this article? Share it!