Perry Mason: HBO Letting Viewers Get to Know Matthew Rhys' PI for Free
Written by showrunners Rolin Jones and Ron Fitzgerald and based on Erle Stanley Gardner's world, HBO and executive producer Robert Downey, Jr.'s Perry Mason offered viewers "Chapter One" of the origin of one of fiction's most legendary criminal defense lawyers (Matthew Rhys, The Americans) on Sunday night. But the cable network realizes that things are a little crazy right now, so to make sure you get a chance to give the series a chance HBO has made the series premiere available to watch for free on YouTube (even easier, we have it for your eyeballs to enjoy below).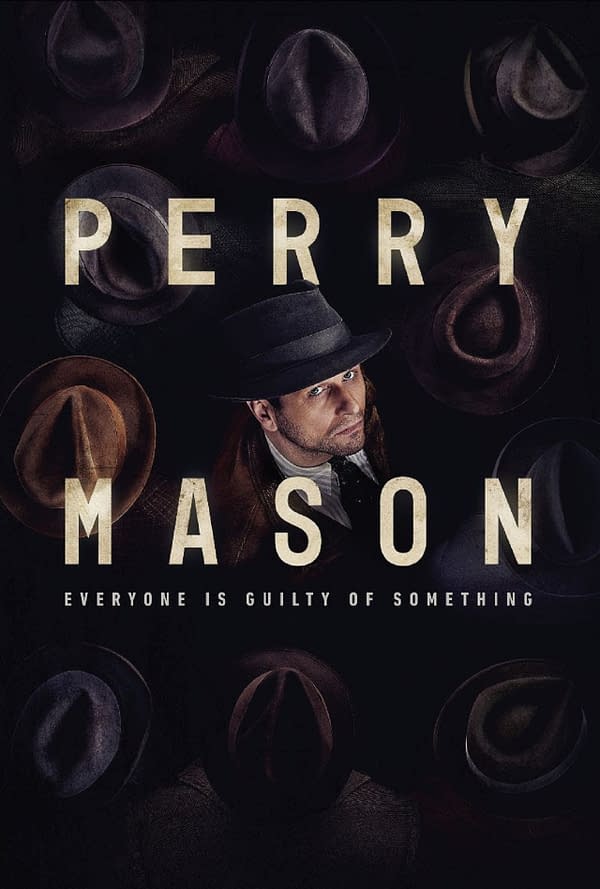 When the case of the decade breaks down his door, Mason's relentless pursuit of the truth will take him through a fractured city and quite possibly down a pathway towards redemption for a private investigator haunted by his wartime experiences in France and suffering the effects of a broken marriage. Set in 1932 Los Angeles, the city finds itself booming like never before even as the rest of the country recovers from the Great Depression. Oil, the Olympic Games, the advent of talking pictures, evangelical fervor, and a child kidnapping that goes horrifically wrong all make for a deadly mix.
Episode 1: "Chapter One": Los Angeles, 1931. On the heels of an unsavory investigation involving a famous comedian, Perry Mason (Matthew Rhys) – a PI struggling to make ends meet – and his right-hand man Pete Strickland (Shea Whigham) are hired by attorney E.B. Jonathan (John Lithgow), Perry's mentor, to solve a perplexing case: the brutal kidnapping of one-year-old Charlie Dodson, whose parents Matthew (Nate Corddry) and Emily (Gayle Rankin) were targeted for a $100,000 ransom. After meeting with Herman Baggerly (Robert Patrick), a millionaire elder at the Dodsons' church, Perry, E.B., and E.B.'s legal secretary Della Street (Juliet Rylance) ponder why a family of unmistakably modest means would be extorted for such a steep price. Written by Rolin Jones and Ron Fitzgerald; directed by Tim Van Patten.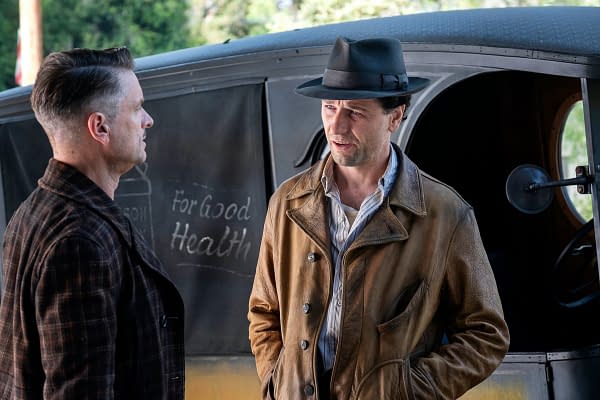 HBO's Perry Mason also John Lithgow as Elias Birchard "E.B." Jonathan, a struggling attorney and a semi-regular employer of Mason; Juliet Rylance as Della Street, E.B. Jonathan's creative and driven legal secretary; Tatiana Maslany as Sister Alice McKeegan, the leader of the Radiant Assembly of God, preaching to a hungry congregation and a radio audience across the country; Chris Chalk as Paul Drake, a beat cop with a knack for detective work; and Shea Whigham as Pete Strickland, who is hired by Mason as an extra set of eyes on his various investigations.
Stephen Root, Gayle Rankin, Nate Corddry, Veronica Falcón, Jefferson Mays, Lili Taylor, Andrew Howard, Eric Lange, and Robert Patrick also star. Executive producers include Amanda Burrell, Robert Downey Jr., Susan Downey, Ron Fitzgerald, Joe Horacek, Rolin Jones, and director Timothy Van Patten. Aida Rodgers co-executive produces, with Matthew Rhys producing. Created by Rolin Jones and Ron Fitzgerald, the series is based on characters created by Erle Stanley Gardner.