"Preacher" Season 4, Episode 6 "The Lost Apostle": See? THIS is Why You Can't Trust Jesus & Hitler to Plan the Apocalypse [PREVIEW]
After weeks of waiting, Jesse Custer's (Dominic Cooper) final sermon from "The Book of Genesis" is officially underway, with AMC's adaptation of Garth Ennis and Steve Dillon's Preacher running its fourth and final season gauntlet.
So heading into next episode "The Lost Apostle," there's a lot we need to unpack. Jesse (Dominic Cooper) is now in the hands of The Saint of Killers (Graham McTavish) and Eugene (Ian Colletti) – the latter having shot Jesse for that whole "Hell" thing. Cassidy (Joseph Gilgun) and Tulip (Ruth Negga) reunited – and are now on the road to save Jesse. "Sexy Jesus" (Tyson Ritter) flited with the idea of Tulip and Las Vegas before returning to mapping out God's (Mark Harelik) Apocalypse with Hitler (Noah Taylor) – but not before having a seed of doubt about his dad put in his head by Tulip.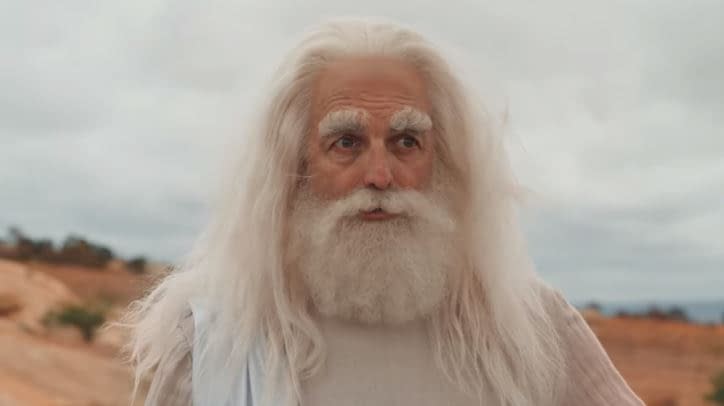 Meanwhile, Herr Starr (Pip Torrens) was juggling keeping God's plan on track with finding Humperdoo (Ritter) – making him much too busy to dispose of Featherstone (Julie Ann Emery) himself. Let's just say that was a level of disrespect that Featherstone won't stand for (fly for, sure…).
So how are those negotiations going between Jesus and Hitler, anyway?
In the following preview, we get a look – as well as a reminder that God's plan's moving ahead no matter what they agree upon in the end:
Preacher season 4, episode 6 "The Lost Apostle": Tulip and Cass track Jesse and the Saint of Killers, while Starr searches for the missing messiah.

As our story inches closer to the finale, God's endgame for the universe begins to click into place. Trapped between heavenly prophecies, hellish prisons, and all-out nuclear war, Jesse, Tulip, and Cassidy make their bloody way to the Most High. Whether they can reach God in time — or whether all this carnage is part of His divine plan — will soon be revealed as PREACHER barrels towards the end of the world.
So what made the two-hour season premiere of AMC's Preacher particularly special for us? Watching Emery up her "badass" level to a solid "11" with some sick fight scenes, serious "auto fu," and one of the best Rocky the Flying Squirrel imitations we've ever see – and we're not even coming close to doing her justice.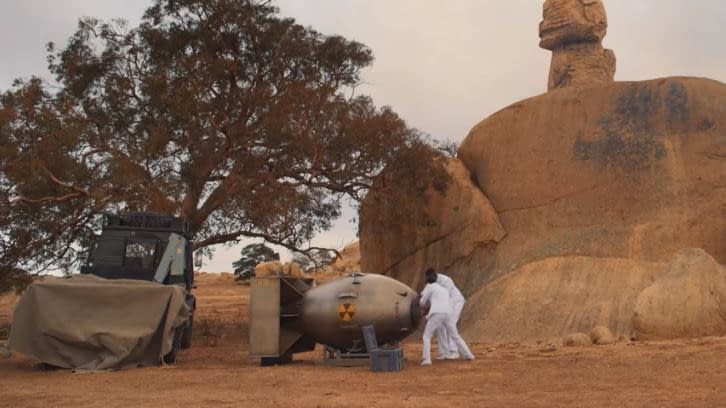 While she was doing all of that that onscreen, Emery was also "hijacking" Bleeding Cool's Twitter account to take questions and offer some amazing behind-the-scenes perspectives on the series' production (seriously, the wire work video for the flying suit scene alone is worth a visit – which you can do here).