Apparently Quibi didn't get the memo that nobody is watching their short-form mobile streaming app, because they've just renewed two of their reality shows for a season 2. Well, kind of theirs. Quibi revivals of MTV reality classics Punk'd and Singled Out are both renewed for season 2 on the streamer app. The prank show and dating show both originally aired on MTV, though the streamer picked them up for a revival with new hosts, new situations, and aired them with the app's release earlier this year.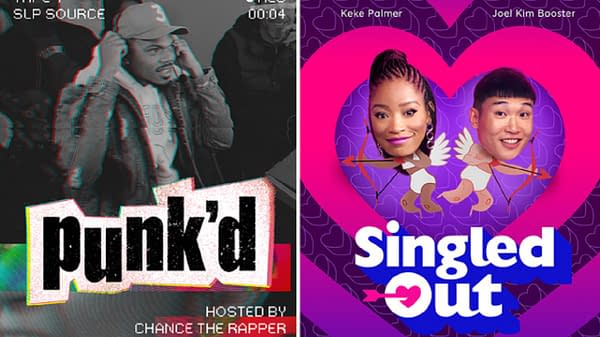 Punk'd, a revival of the MTV show of the same name originally hosted by Ashton Kutcher, is back, this time hosted by Chance the Rapper. In case you missed it, you can check out my review of the first season here. Spoiler: being cruel to celebrities for the sake of a filmed freak out does not age well at all.
I can only hope that Singled Out fares better, though I haven't watched it. Apparently that show was also an MTV original, first airing in the late 1990s hosted by Chris Hardwick and Jenny McCarthy. In the reboot, hosting duties are turned over to Keke Palmer and Joel Kim Booster. Quibi claims both second seasons will come to the app later this year, though unless they're already filmed, I can't see how that's feasible with COVID-19 production restrictions still in effect. Regardless of when they're coming to the app (and if the app will even still have subscribers), I'm sure that crews of both Punk'd and Singled Out will be grateful for the pickup and work. Though, come to think of it, I'm sure potential pranked celebs will be less than thrilled with a season 2 of Punk'd. I do give Quibi a lot of credit for keeping a positive future outlook, though.
Enjoyed this article? Share it!