Ryan Murphy Gets Twitter's Help Dream-Casting His Glee Do-Over Pilot
If there's one thing you can depend on when it comes to social media, it is its ability to take a one-off idea, an after-thought, or an amusing aside and take it to an absurd extreme. Our latest example happened late last week, when The Politician writer, showrunner, and executive producer Ryan Murphy took to Instagram to play a little "What If…?". Channeling his inner-Payton Hobart, he pitched a do-over pilot for Glee that we would definitely sign up for (check out the link below).
Clearly, Twitter saw this as their cue to start casting, and casting is definitely what they did. On Sunday, Murphy posted an image he was sent captioned "Film Twitter Glee Reboot" that shared the results. If you can get past the creepy, serial-killer-like cut-n-paste job, there are definitely some "intriguing" (if somewhat unrealistic, though never rule out a table read) choice put out there. So what do you think? Does Saoirse Ronan as Rachel Berry and Timothée Chalamet as Finn Hudson? How about Florence Pugh and Zendaya as cheerleaders Brittany and Mercedes, respectively? Of course, we would have Brad Pitt as glee club director Will Schuester, with Margot Robbie, Charles Melton, Emma Stone, Tom Holland, Robert Pattinson, Ansel Elgort, and Laura Harrier rounding out the fan-casting.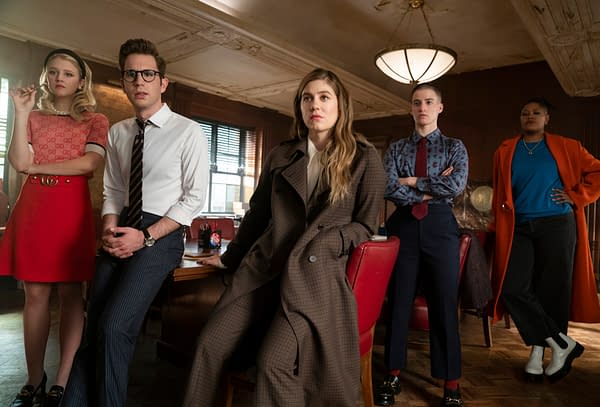 Set to hit the campaign trail on Friday, June 19, here's your look at the second season of The Politician, starring Ben Platt (Payton Hobart), Theo Germaine (James), Laura Dreyfuss (McAfee), Rahne Jones (Skye), Julia Schlaepfer (Alice), Lucy Boynton (Astrid), Judith Light (Dede Standish), Bette Midler (Hadassah Gold), Gwyneth Paltrow (Georgina Hobart), Zoey Deutch (Infinity), Bob Balaban (Keaton Hobart), David Corenswet (River Barkley), Jessica Lange (Dusty Jackson), and Benjamin Barrett (Ricardo). The series is produced by Fox 21 TV Studios in conjunction with 20th Century Fox TV. Murphy executive-produces alongside writers Brad Falchuk and Ian Brennan.
In the second season of Netflix's The Politician, Payton (Ben Platt) looks to unseat Dede Standish (Judith Light) in the New York State Senate race. As a long-time incumbent and greatly admired Senate Majority Leader with no-nonsense Chief of Staff, Hadassah Gold (Bette Midler) at her side, Dede's re-election was supposed to be easy, but Payton — who sees this as the next step on his path to the presidency — must decide what kind of politician he ultimately wants to be in order to succeed, even if that means exposing secrets, lies, and a throuple.