Pose is family. Pose is drama. Pose is a soap opera done right.
Set in 1987 in New York City, it follows the lives of outsiders who make their way to New York City to either pursue their dreams, or because there are no other options available to them.
The show is visually stunning, it has a distinct Ryan Murphy flare (which makes sense since he's one of the creators, executive producers, co-writers, and directed the first two episodes). It also has a flair all its own thanks to the talents of the cast. While the show bills some of the better-known actors first (Evan Peters, Kate Mara, and James Van Der Beek), it's the rest of the cast who makes up the heart and soul of the show.
Featuring one of the largest transgender and queer casts on television, the LGBTQ+ artists of Pose steal the spotlight. MJ Rodriguez as Blanca Rodriguez and Dominique Jackson as Elektra Abundance play dueling House mothers. In case you don't know what a House is, I'll quote Tony winner Billy Porter's fabulous emcee, Pray Tell, tell you:
"Houses are homes to all the little boys and girls who never had one, and they keep coming every day just as sure as the sun rises."
Houses are the family you get to choose. They primarily consisted of minorities and queer youth. Houses competed in balls. There are many competitive aspects to a ball. Houses (and theoretically individuals) compete in many categories: dance, drag, passing as a gender, social class, and of course there's voguing. The ball culture is emerged as an outlet for a subculture within a subculture. Even in the queer community there were / are stigmas that led to the prevalence of balls. The precedents for modern balls date back to the 17th century in Europe.
Blanca Rodriguez explains it in the pilot as "Balls are a gathering of people who are not welcome to gather anywhere else. A celebration of life that the rest of the world does not deem worthy of celebration."
The rivalry between Jackson and Rodriguez is electric. Jackson's performance sometimes borders on scenery chewing, but I get the sense it'll even out as the show continues. We also meet Indya Moore as Angel, who is caught in the middle of the two.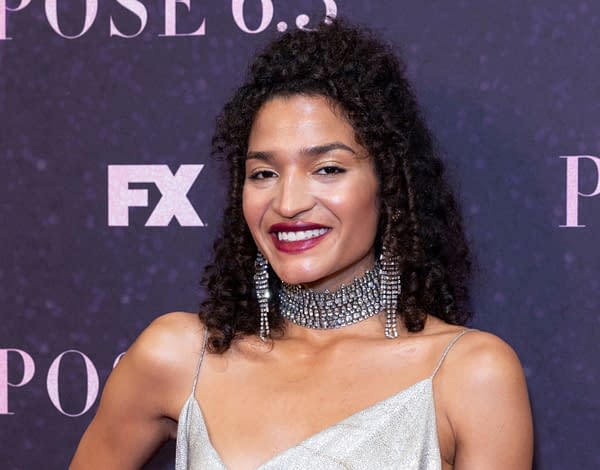 The pilot doesn't feel the need to tell us how every single character came to be where they are, but we do get to follow Ryan Jamaal Swain as Damon Richards. Watching Richards having to confront his father with the fact that he's a young gay man who wants to dance, and seeing his father's brutal reaction to it, felt so painfully real. He ends up homeless in New York, and we see his journey to finding a family who accepts him. Also I need gifs of his dance school audition stat.
There's also an unexpected presence (in name only) in that Evan Peters's Stan Bowes and James Van Der Beek's Matt Bromley work for… Donald Trump. The specter of Trump serves as a catch-all for the money and privilege that's so far from the reach of the LGBTQ+ characters. It was a little shocking to hear the name mentioned on the show at first, but given the setting and time, I suppose it was the most apt metaphor.
Bowes and Angel's relationship also looks like it's going to be one of the most riveting of the bunch. It's where the two worlds collide. Bowes meets Angel when he's cruising the docks, and you can tell she catches feelings for him. He is clearly infatuated with her, but torn between his desires, and the societal pressures for him conform to some sort of societal pressures. Kate Mara plays his unsuspecting wife Patty, and they have two kids at home. I can't imagine this having a fairy tale ending for anyone.
Pose is glitz and glam, but it's also clearly going to have grit. The show quickly addresses the harsh reality of the AIDS crisis in the late '80s. To think the characters aren't going to have to confront it even more head on in later episodes would be folly.
Independent of one's background, Pose is ultimately a story of family drama. The families just might not be related by blood. There's humor, drama, and we're waiting with bated breath for the next episode. While the show isn't technically perfect, it's perfectly watchable. Tens across the board for Pose.
Enjoyed this article? Share it!