Saturday Night Live: Michael B. Jordan Meets Creepy SNL Pillow Twin
NBC's Saturday Night Live host Michael B. Jordan has slept with a lot of folks at SNL over the years & he didn't even know it... until now.
---
Maybe we were asking for it. Because we've always said that Fridays and Saturdays are set aside for random Saturday Night Live news items during the week ahead of a new show. And as you know, we have one this weekend, with Michael B. Jordan (Creed 3) hosting and Lil Baby as the musical guest. So it made all of the sense in the world to check out Jordan when he visited Jimmy Fallon on NBC's The Tonight Show. What we weren't expecting was the creepy connection that Jordan has had with SNL for nearly a decade. One that even he didn't know he had until this week. One that may lead to a call from HR for some SNL sensitivity training sessions. Because it turns out the SNL staff has been sharing a body pillow… with Jordan's face and upper body printed on it. And Jordan got to meet him… it? Yeah…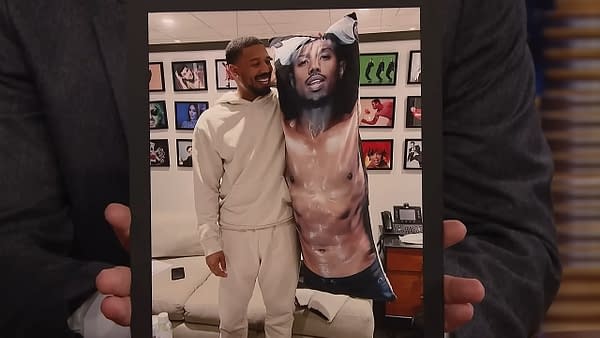 And don't forget that Pedro Pascal (The Mandalorian, The Last of Us) and Coldplay have been tapped to take the stages of Studio 8H for the February 4th show. Now, here's a look at Jordan sharing how the pillow confession went down:
Here's a look at the Instagram post from SNL's account sharing a look at the official meeting between Jordan and his body pillow doppelganger:
In the first mini-promo from Thursday, we have some minor confusion over whether Lil Baby would be taking the stage of actual "little babies." Following that, SNL's Heidi Gardner makes her pitch to be Jordan's Valentine… but he waits a little too long to reply. And finally, Gardner gets to live out her dream (she just needs to work on her geography… or get a map).
And here's a look at Jordan during Wednesday night's read-thru:
In the following midweek sketch, SNL cast member Michael Longfellow (and especially his nose) learns the hard way why it's not a good idea to sneak up on someone who's been training deeply to portray a world-class boxer. No spoilers… but "Jesus B. Christ!" might be the funniest thing I hear all day…
And here's a look back at the "welcome"/intro teaser for this week's host and musical guest:
NBC's SNL Season 48 includes Michael Che, Mikey Day, Andrew Dismukes, Chloe Fineman, Heidi Gardner, Marcello Hernandez, James Austin Johnson, Punkie Johnson, Colin Jost, Molly Kearney, Michael Longfellow, Ego Nwodim, Sarah Sherman, Cecily Strong, Kenan Thompson, Devon Walker, and Bowen Yang. Executive produced by Michaels, SNL is directed by Liz Patrick, with alum Darrell Hammond announcing. Based out of Studio 8H in Rockefeller Center, the long-running late-night sketch comedy/music series is produced by SNL Studios in association with Universal Television and Broadway Video.