Saturday Night Live Post-Production Leafletting Campaign Planned
Supporters of the Saturday Night Live post-production team will hand out leaflets to help jumpstart "stalled contract negotiations" with NBC.
---
Toward the end of January, we reported on how the union representing postproduction workers (approximately 20 part-time film editors, editors, assistant editors & media managers responsible for pre-taped segments) at NBC's Saturday Night Live had authorized a strike with the hope of accelerating contract negotiations with NBCUniversal's labor team. The move came a little more than three months after the group unionized with the IATSE-affiliated Motion Picture Editors Guild (in October 2022). A little less than two weeks later, Variety is reporting that supporters of SNL's post-production team will be handing out leaflets outside of NBC headquarters at NYC's Rockefeller Center today to help jumpstart what's being described as "stalled contract negotiations." According to sources, there have been additional bargaining sessions since the strike authorization vote, but sticking points still remain unresolved (with health benefits apparently still an issue). To take advantage of the overnight line-up line for standby tickets, SNL crew members are expected to hand out leaflets as the show prepares for this weekend's show with host Pedro Pascal and musical guest Coldplay. NBCU representatives did nor respond to a request from Variety for comment.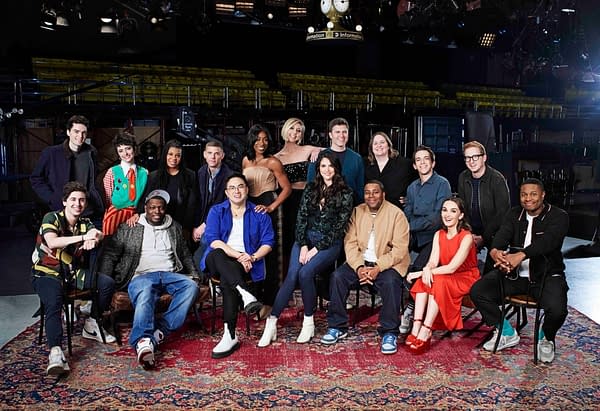 "The film workers at 'SNL' last year made it clear they want a union, and management acknowledged their wishes. Therefore it's very disappointing that despite the Guild's best efforts, there is still no framework for a contract in place," The Editors Guild's national executive director Cathy Repola released in a statement. "We remain committed to getting a contract in place as soon as possible and leave all options on the table to achieve that goal." While the vote authorizing a strike doesn't necessarily mean that there will be one, it does give the union additional leverage in negotiations. The members of the negotiating union are responsible for postproduction work on pre-taped sketches, which means there would be a serious rollback on commercial parodies, music videos, and more."We feel that the NBCUniversal labor team that is on the other side of the table to this just have not really responded in a timely manner or in a substantial manner, really, to address data points that were submitted to them," shared one member of the bargaining team with THR under the promise of anonymity.