Scrubs: Bill Lawrence Talks Blackface Controversy, If Eps Will Return
Scrubs fans learned last week that series creator Bill Lawrence and ABC Studios requested that Hulu remove three episodes from the Zack Braff/Donald Faison/Sarah Chalke hospital sitcom, and now Lawrence is offering some insight into the decision. Joining Braff and Faison's podcast Fake Doctors, Real Friends (you can listen to it below), Lawrence apologized to the three actors for the use of blackface in "My Fifteen Seconds" (s03e07), "My Jiggly Ball" (s05e04), and "My Chopped Liver" (s0517), while also taking responsibility for them.
"The reason why that word showrunner exists in television is because you're the gatekeeper," Lawrence explained, "and anything that gets allowed on a show you ultimately have to take responsibility for. So, first off, I'm super sorry that any of you guys had to deal with any stuff because ultimately even though we're all friends and it was a super creative and reciprocal environment, you guys still, at the end of the day, did and were receptive to doing whatever stuff we told you."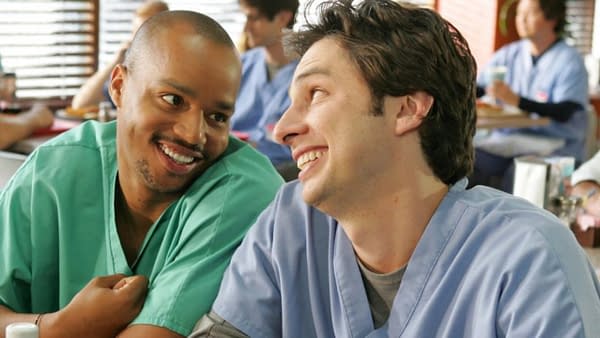 As for how the scenes made it into the episodes and the series in the first place, Lawrence believe it came down to a mix of ignorance and arrogance on the creative team's part: "We were so f**king proud of ourselves for doing a very diverse show, in front of and behind the camera, a great black-and-white friendship that exists as a real black-and-white friendship, a great interracial couple. It was almost a block of arrogance where we were like, 'We're so good at what we're portraying and doing and showing that we could never venture into muddy waters.' Even now, with that same ignorance, we never really connected the two of those things until now."
That said, Lawrence said that he would consider returning the three episodes to the streaming service, but the scenes in question would need to be edited out – something that isn't possible quite yet: "Twitter is like, 'Why did you pull the whole episodes?' Why didn't you just edit those moments out and put them back on?' And I said to one person, 'It's a pandemic. I don't really have an editing facility up right now.'"