"She-Ra" Season 3 Trailer Shows More Princesses, More Power
There were quite a few surprises for people attending the She-Ra and the Princesses of Power panel at San Diego Comic-Con— one of them concerning the heritage of a particular princess in general. The panel was composed of Amiee Carrero (Princess Adora/She-Ra), as well as Karen Fukuhara (Glimmer), Marcus Scribner (Bow), Lauren Ash (Scorpia), and executive producer Noelle Stevenson.
The panel happily answered questions regarding the fan reactions to the new series, as well as teasing the work of new cast member Geena Davis, who will be playing Huntara.
Entertainment Weekly has a couple of exclusive images from season 3, in which you can see Huntara clearly for the first time.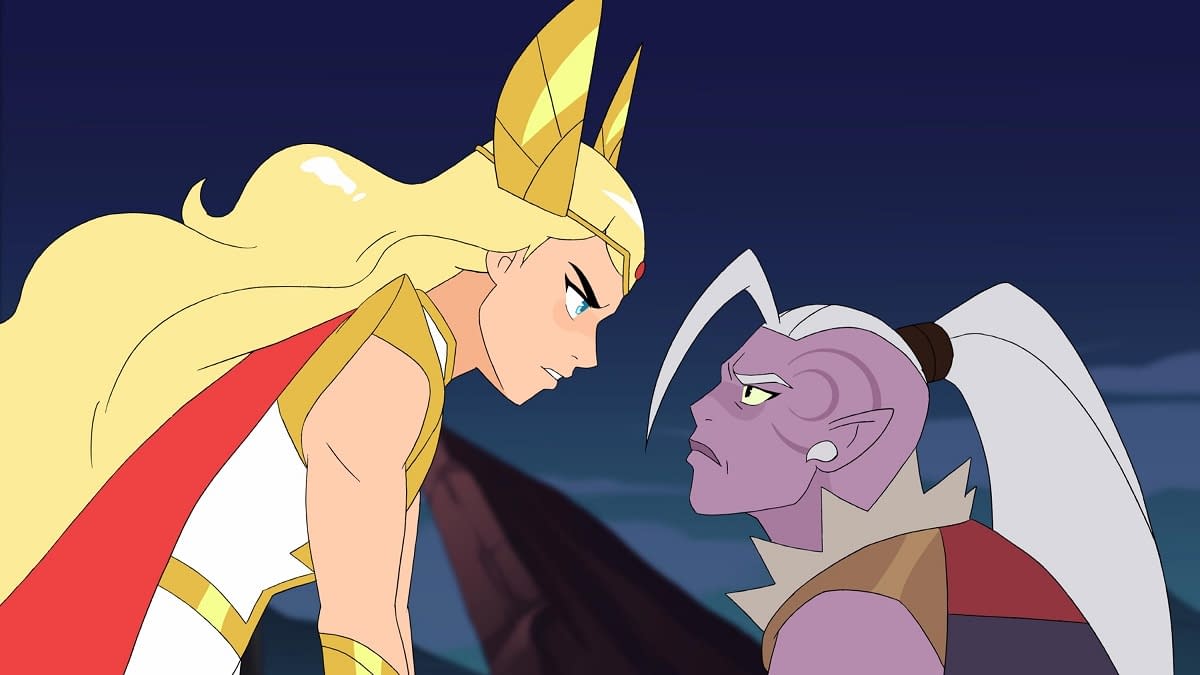 She-Ra and the Princesses of Power won't be the first time Davis has lent her voice to an animated project— she has also appeared in episodes of Doc McStuffins and as the Headmaster of the "Berrill-Ware International Online Academy for Next Generation Thinkers" on the Amazon series Annedroids.
Davis has been an advocate for increasing the presence of female characters on television and in movies, and founded the Geena Davis Institute on Gender in Media in 2007. Her decision to lend her voice to a show like She-Ra, which features a full cast of great female characters, makes a lot of sense.
The panel also showed off a brand new trailer, which teases some momentous encounters for She-Ra and her friends:
Adora, Glimmer, and Bow embark on a journey of discovery that leads them to the desolate Crimson Waste. Meanwhile, Hordak and Entrapta push Catra aside while they conjure up a master plan that only The Princess Alliance can stop. The journey of She-Ra and the Princesses of Power continues on Netflix August 2nd!
The panel also discussed how the heroes will be challenged by their adventure into the Crimson Waste, including a showdown between Catra (AJ Michalka) and a brand new villain, Tung Lashor.
Okay. I love Tung Lashor. He's one of the goofiest villains from the He-Man/She-Ra canon yet, so seeing him back in action makes me pretty happy!
The new season of She-Ra and the Princesses of Power kicks off on August 2nd on Netflix.