Agents of SHIELD Season 5: Two Old Villains to Return in 100th Episode
The 100th episode of Marvel's Agents of SHIELD is fast approaching and we've already know that we will learn what the deal Agent Phil Coulson (Clark Gregg) made with Ghost Rider to borrow the powers of the Spirit of Vengeance long enough to defeat Aida (Mallory Jansen). There has been no official word if Gabriel Luna would be reprising his role as Robbie Reyes for the episode, but when I spoke to him in November, I got the feeling he was going back for something this season. However, word just out indicates that he may not be the only familiar face returning for the special episode.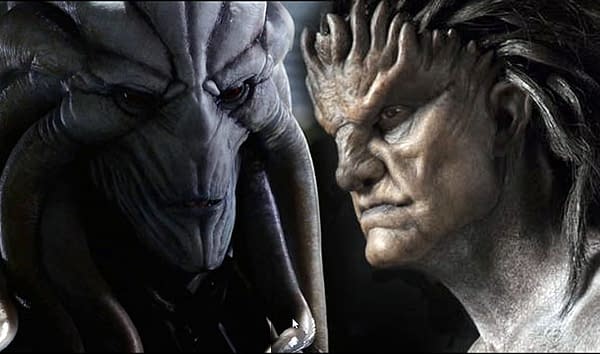 Natalie Abrams at EW.com is reporting that both Hive and Lash have been booked to appear in the episode. Hive was the alien form that took over the body of Grant Ward (Brett Dalton) in the third season of the series. Lash was the Inhuman form that Dr. Andrew Garner (Blair Underwood) turned into and hunted other Inhumans. He also appeared in the series third season. But the fact Abrams reports it as Hive and Lash and not Dalton and Underwood might mean that neither actor are returning. Former NFL lineman Matt Willig was the transformed version of Lash, and Hive is a face full of makeup and prosthetics that could be anybody.
And if the series is going to bring back those two villains, will anyone else be coming back? It's been a long time since we've see Deathlok (J. August Richards).
Marvel's Agents of SHIELD returns March 2nd with the 100th episode airing March 9th on ABC.