Slammiversary: What Are Fired WWE Wrestlers Doing in the Impact Zone?
Impact Wrestling has revealed a teaser for Slammiversary 2020, and it looks like they're really taking this embrace of the history of TNA seriously. The ad consists mostly of a fake television news report about the dozens of WWE wrestlers and backstage talent unceremoniously laid off or furloughed as supposed "cost-cutting" measures during the coronavirus pandemic, even though WWE later released a financial report showing they were on track for record profits. It looks like Impact is heavily implying that many of those wrestlers could be at Slammiversary.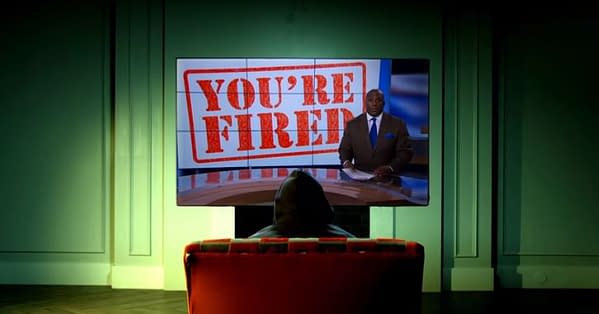 "Breaking news from the world of professional wrestling," the fake newscaster reports in the Slammiversary 2020 ad. "Over twenty-plus superstars were released from their contracts amidst the ongoing global pandemic. Their fate currently remains unknown. We will be closely monitoring the situation and we wish them all the best in their future endeavors." A person drinking whiskey on the rocks in a hoodie is watching the TV screen, though we don't see their face.
After that, we see brief flashes of various wrestlers released by WWE, most of which worked in TNA or Impact at one time or another. In order, we were able to identify Eric Young, a Bulgarian Flag (Rusev), Luke Gallows and Karl Anderson, Drake Maverick/Rockstar Spud, Curt Hawkins/Brian Myers, Mike and Maria Bennett/Kanellis, and EC3. We had to watch the video back frame by frame several times to catch them all, but it's possible we missed something in there as well. It's really fast, and you should watch it below. The clips are followed by a graphic for the Slammiversary 2020 PPV.
It's unknown whether these wrestlers have signed contracts with Impact for anything other than Slammiversary, but it seems likely they'll be appearing at least at that show if they're shown in the teaser here. For Impact not to deliver would be a pretty big letdown. It's interesting that Drake Maverick is currently still competing for the NXT Interim Cruiserweight Championship despite being one of the wrestlers let go, and if he's set to appear at Slammiversary, we can assume that his story is set to end in heartbreak. Impact Slammiversary 2020 takes place July 18th.