Solar Opposites Cast, Creative On What Makes Hulu Series So Different
Justin Roiland and Mike McMahan's (Rick and Morty) animated sci-fi/comedy series Solar Opposites have officially been running rampant around our planet (and in it) and all over Hulu for more than two weeks now. That means Korvo (Roiland), Terry (Thomas Middleditch), Yumyulack (Sean Giambrone), and Jesse (Mary Mack) have had a ton of time to spread their "sci-fi s**t" over every square inch of our soon-to-be-departed Earth. But did you ever wonder how our fearsome foursome-plus-one got to be here in the first place? No, I'm not talking about the "dying planet" backstory. We're talking about how the series came to life and made its way to Hulu, because if you have than the fine folks at the streaming service have you covered. In the following clip, Roiland, McMahan, and members of the cast explain how the series came to be, why having fun was an important aspect in creating the series, and why it's so different than other animated series.
One of the concepts from the series that's really caught on with viewers was Yumyulack's world-within-a-world known Pink Floyd-ishly as "The Wall" and it's one that proves to be personal for Roiland: "During the break between Seasons 2 and 3 of Rick and Morty, I was working with Mike and thinking a lot about [Solar Opposites], and sort of getting a lot of concept art for the world and the characters. One of the things that I got was this wall in the kids' room, and at the time, it looked a bit more like a fallout shelter, sort of like these wide floors with furniture and stuff in there, and the kids sort of just peering into it. I have some really cool concept art of Yumulak looking into The Wall, and there's no people in there, but it's all furnished and ready to go."
Roiland continued, "Basically, it was an idea we had really early on, even before we wrote the pilot, that we'd loved. And the idea was to kind of slowly inch our way to a bigger story inside The Wall and treat The Wall like a high-stakes microcosm of society, where it's sort of post-apocalyptic and they have to shed all of their regular-world belief systems and roles, and kind of take on these new roles inside this Wall."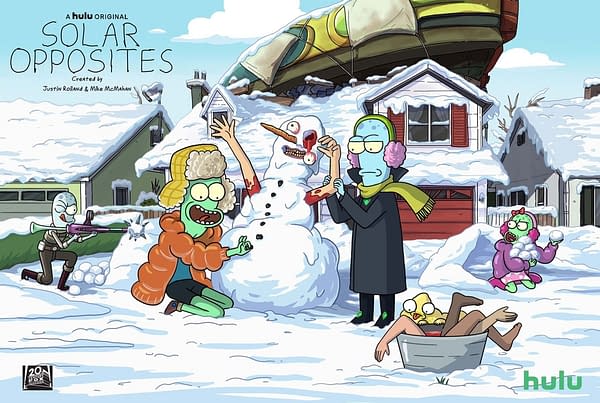 In Roiland and McMahn's adult animated series, a team of four aliens who escape their exploding homeworld only to crash land into a move-in ready home in suburban America. They are evenly split on whether Earth is awful or awesome. Korvo and Yumyulack only see the pollution, crass consumerism, and human frailty while Terry and Jesse love humans and all their TV, junk food, and fun stuff. Their mission: protect the Pupa, a living supercomputer that will one day evolve into its true form, consume them, and terraform the Earth. Here's a look at the official trailer for Solar Opposites, featuring an all-star line-up of voice actors, including Roiland, Giambrone, Middleditch, Mack, Alan Tudyk, Alfred Molina, Christina Hendricks, Jason Mantzoukas, Liam Cunningham, Rainn Wilson, Tiffany Haddish, and more.