Solar Opposites Red Band Trailer: Let's Just Say They're Adjusting
Justin Roiland and Mike McMahn's (Rick and Morty) animated sci-fi/comedy series Solar Opposites has officially crash-landed onto Hulu, which means Korvo (Roiland), Terry (Thomas Middleditch), Yumyulack (Sean Giambrone), and Jesse (Mary Mack) are doing their damndest to either save or sacrifice our round mound of brown otherwise known as Earth. Now in the interest of full disclosure, we've screened the series' first three episodes but we're not looking to tip our review hand just yet (cheap tease, we know).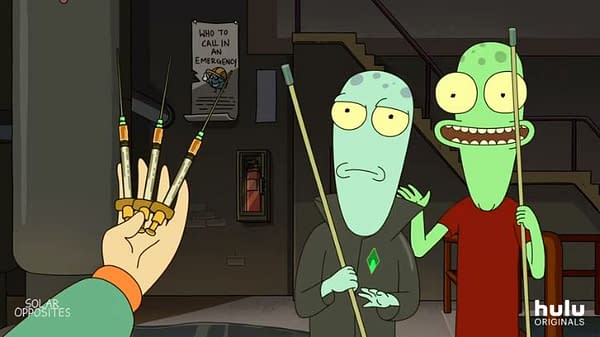 What we will say is that for those of you who are writing it off as "just a Rick and Morty clone" (would that be a bad thing?), you're making a huge mistake. But don't take our word for it (at least until after our review drops), check out the newly-released "red band" trailer that shows you why the series is listed as an "adult animated series":
In Roiland and McMahn's adult animated series, a team of four aliens who escape their exploding homeworld only to crash land into a move-in ready home in suburban America. They are evenly split on whether Earth is awful or awesome. Korvo and Yumyulack only see the pollution, crass consumerism, and human frailty while Terry and Jesse love humans and all their TV, junk food, and fun stuff. Their mission: protect the Pupa, a living supercomputer that will one day evolve into its true form, consume them, and terraform the Earth. Here's a look at the official trailer for Solar Opposites, featuring an all-star line-up of voice actors, including Roiland, Giambrone, Middleditch, Mack, Alan Tudyk, Alfred Molina, Christina Hendricks, Jason Mantzoukas, Liam Cunningham, Rainn Wilson, Tiffany Haddish, and more.