Alright, Alright: Mathew McConaughey Congratulates Super Bowl MVP Nick Foles
A star was born during the Philadelphia Eagles 41-33 victory over the New England Patriots in Superbowl LII earlier this month. Backup quarterback Nick Foles was thrust into the limelight and shined, throwing for 373 years, three touchdowns and even catching one in an amazing trick play that he called for. Foles had been the Eagles starter a few years back, but was traded to the Los Angeles Rams when the Eagles drafted Carson Wentz. He then lost the starting job with the Rams and moved on to the Kansas City Chiefs for a season before going back to Philly to ride the bench behind Wentz. But when Wents went down near the end of the season, it was Foles who stepped up and kept things going all the way to the Lombardi Trophy.
This got the attention of American, and one particular fan who also hails from Foles's home town of Austin, Texas. Actor Matthew McConaughey took out a full-page ad in the Austin American Statesman to acknowledge what Foles had done.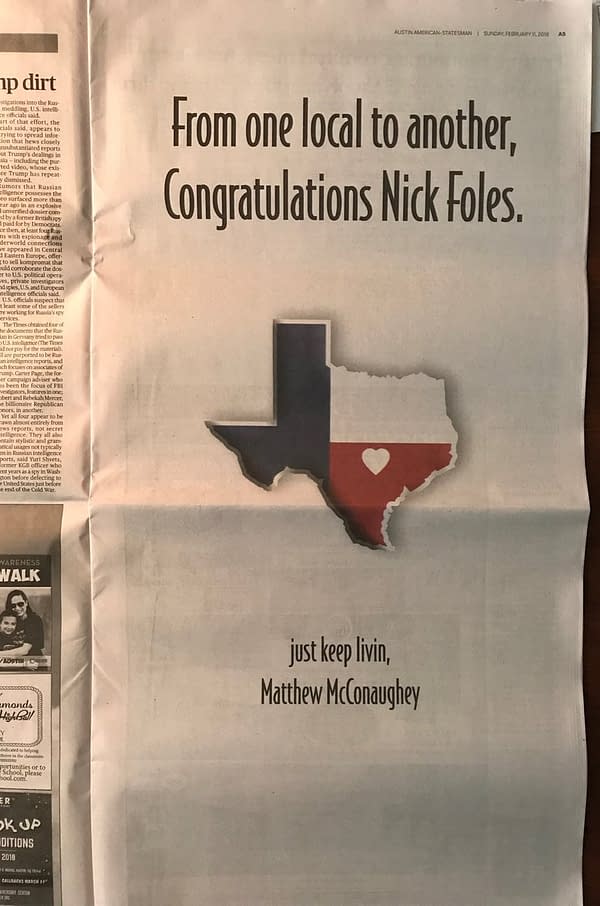 "From one local to another, Congratulations Nick Foles. just keep livin, Matthew McConaughey."
No word on Foles's reaction to the ad.