'Star Trek: Discovery' Season 2, Episode 8 "If Memory Serves" Looks Mind-Bending [PREVIEW]
The second season of Star Trek: Discovery on CBS All Access started with an intense but entertaining slow burn. Tensions regarding Spock (Ethan Peck), the Red Angel, Section 31, and Ash Tyler's (Shazad Latif) return built to a mutual climax in last week's "Light and Shadows." When viewers last saw Michael Burnham (Sonequa Martin-Green), she had Spock in her shuttle and had set a course for Talos IV with no idea why. The images (included below) and the preview for this week's episode "If Memory Serves" promise a dark, gritty ride through the dystopian wasteland of Spock's brain. I can't wait!
Warning! Light spoilers and heavy conjecture below!
The preview above for "If Memory Serves" looks like the trailer for a sci-fi horror movie. Burnham and Spock interact with the Tolosians. The Discovery chases the Enterprise through space at warp speed. Hugh Culber (Wilson Cruz) confronts his murderer. The Earth is destroyed by dozens of Doc Ock probes. And finally, young Burnham is attacked by a creature that looks like the bug alien from Starship Troopers.
Taking a look at these scenes one by one, a picture of the episode is cobbled together…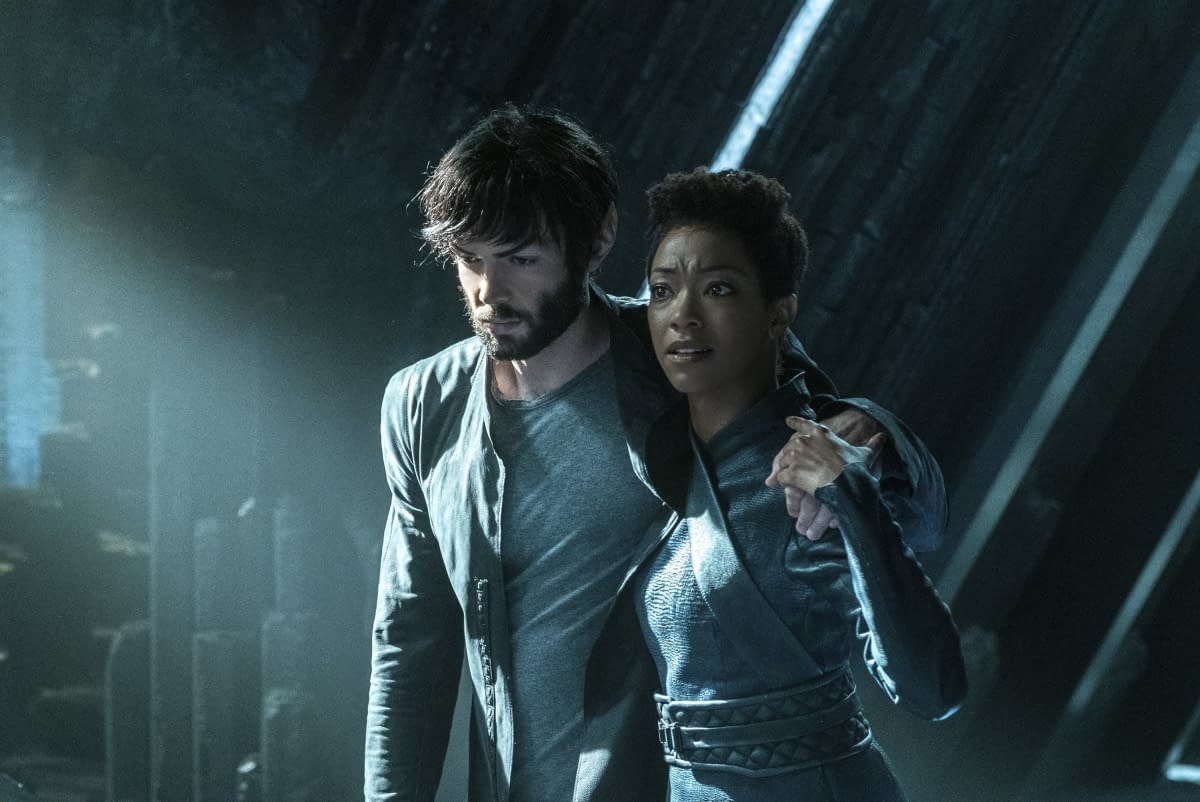 In the original Star Trek pilot "The Cage", Captain Pike (Jeffrey Hunter) and Number One (Majel Barrett) face off against the psychic aliens of Talos IV. The Talosians use illusions to try and lure the Enterprise crew into staying on their planet. Much of "The Cage" was eventually cannibalized to create Star Trek Season 1 two-part episode "The Menagerie." Many aspects of Season 2 of Discovery have been pulled from "The Cage" and it looks like "If Memory Serves" will continue that trend.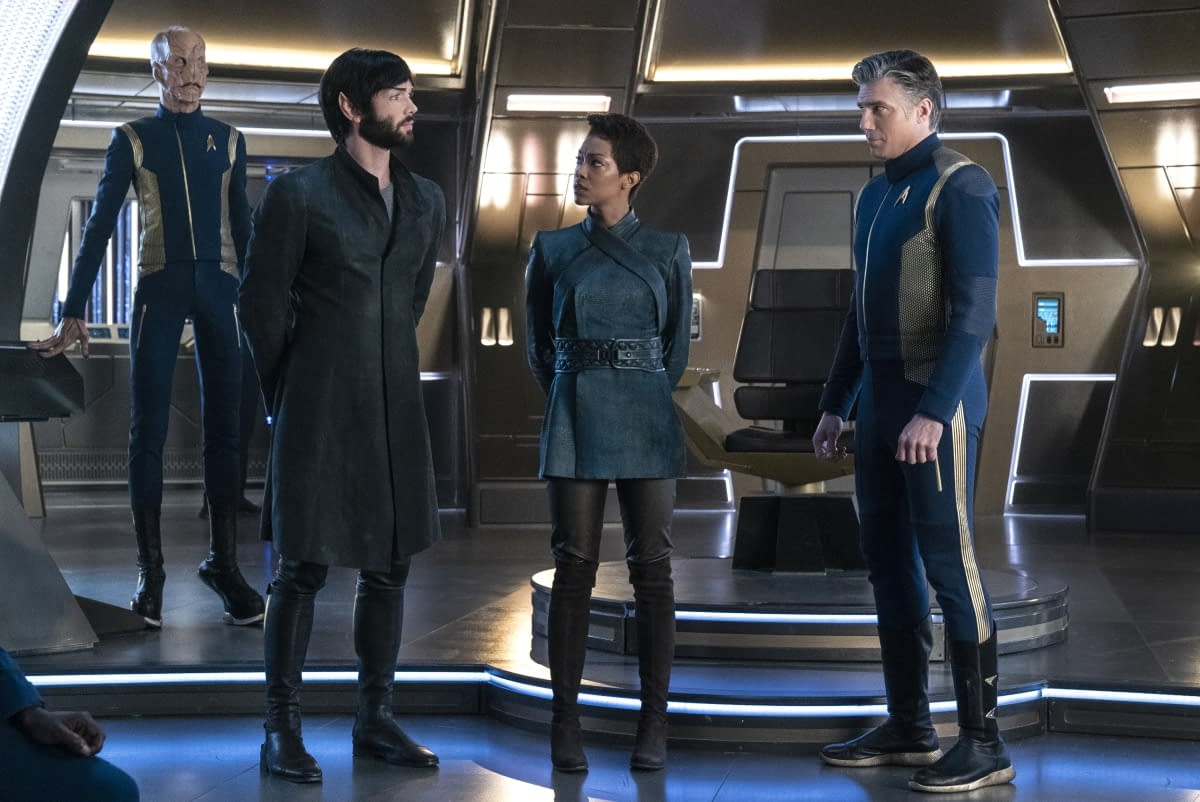 The preview shows Burnham asking the Talosians to show her what Spock sees in his mind. We then see scenes of alien ships firing missiles that look like the Doc Ock probe from last week. The missiles eventually hit what appears to be Earth. The voice over from Spock indicates that he has had a vision about a apocalyptic future that the crew of Discovery has the opportunity to prevent.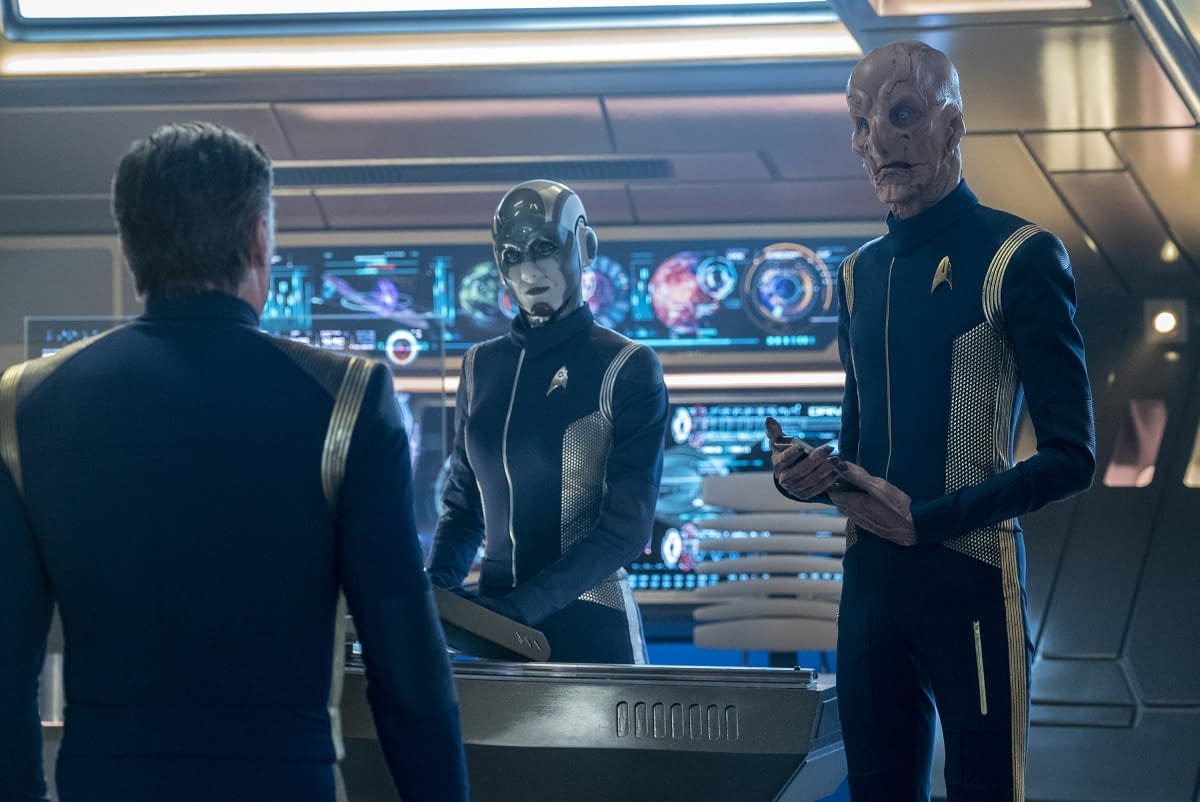 The audience is also shown what appears to be flashbacks from Burnham's childhood. She is being chased by a large creature that come out of the ground. Rather than being an image from Spock's brain, it is more likely that these images are pulled from Burnham by the Talosians. Given the revelation from last week that Leland (Alan Van Sprang) from Section 31 is responsible for the attack on Burnham's childhood home, recovered memories may bring back some key detail of the attack. Will she be able to like the attack to Section 31? Likely not yet, but she will eventually.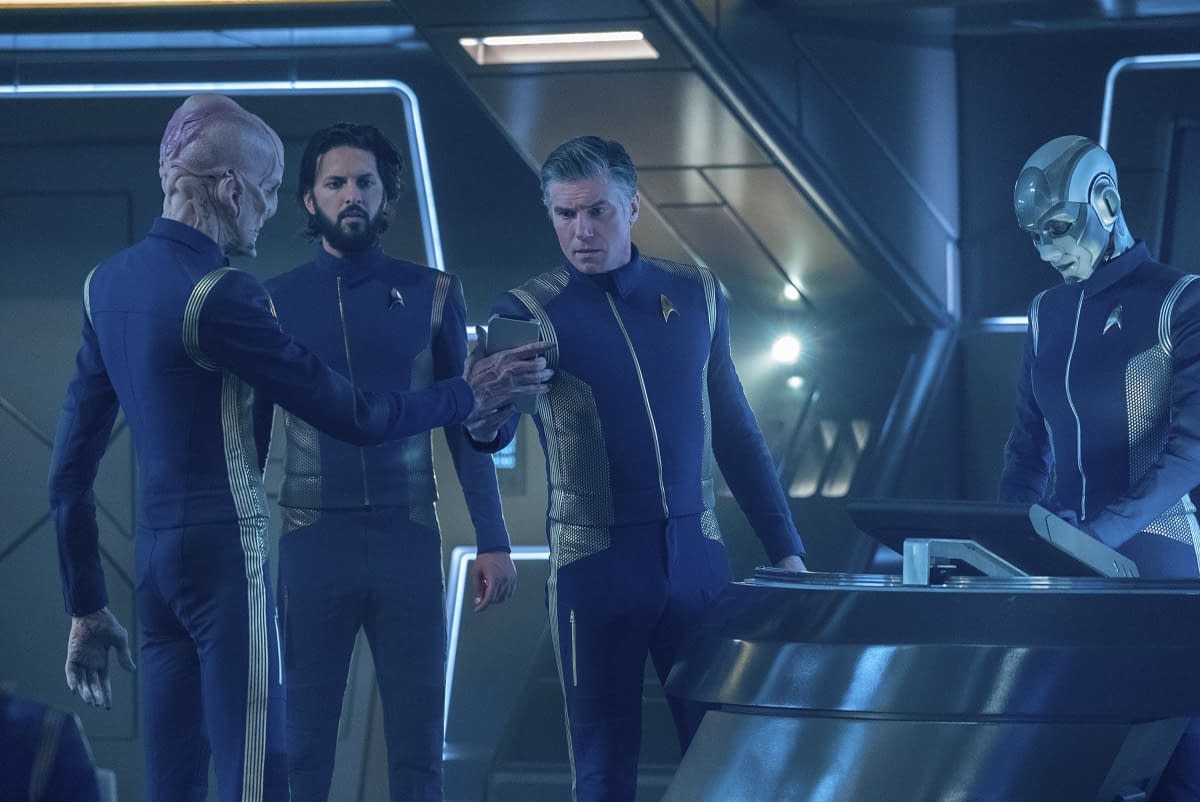 Multiple images released by CBS All Access from "If Memory Serves" involve Lieutenant Commander Airiam (Hannah Cheesman), the cyborg Discovery crew member who was infected by the Doc Ock probe after it left the temporal rift. It is unclear how the "virus" Airiam may have contracted will effect the ship and her crew, but at some point people are going to stop wanting to serve on the Discovery.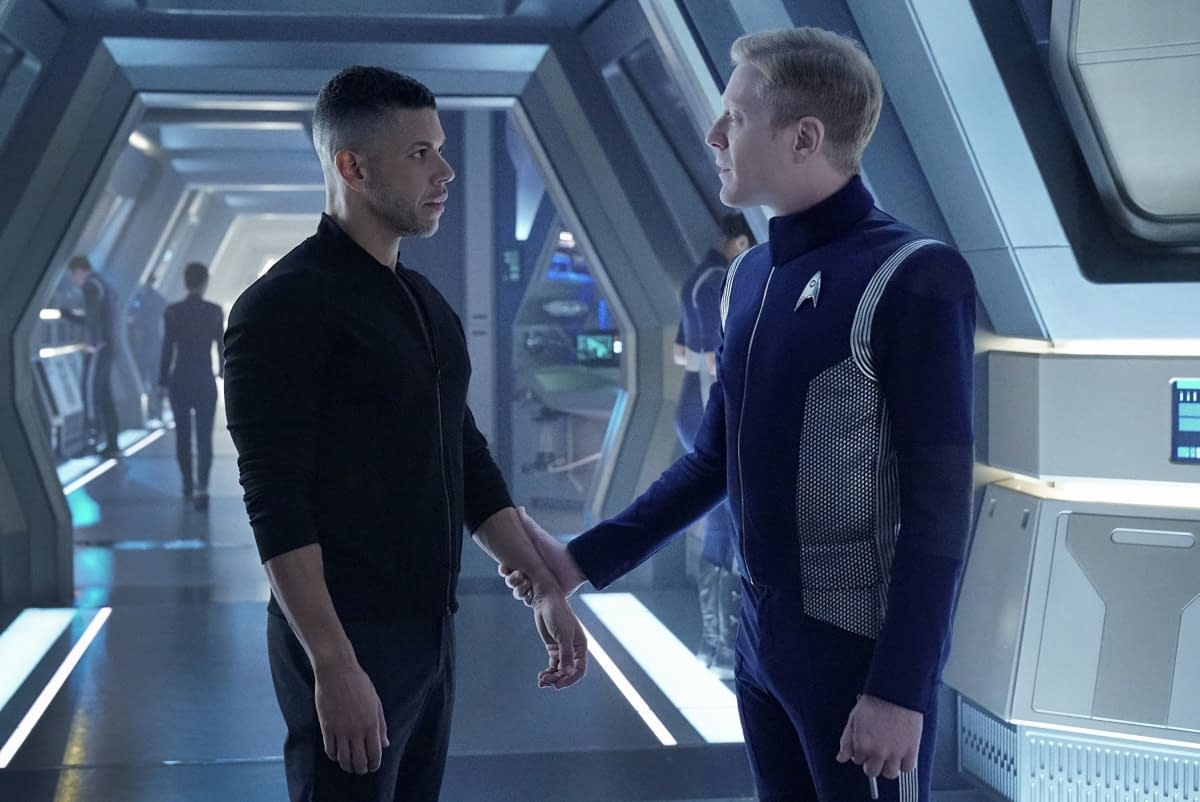 Last week's episode neglected Hugh Culber's difficult re-entry into the land of the living. If the four images and the preview scenes from this week's episode are to be trusted, that deficiency will be remedied. Culber is out and about around the ship, including a confrontation in the officer's mess with his murderer, Ash Tyler. Not many murder victims have had the opportunity and corporeality to deck the person who killed them, so the situation will likely be an uncomfortable one for all involved.
Though honestly, can you blame Culber?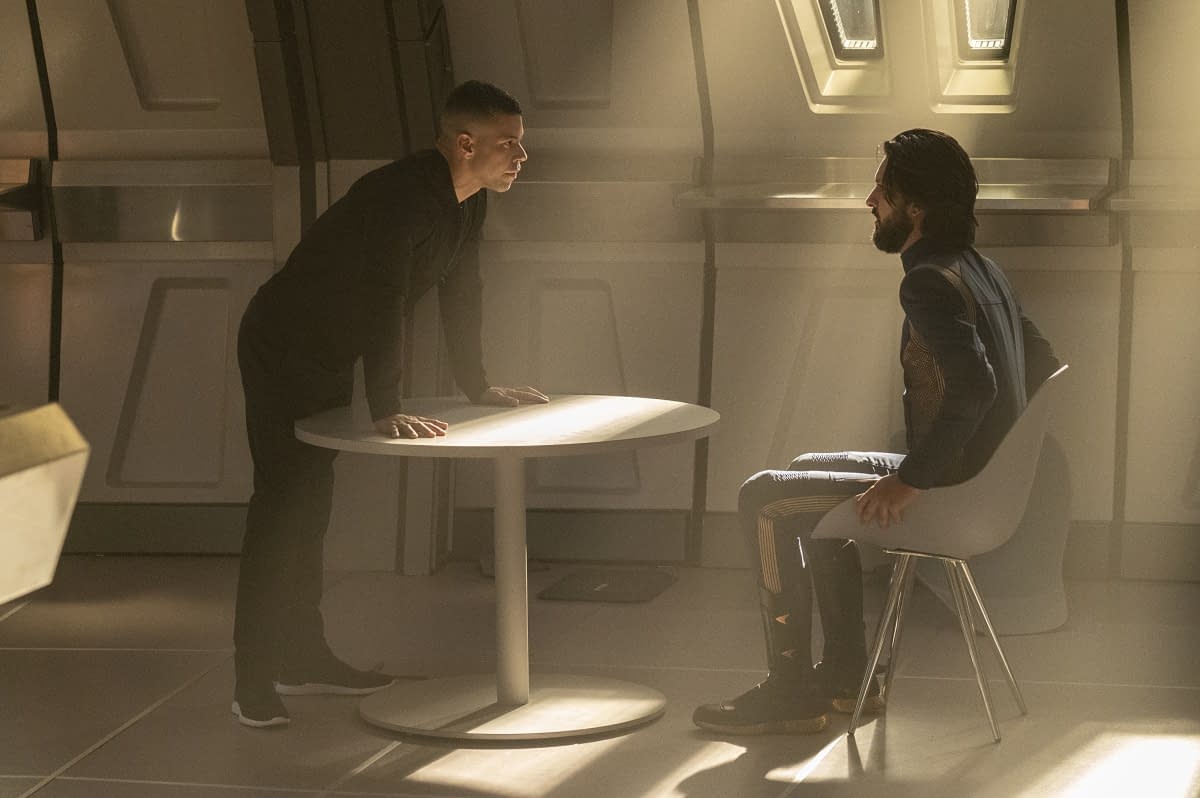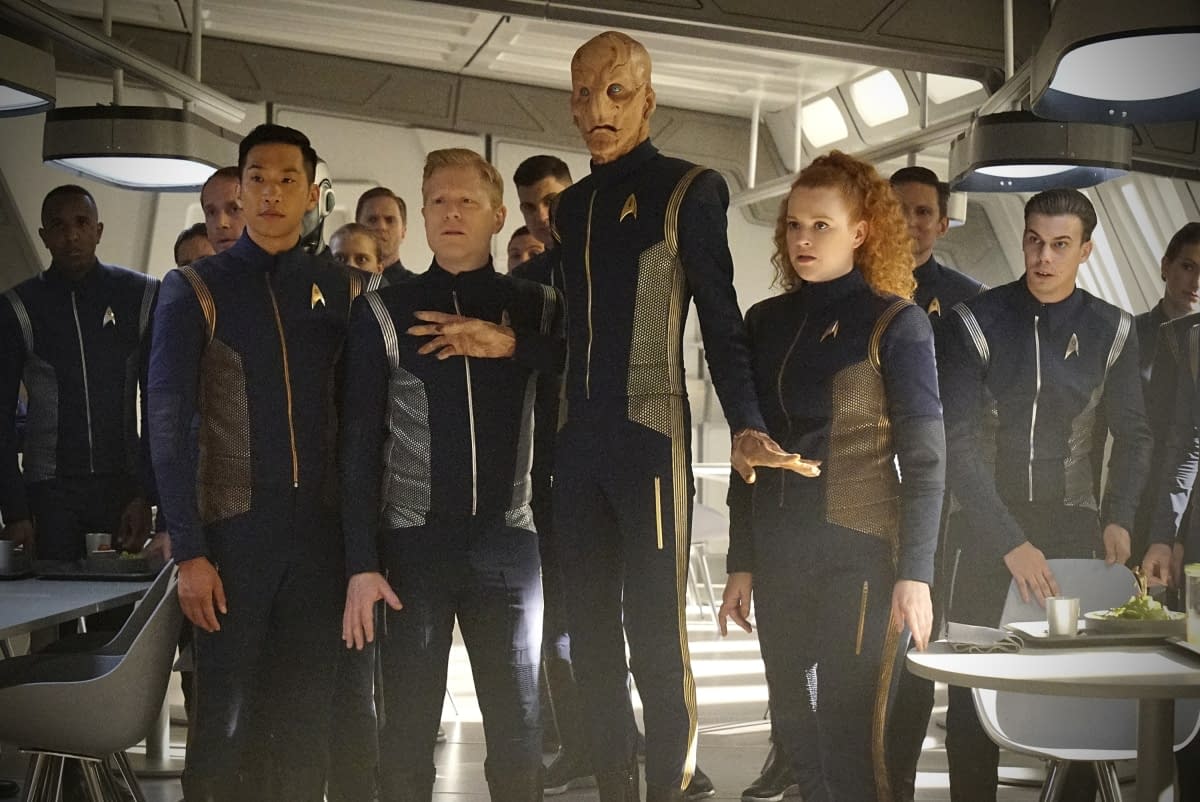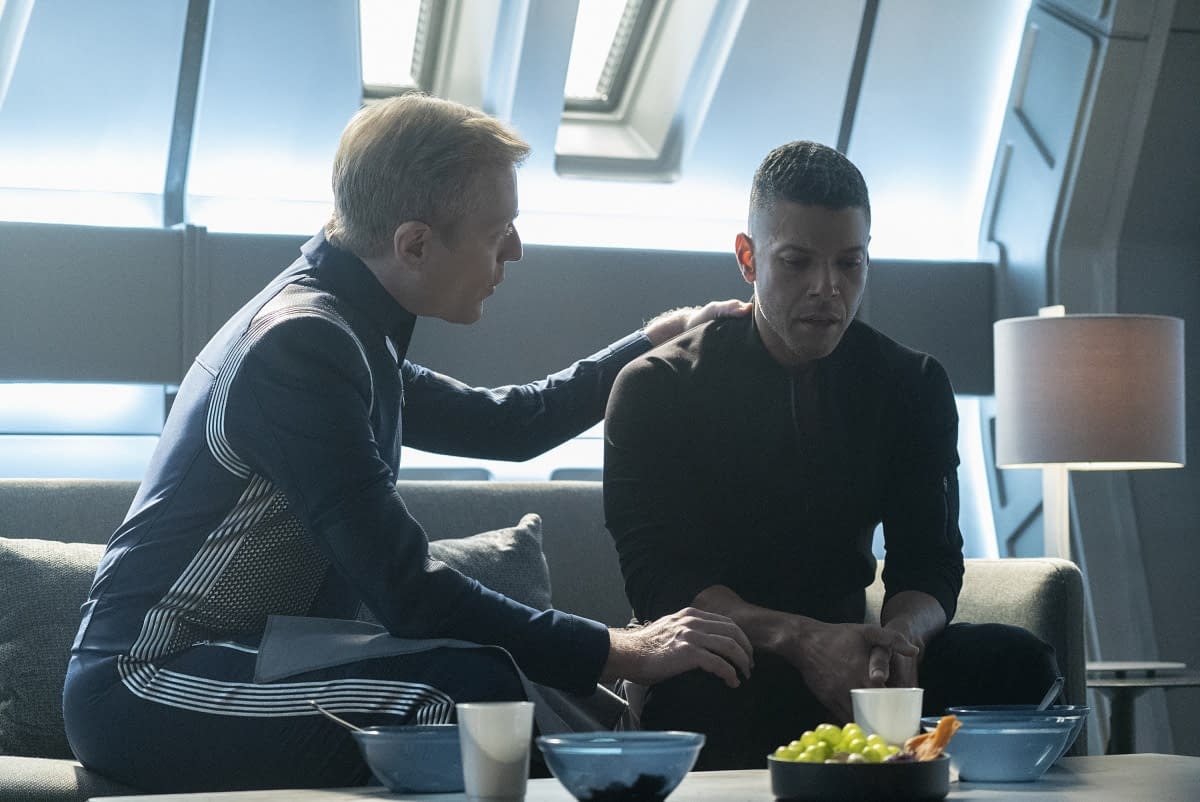 "If Memory Serves" looks dark, and emotional, and dramatic. It also includes large headed aliens, a possible cybernetic mole, and repressed childhood memories. While I am learning to expect the unexpected with this season of Discovery, I am anticipating another captivating episode of Star Trek. I'm sure that not all questions will be answered, and Spock will likely not yet be cured, but the journey looks like it will be a lot of fun.
Star Trek: Discovery "If Memory Serves" premieres on CBS All Access starting Thursday, March 7, at 8:30 p.m.

However… if you can't wait for until Thursday for more Trek, the Star Trek: Discovery official YouTube channel has recently released several interesting featurettes that provide some interesting behind-the-scene looks and background information on Season 2 episodes. Enjoy!