'Star Trek: Discovery' Season 2: Anson Mount, Rebecca Romijn Departing Series
Though coming as no surprise to viewers of Star Trek: Discovery who are up on their Star Trek lore, CBS All Access made it official on Monday: Anson Mount (Capt. Christopher Pike) and Rebecca Romijn (Number One) will depart the popular series at the end of this season. Based on sources close to production and first reported by Deadline Hollywood, both Mount and Romijn were signed to only one-season contracts – giving writers on the series the time to line up the current storyline with original Star Trek canon heading into a recently announced third season.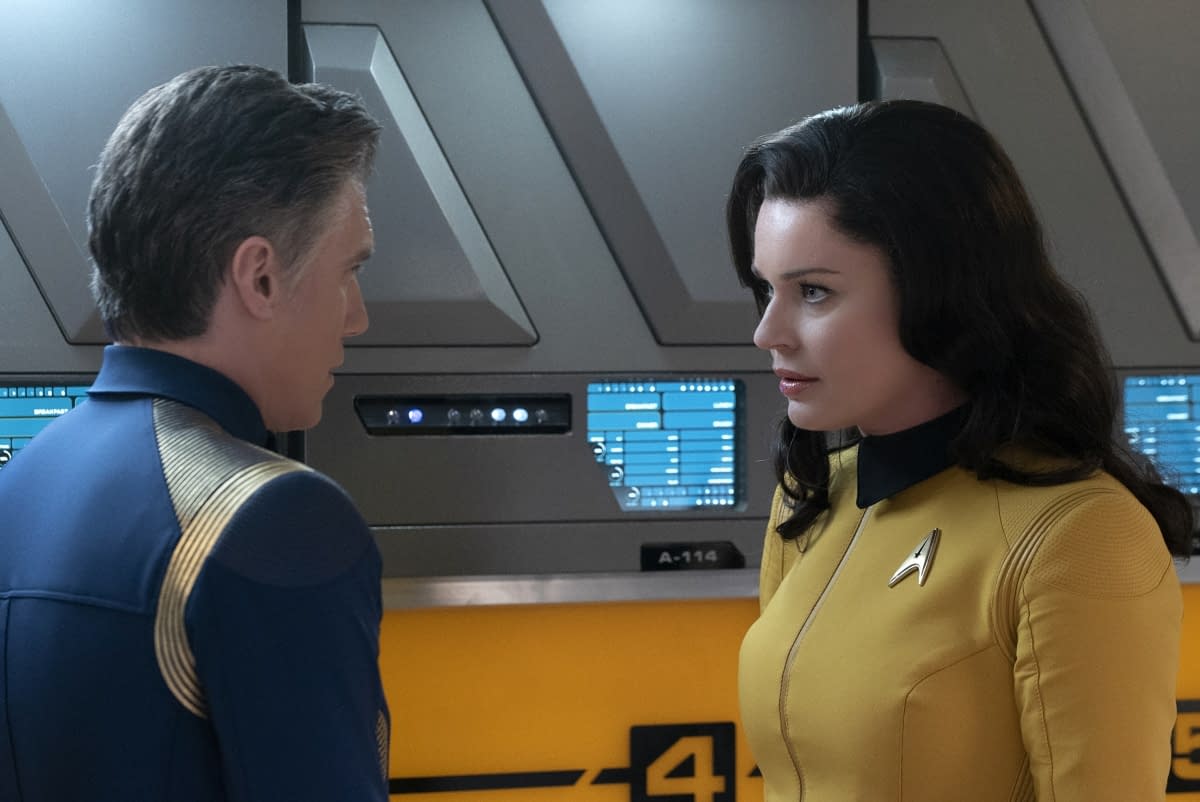 Though only appearing once in the original Star Trek run – in the 1966 two-part episode "The Menagerie – Capt. Pike has remained a thematic presence in stories over the years. Earlier this year, Star Trek: Discovery co-creator, executive producer, and showrunner Alex Kurtzman discussed what he wanted to do with the Pike character this season:
"This season we get inside his character in a way that we we didn't get to do in the films. And the fact that we will synchronize with canon by the end of this season, that means we may see shades of where we all know Pike will end up."
After answering a distress signal from the U.S.S. Enterprise, season two of STAR TREK: DISCOVERY finds the crew of the U.S.S. Discovery joining forces with Captain Christopher Pike on a new mission to investigate seven mysterious red signals and the appearance of an unknown being called the Red Angel. While the crew must work together to unravel their meaning and origin, Michael Burnham is forced to face her past with the return of her estranged brother, Spock.
Star Trek: Discovery stars Sonequa Martin-Green (Commander Michael Burnham), Doug Jones (Commander Saru), Anthony Rapp (Lt. Commander Paul Stamets), Mary Wiseman (Ensign Sylvia Tilly), Shazad Latif (Ash Tyler), Wilson Cruz (Dr. Hugh Culber), Anson Mount (Captain Christopher Pike), Mary Chieffo (L'Rell), Tig Notaro (Chief Engineer Reno), Ethan Peck (Spock), Rebecca Romijn (Number One), and Michelle Yeoh (Philippa Georgiou).
Alex Kurtzman, Heather Kadin, James Duff, Frank Siracusa, John Weber, Olatunde Osunsanmi, Rod Roddenberry, and Trevor Roth serve as executive producers. CBS Television Studios produces in association with Secret Hideout and Roddenberry Entertainment.