'Star Trek: Discovery' Season 2, Episode 12 Preview – A Walk "Through the Valley of Shadows"
What happens on Q'onoS apparently does not stay on Q'onoS. Earlier in CBS All Access Star Trek: Discovery's second season, viewers saw Klingon High Chancellor L'Rell (Mary Chieffo) send away Ash Tyler (Shazad Latif) and the infant son she conceived with Tyler's Klingon alter-ego Voq. Section 31 – and therefore Control 0 knows of Tyler/Voq's son, because they helped to transport the infant to a Klingon monestary.
However, no one on the Discovery knows what Tyler was up to before he showed up as a Section 31 spy. In this week's episode of Discovery, "Through the Valley of Shadows," the events on Q'onoS are coming back to haunt Tyler and threaten his son as well as his romance with Commander Burnham (Sonequa Martin-Green). On-again-off-again spoilers below.
"Next week in "Through the Valley of Shadows," a fourth signal leads the U.S.S. Discovery to an insular world, where Pike is forced to make a life-changing choice. Burnham and Spock investigate a Section 31 ship gone rogue, leading to a discovery with catastrophic consequences.'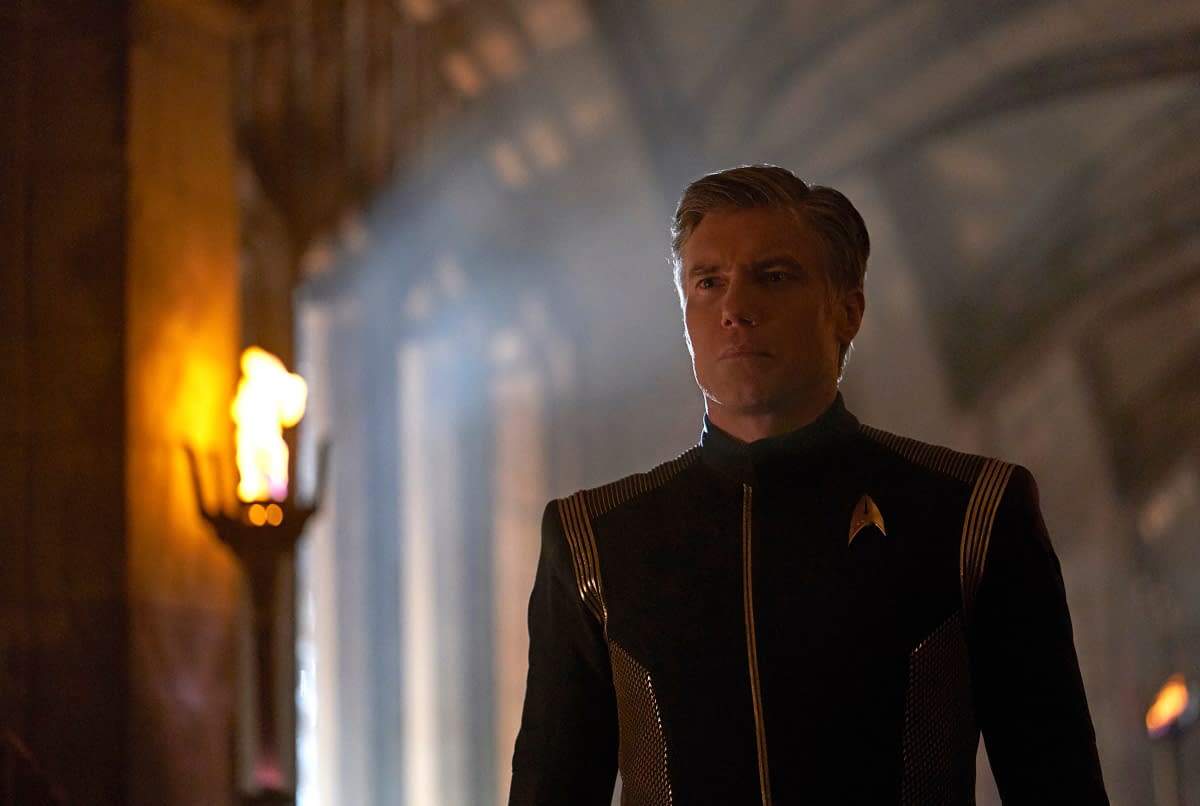 The Red Signals, the ones the Red Angel apparently knows nothing about, are back. This time, a signal appears around Borath, an insular Klingon world. Star Trek: Discovery viewers will recognize Borath as the home of the monastery where Tyler/Voq left his and L'Rell's son to be raised. Leland (Alan Van Sprang), now the cyborg home of Control, helped transport Tyler's son to Borath, and therefore knew the infant's location. After the damage that Tyler did to Control in last week's episode, it seems as if the evil AI has decided to make things personal.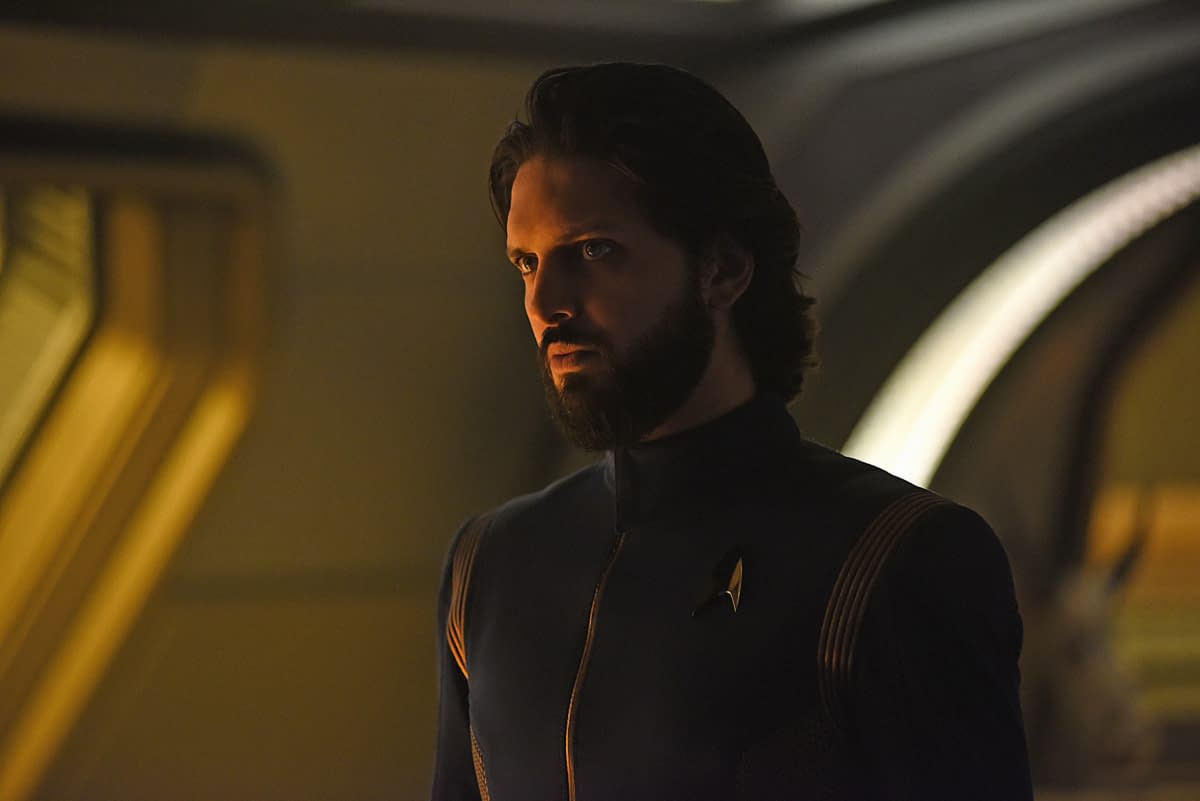 The timing of this signal, and the inevitable revelations about Tyler and L'Rell's relationship, couldn't really come at a worse time. Burnham and Tyler have just started to rekindle the romance they ended when Tyler left Starfleet. Details about Tyler and L'Rell's relationship and shared child will come as a blow to the fledgling romance. Considering the year Burnham is having, she may not take the news very well.
To add awkwardness to relationship injury, images released by CBS All Access for "Through the Valley of Shadows" (included throughout this article) show that L'Rell herself is going to show up. The Klingon leader is not likely to be happy to learn that not only is her infant child in danger, but Starfleet's threat monitoring software has turned evil and is now controlling all of Section 31 and its spy assets.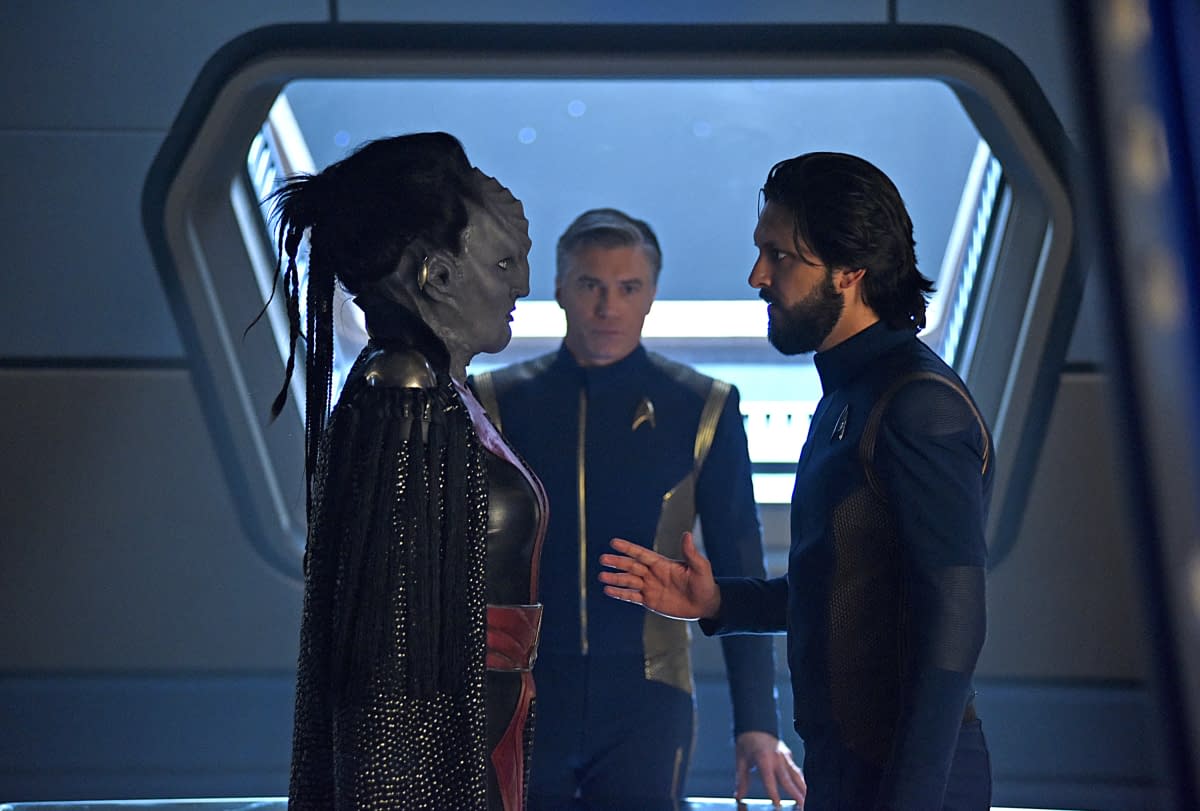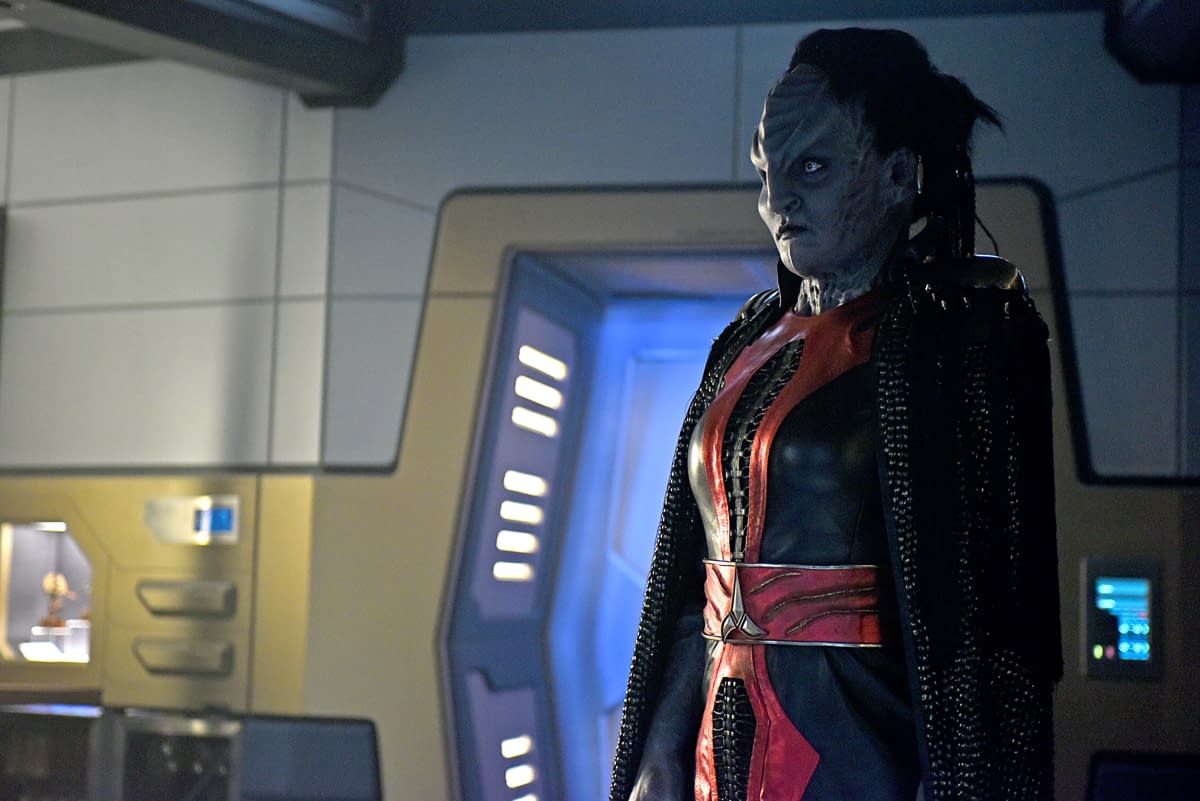 As if Red Signals, Klingon co-parents, and evil AI are not enough, it appears something is going on with Section 31 ships. The preview shows a map with blinking indications of Section 31 ships, as well as the same sort of floating dead bodies we saw in the Control-destroyed spy headquarters. Is Control destroying Section 31 or using them to destroy Starfleet? Wearing its new Leland-skin, Control has access to the entirety of the spy agency's resources. That is a lot of firepower. But what does the evil AI actually want to do with it? What is Control's motivation?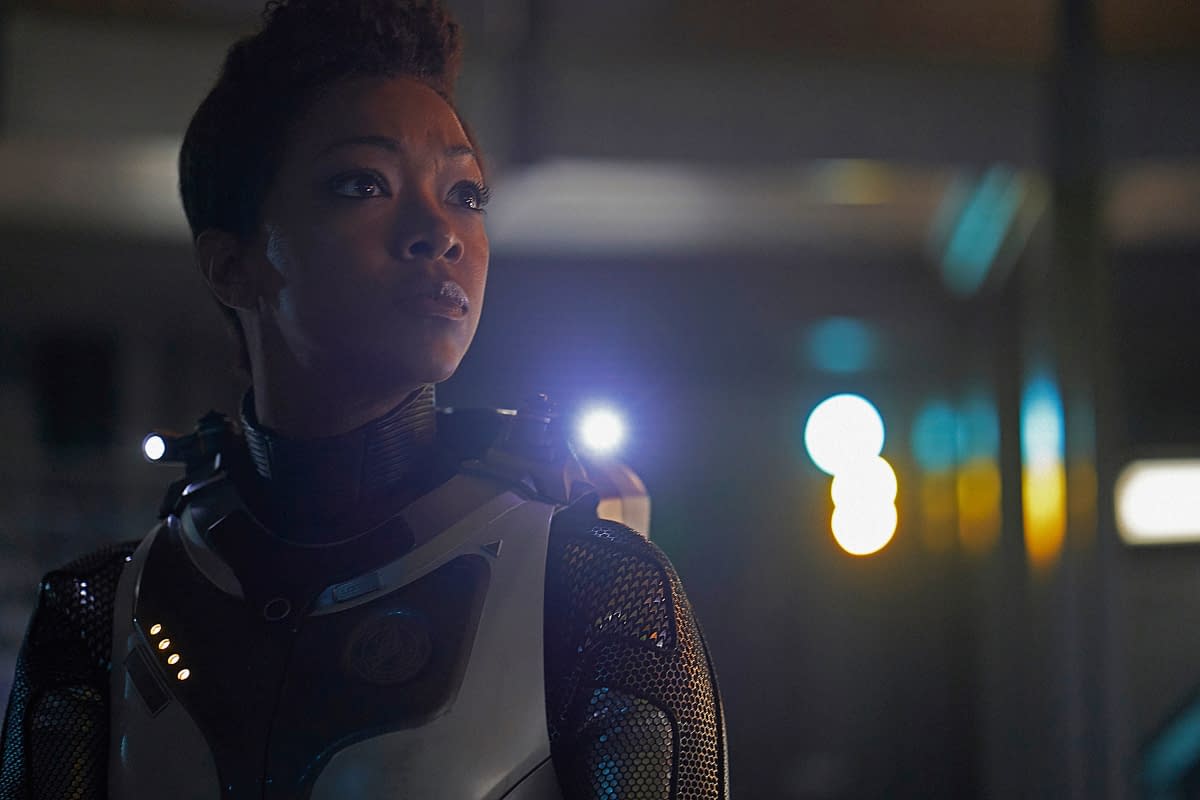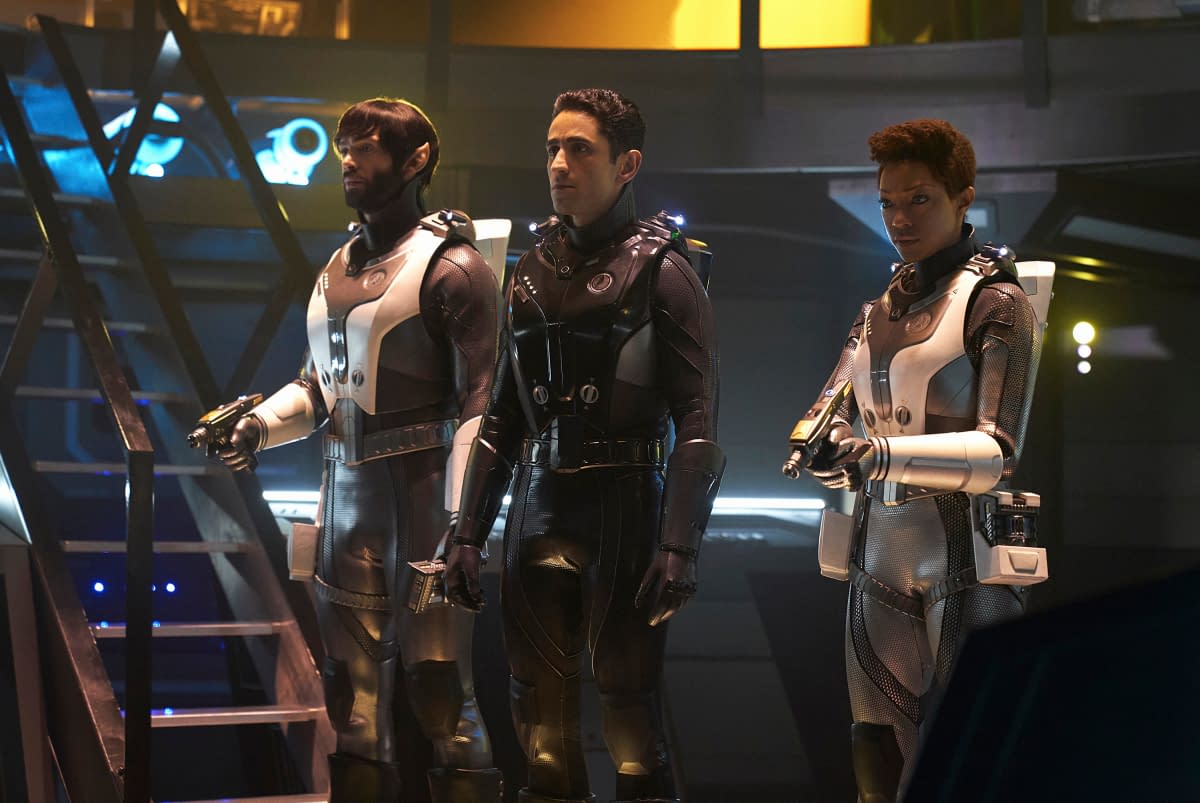 Finally, what is going on with the rest of the Discovery crew?
The synopsis says that Pike (Anson Mount) makes a life-changing choice. His life… or someone else's?
What is going on with Spock (Ethan Peck) and Burnham now that Dr. Burnham (Sonja Sohn) has gone back to the future?
What about Stamets (Anthony Rapp) and Culber (Wilson Cruz)?
How is Saru (Doug Jones) dealing with his lack of fear and internal filter?
Is Tilly (Mary Wiseman) going to save the Universe… again?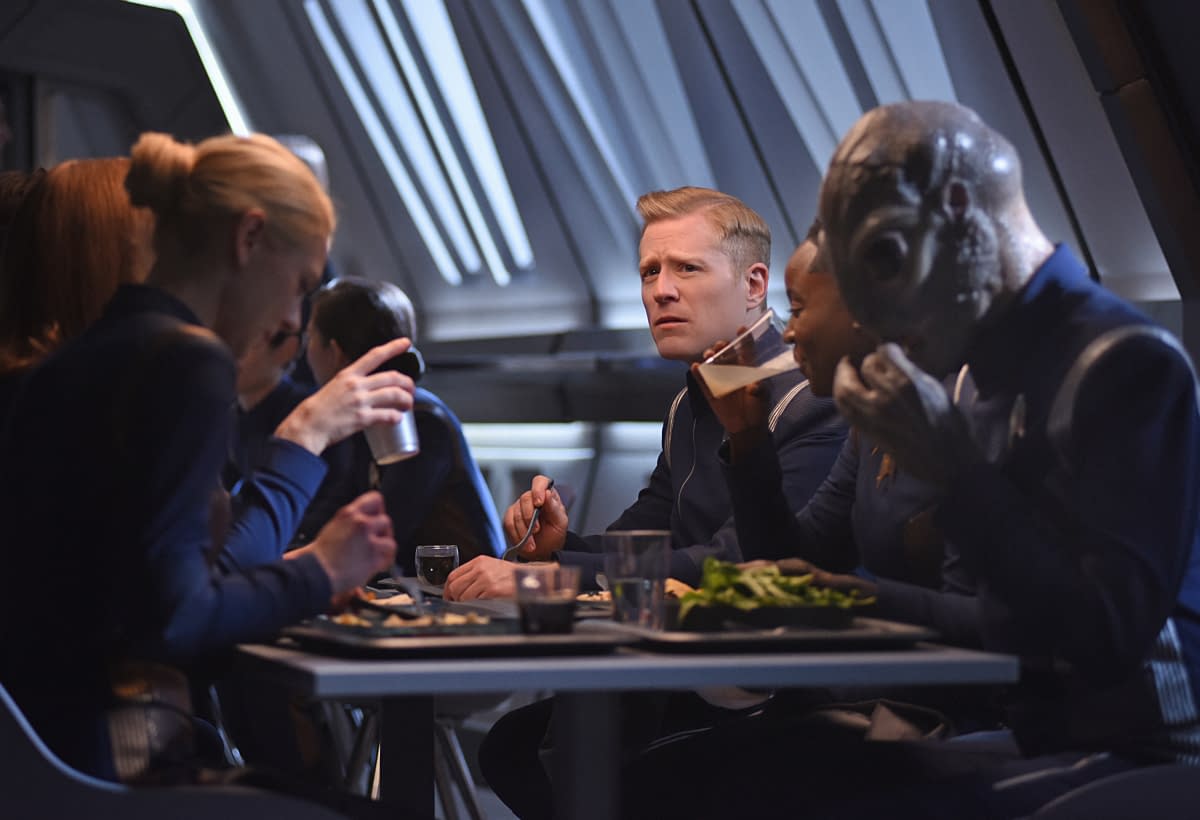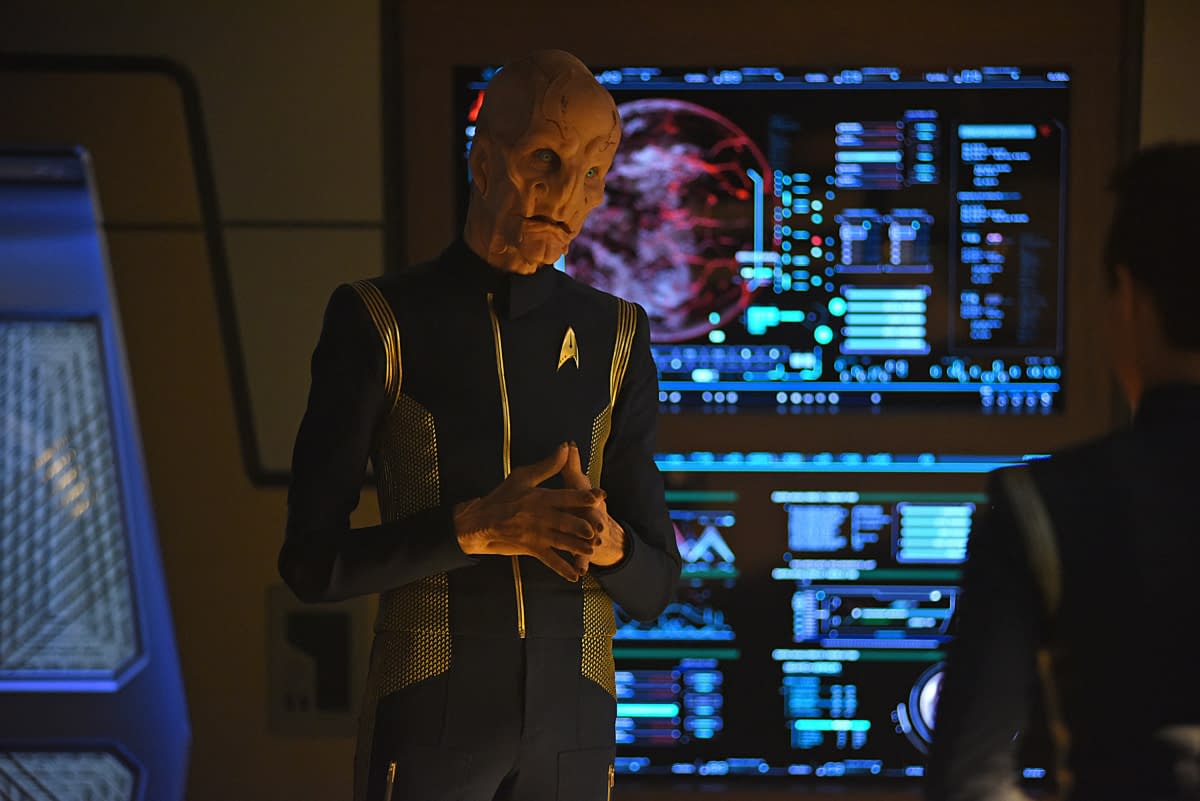 We will find out more when Star Trek: Discovery episode "Through the Valley of Shadows" becomes available Thursday April 4 at 8:30PS EDT on CBS All Access.
Until then… there is one piece of good news we know for sure: Jett Reno (Tig Notaro) is back!
Have your duct tape and snarky remarks ready.