Star Trek: TNG Cast Reunite with Whoopi Goldberg During The View
Star Trek: TNG's Sir Patrick Stewart, Michael Dorn, Jonathan Frakes & Gates McFadden reunited with Whoopi Goldberg (Guinan) on The View.
---
With the third and final season of Paramount+'s Star Trek: Picard officially underway, fans of "The Next Generation" cast & storylines are eagerly awaiting what's in store as the season hit the ground running. And with this final season also feeling like an unofficial final season of TNG, it's only fitting that The View host Whoopi Goldberg would get the chance to reunite with some of her TNG castmates. As you know, Golberg portrayed Guinan in Star Trek: The Next Generation and later reprised the role in "Picard." Joining Goldberg for the reunion were Sir Patrick Stewart, Michael Dorn, Jonathan Frakes, and Gates McFadden. From how it was that Goldberg found her way onto the show back during its syndicated series days to what it's like to have "the band" back together again in front of the camera, the fivesome covers a lot of "Star Trek" territory.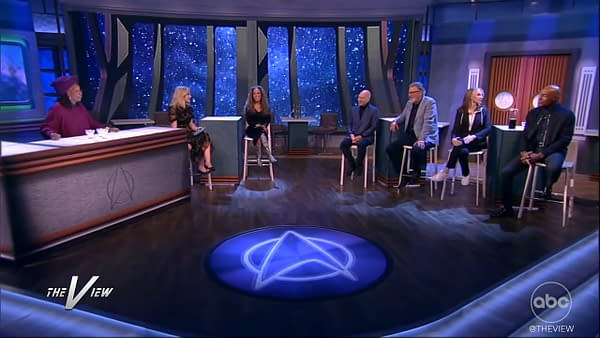 Here's a look at Goldberg's reunion with her "The Next Generation" castmates from earlier today, with those opening hugs being a real punch to the feels. Then, stick around for a preview of the final season's second episode:
With Episode 301, "The Next Generation," not even 24 hours old, we're going to hold off on spoilers other than to say… wow. And with that, we have Wil Wheaton (Star Trek: The Next Generation) checking in with Stewart and McFadden for the first Season 3 edition of Paramount+'s The Ready Room to discuss their characters' evolutions, what it was like returning to the franchise and giving the "The Next Generation" story a proper ending. But the best past? It's the preview that's awaiting you at the end of the episode- one that you can check out below. Beginning at the 41:30 mark, you can check out an action-packed preview of what's to come in next week's S03E02 "Disengage" (wow, that's an interesting title), directed by Doug Aarnioksoki and written by Christopher Monfette & Sean Tretta. Here's a look at the official overview: "Aided by Seven of Nine and the crew of the U.S.S. Titan, Picard makes a shocking discovery that will alter his life forever – and puts him on a collision course with the most cunning enemy he's ever encountered. Meanwhile, Raffi races to track a catastrophic weapon – and collides with a familiar ally." Following that, we have a look back at what you need to know about the final season of Star Trek: Picard:
What You Need to Know About Star Trek: Picard Season 3
For a look ahead at what's to come, as well as the road we took to get here, check out the following featurettes for Star Trek: Picard Season 3 (followed by a look back at previous previews):
Paramount+'s streaming series features Stewart reprising his iconic role as Jean-Luc Picard, which he played for seven seasons on "The Next Generation," and follows this iconic character into the next chapter of his life. LeVar Burton, Michael Dorn, Jonathan Frakes, Gates McFadden, Marina Sirtis, Brent Spiner (as Lore), Jeri Ryan, and Michelle Hurd star alongside Stewart in the third and final season of the hit streaming series.
In addition, Amanda Plummer (The Fisher King, Pulp Fiction) has joined the cast in a recurring role as Vadic, the mysterious alien captain of the Shrike, a warship that has set its sights on Picard and his old crewmates from his days on the Enterprise. In addition, Mica Burton (Critical Role, Vampire: The Masquerade: L.A. by Night) plays Ensign Alandra La Forge, Geordi La Forge's (Burton) youngest daughter, who works alongside her father. Ashlei Sharpe Chestnut (Cruel Summer) is on board as Ensign Sidney La Forge, the eldest daughter of Geordi La Forge and helmsman of the U.S.S. Titan. Todd Stashwick (12 Monkeys) has been cast in the role of U.S.S. Titan Captain Liam Shaw.
The series is produced by CBS Studios in association with Secret Hideout and Roddenberry Entertainment. For the third season, Alex Kurtzman, Akiva Goldsman, Terry Matalas, Patrick Stewart, Heather Kadin, Aaron Baiers, Rod Roddenberry, Trevor Roth, Doug Aarniokoski, and Dylan Massin serve as executive producers. Terry Matalas serves as the showrunner for season three, which premieres on Thursday, February 16, 2023, on Paramount+.