After some serious patience on the fanbase's part, the final season of Star Wars: The Clone Wars will be making its way to Disney+ starting Friday, February 21. Just to be clear, we use the word "patience" because the 12-episode season was first announced during San Diego Comic-Con 2018. Last year saw the D23 news from Executive Producer/Supervising Director Dave Filoni that the seventh season would be its last.
So with now with less than a week to go before the series' return, the streaming service is introducing viewers to a group that could prove to be a serious "X Factor" in how all this wrap. Meet Clone Force 99 – or as they like to call themselves, "The Bad Batch". Defective clones with desirable mutations, "Squad 99" might just be the team you need to get behind enemy lines for some serious intel – they're just not big on "stealth":
Three weeks ago, Disney+ released the official trailer for a season that will continue the storylines introduced in the original series – exploring the events leading up to Star Wars: Revenge of the Sith. Whether you're watching it for the first time or the 31st time, it's pretty clear from the scenes below that The Clone Wars has no intention of ending its run on a quiet, warm-n-fuzzy note:
Created by George Lucas, with Filoni as Executive Producer/Supervising Director, Star Wars: The Clone Wars stars Matt Lanter as Anakin Skywalker, Ashley Eckstein as Ahsoka Tano, Dee Bradley Baker as Captain Rex and the clone troopers, James Arnold Taylor as Obi-Wan Kenobi, Katee Sackhoff as Bo-Katan, and Sam Witwer as Maul.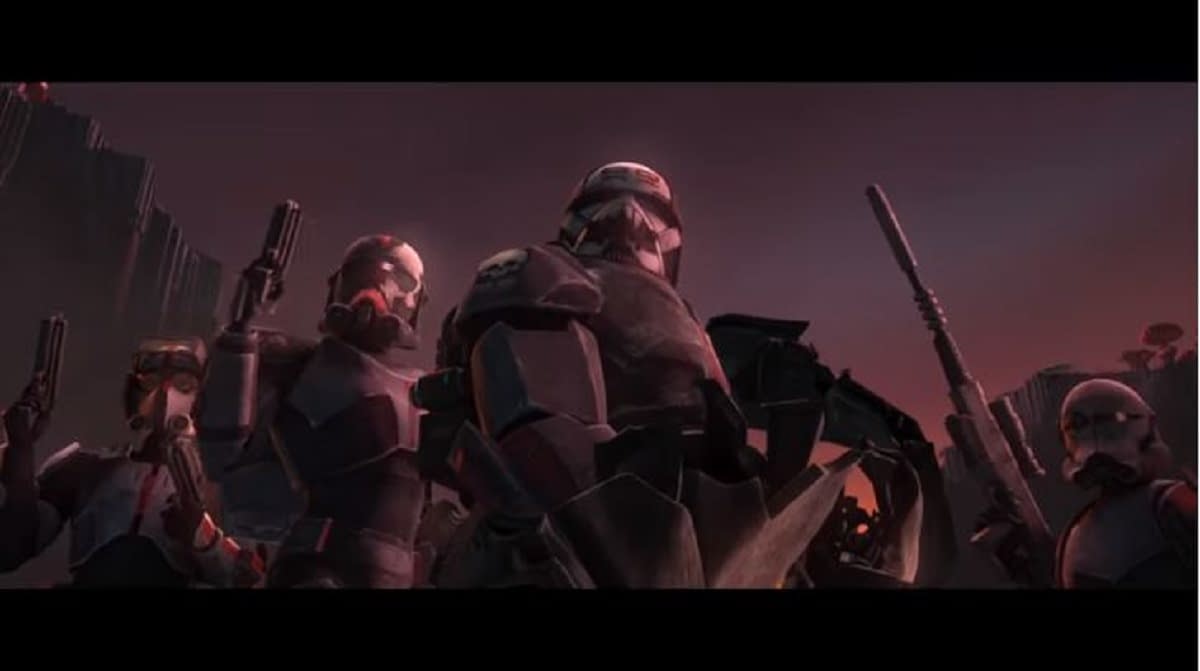 Here's what Filoni had to say at the time about Star Wars: The Clone Wars returning, and why the show endures with the fans:
"I think the variety of stories was a big part of it. You also can't underestimate how important it was that so many people grew up with the show. Clone Wars was a piece of Star Wars that older fans might have, initially, not taken seriously because it was animated, but that wasn't a barrier for kids. They loved the clones and identified with them. Ahsoka gave kids a character that was like them — someone their age that was experiencing life's challenges and learning along the way. Plus, having a new episode each week really allowed us to explore what was going on with the new and legacy characters in a dynamic way, including Anakin and Obi-Wan. I think the stories left an indelible impression and, of course, George knew it would. He always knew."
Enjoyed this article? Share it!