Stevie Nicks Wrote Poems About Anthony Bourdain, 'Game of Thrones'
Gold Dust Woman Stevie Nicks is once again breaking records, as the first woman to be inducted into the Rock n Roll Hall of Fame twice. Maybe that doesn't seem like such a big deal, but it is. She joins the company of 22 men who've been honored twice, setting a precedence we really hope the organization takes note of and continues in the years to come.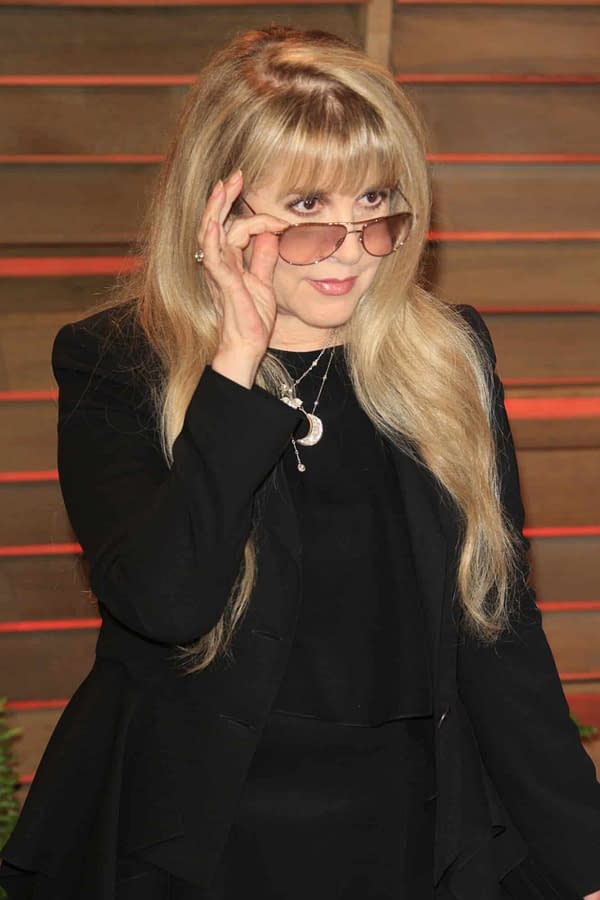 Stevie Nicks has dabbled in far more than music, having appeared in season 3 of American Horror Story (Coven) as herself, a white witch of monumental proportions, perhaps the most on-the-nose casting since…David Bowie as Nikola Tesla in The Prestige. She continues to write poetry, and two of her most recent subjects may surprise you.
In a recent interview with Rolling Stone, Nicks spoke about the Hall of Fame thing, as well as the subjects for her writing:
Rolling StoneYou're one of the few rock stars with both a band and a solo career.

Stevie Nicks: My solo career is much more girlie. It's still a hard rock band — but it's much more girlie-girl than Fleetwood Mac is. I never wanted a solo career — I always wanted to be just in a band. But I just had so many songs! Because when you're in a band with three prolific writers, you get two or three songs per album — maybe four. But I was writing all the time, so they just went into my Gothic trunk of lost songs.

Christine would walk by me — my totally sarcastic best friend. She'd say [imitation of Christine McVie's English accent] "Soooo. Writing another song, are we?" To this day, I write all the time. I have a poem that I've written about Game of Thrones, and I have a really beautiful poem that I'm writing about Anthony Bourdain.
She also spoke about her dear friend Tom Petty, who sadly passed away in October of 2017:
RS: When you were coming up, did you have rock mentors giving you a helping hand?

SN: Lindsay and I started out as starving musicians — I do mean starving, with no money. We made great music, but we were still starving and terrified. When we joined Fleetwood Mac in 1975, that's when we started meeting other artists. I got to go on the road with Tom Petty and be a part of the Heartbreakers for three months, and it was awesome.

RS: Tom gave you that star you wear on your top hat?

SN: He did, and he gave me "Stop Dragging My Heart Around." Had he not given me that song, let me candidly tell you, Bella Donna might not have been a hit. That song kicked Bella Donna right into the universe. My biggest sadness about the Hall of Fame is that Tom is not here to enjoy this with me, because he would have been the proudest of me of anyone.
And, perhaps our favorite informative reveal, the question we've all wanted to know for DECADES- what the heck does she do with all those shawls?!
I have my shawl vault — they're all in temperature-controlled storage. I have these huge red cases Fleetwood Mac bought, all the way back in 1975 — my clothes are saved in these cases. All my vintage stuff is protected for all my little goddaughters and nieces. I'm trying to give my shawls away — but there's thousands of them. If I ever write my life story, maybe that should be the name of my book: There's Enough Shawls to Go Around.