"Stumptown" Cast Talk Spandex, Show's Diversity & Great Food
Following the Stumptown premiere at Rose City Comic-Con (RCCC), the audience was treated to a rare Q&A with creator Greg Rucka, executive producers Jason Richmond and Matt Olmsted, and most of the cast – including Tantoo Cardinal, Cole Sibus, Adrian Martinez, Camryn Manheim, and Michael Ealy. Rucka took the stage first, to thunderous applause, followed by the rest as they were introduced and seated.
Having just left the Feast Portland food festival all the actors expressed how impressed they have been being in Portland, particularly Ealy who will be "coming to join next year" and wearing spandex so he can eat more. After leaving the audience hungry describing all the great food the cast had just eaten, Rucka was asked the simple question, "why set a series in Portland?" to which he could only respond with: "I live here. I love it here. This town is beautiful, wonderful, and stupid."
Rucka went on to describe the series, and Dex, as being exactly like Portland. "It's heart is in the right place, but she trips over her own feet, and Portland does that all the time. People who want to do the right thing, for the right reasons, and sometime manage to screw it up…" Rucka went on to give examples from Portland's own current political landscape, getting laughter and huge applause from all the locals in attendance.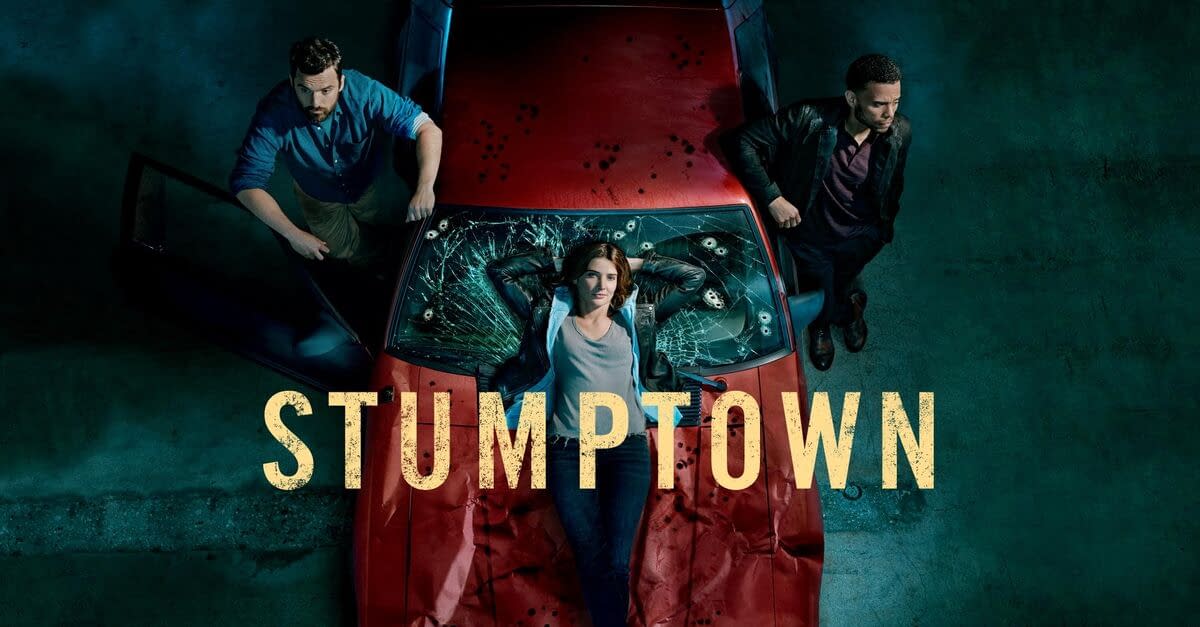 Richmond and Olmsted were next asked what about the Stumptown graphic novels drew them in, and made them want to get it on the screen and be a part of the project. Richmond elaborated that Dex and her world were the main things that drew them in. Dex is a character, "who fails, has a heart, she's honorable in all the best ways, she means well, and she's fallible, and very human."
Ealy's following answers about the show's appeal showed a different appeal for the material. Unsure if it was because the show was based on a graphic novel or not, the first script he read didn't feel very open, and he was unsure where his character could go. Reading most pilots, Ealy says "often you know exactly what is going to happen next", like "I have a kid somewhere" or "I'm a closeted alcoholic and that's going to come out next season" but "I told Jason 'I don't know where this guy is going and I'm kind of turned on by that". Even in reading the graphic novels, Ealy still has no idea where his character is going and that is really something he wants to explore. "I also feel Portland is a hidden gem" and "it isn't overexposed like New York or Chicago".
Manheim next talked about her role on Stumptown, getting huge applause for her time on The Practice being mentioned. Taking a quick moment to give thanks to older fans who know her work, she also wanted to throw a spotlight on the interrupters who were signing for the hearing impaired members of the audience. Going from playing a lawyer for eight years to a police officer, Manheim found several similarities. "I wear suits in both." After the laughter died down, Manheim went on to elaborate that her character in Stumptown like her character on The Practice has "her heart in the right place" and "follows the rules" but both "have great depths".
https://www.youtube.com/watch?v=HwynrxEPSQk&t=48s
Cardinal was asked next about her portrayal of Sue Lynn Blackbird, and how rare it is to see a native character portrayed like she is on Stumptown. "What impact are you hoping your portrayal will have on audience?" Thinking for a moment the actress had only a one word response, "Huge", which was met with the second loudest applause of the event. Cardinal elaborated that she hopes her character "will be able to bring out stories" and "make people feel 'yeah!'" when watching her. "When I met Greg [Rucka] and we had done the pilot I asked him 'where did you come from?' 'How did you know this woman?' because so few people know our women, know our communities in this way, and the strength and the power and the beauty. I feel so honored and empowered to be a part of this, and a part of [the] mainstream, and the quality of everybody on that screen and the people behind it that are setting us up to be there and its terribly exciting."
The questions next went to Sibus, who plays Dex's brother who has Down's Syndrome. The main question though was about his wardrobe, and whether he was becoming a fan of the Timbers (Portland's soccer club) in real life as well. Sibus told the crowd they'd have to wait and see but that the Timber clothes weren't going away. He is excited for people to see his character on the screen and to see someone with Down's Syndrome on television on a regular basis.
Last but not least, Martinez was asked about his character Tookie "who isn't just a Taco Truck owner, right? He's a lot deeper?" Martinez replied that "Yes, he has a lot of dark secrets. His biggest dark secret … oh I see we are out of time…"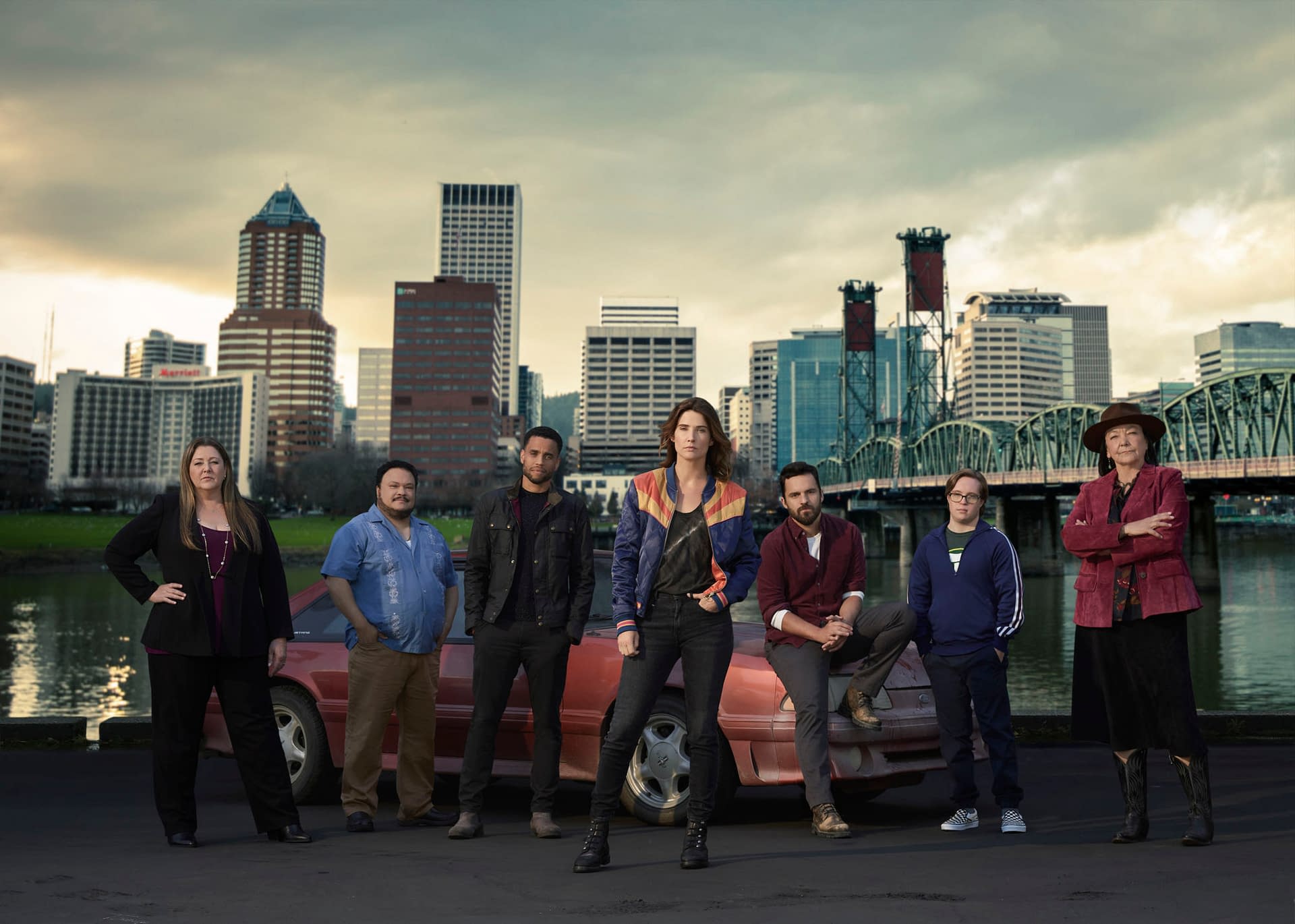 Talking about diversity and representation in the show became the theme as the panel wound down, with focus on the show having a female lead, native American representation … Richmond also choose to remind the audience that Dex as a character has "fluid sexuality. Male, female, not a big deal to her." PTSD was also hit upon with Rucka, having watched the pilot "a lot" that there are many little touches to themes like PTSD and other subtle nods that will pay off later.
With elements of the pilot having been filmed in Portland, the question of how much more will be filmed in Portland came up. Ealy expressed his desire to just move to Portland, and amidst the applause Richmond brought up that elements of the show were filmed in Portland because the authenticity really helped the show and anytime they can do that they will. Storylines that are uniquely Portland were also discussed with Rucka saying that "food cart wars" featuring Tookie is something tailor made for the show and has been discussed. Again, wearing spandex for such a storyline was brought up by Ealy.
For the last 10 minutes the audience was allowed to ask questions of the panel:
Manheim is open and would love to have a love affair between her character and Dex.
Ealy feels that the diversity and representation of the show are best served by the fact "that it feels normal. Diversity falls away and it just becomes normal."
Manheim does not plan a follow up book to her best selling book "Wake Up, I'm Fat!", as she is too social to write often and sitting down and writing like that just isn't in her right now. "I'm more likely to do any kind of follow up as a podcast or something like that."
Dex's car and the unique soundtrack it will offer were discussed, with it being stated that the tape stuck in the car will only play any song once, giving the producers an opportunity to give the show a unique soundtrack. Richmond states that focusing on the car was an effort to give Dex her "Millennium Falcon" and that at times the car kind of controls her.
ABC's Stumptown premieres Wednesday, September 25, 2019.