Supergirl Season 3: Kara Can See Both Sides of the Worldkillers
Tonight is the last new Supergirl before the show goes on hiatus for nine weeks. The episode focuses on the second Worldkiller, Purity, also known is Julia Freeman (Krys Marshall). Supergirl (Melissa Benoist) saw her in a dream and then when Winn (Jeremy Jordan) compiled a list of people who survived accidents without a scratch and other weird events, Kara was able to pick Julia out immediately as one of the Worldkillers. This episode they go to confront her, and from the clip below, they seem to capture her.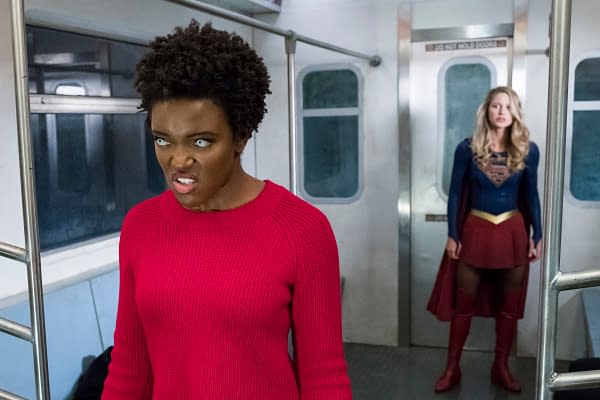 In the clip, Kara is trying to explain to Alex (Chyler Leigh) that Julia asked for help before her eyes went white and she became Purity. Alex seems to doubt that, assuming Purity was lying. I can see why Alex is less than forgiving of someone on part with Reign (Odette Annable) who beat Kara into a coma. But she is willing to let Kara try her way, but is very certain that her way is going to fail. This is going to become a much bigger problem as the series progresses. If the Worldkillers all have split personalities, it make them characters that need to be saved, not taken down.
Supergirl airs tonight at 8 p.m. ET on the CW. The series will then be on hiatus for nine weeks until April 16th and DC's Legends of Tomorrow will take the time slot.
https://youtu.be/wiXEyIyvVVs