Posted in: HBO, TV, Westworld | Tagged: Charlotte Hale, Halores, tessa thompson, westworld, Westworld Season 2
---
Tessa Thompson Talks Playing [SPOILER] In Westworld Season 2 Finale
Needless to say, if you haven't seen the season 2 finale of HBO's Westworld yet, you probably should before reading any further about Tessa Thompson's character Charlotte Hale and that big giant twist.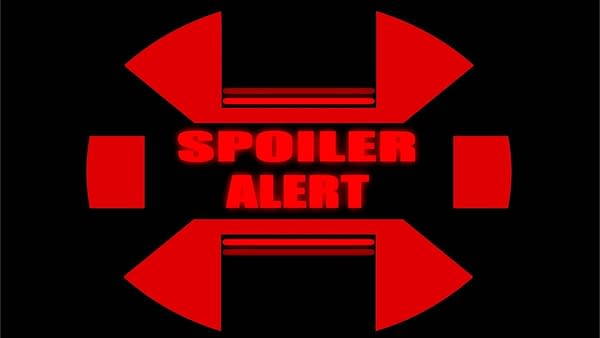 Seriously, if you're still here, there will be spoilers.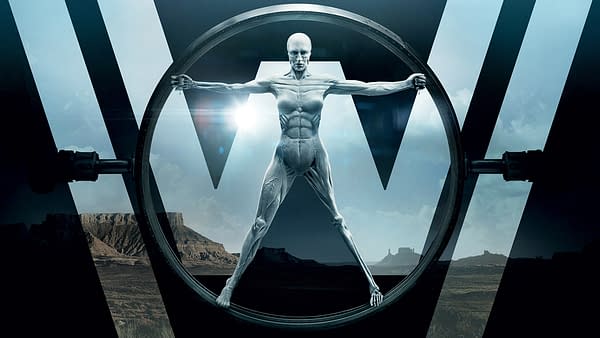 As you know, in the season finale, it's revealed that the Charlotte Hale (Tessa Thompson) running around is actually a host, and that Bernard (Jeffrey Wright) has double and triple crossed the humans by implanting Dolores' (Evan Rachel Wood) memory core into the host-Charlotte (now she's 'Halores'). She then kills Bernard. Charlotte makes it on a plane and out of the park, back to what we assume is "the real world" with a handful (5) memory cores in her purse and proceeds to rebuild Bernard, saying that for their race to survive, they both must as well.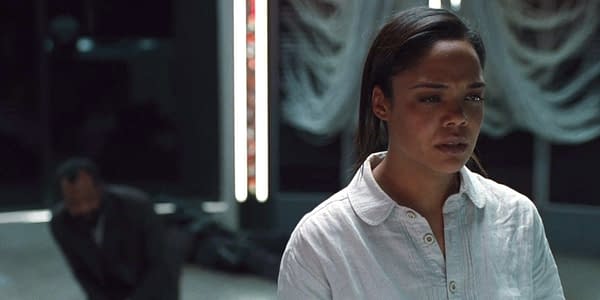 It was a hell of a finale after a slow burn season, and the implications are pretty much on par with the Jurassic World: Fallen Kingdom post-credits scene.
While talking to The Hollywood Reporter about the Westworld season 2 finale, Thompson said she hopes to have the chance to get her "Tatiana Maslany on" in season 3 with the reveal that Charlotte is "another skin". It's a lengthy chat, but Thompson is charming as ever and extremely informative within the confines of what she's allowed to talk about, including what it was like to play 'Halores':
THR: Did you talk to Evan about any of the traits that she had brought to Dolores that you wanted to emulate? Did you study her performance at all?

Tessa: Yeah, I studied her performance. I mean, the good thing is that I've had the chance [to watch Wood's performance] this season, but even last season a little bit, because there was some intersections in terms of when we'd all be on set. So, I've had the chance to watch Evan a lot. She's just so incredibly mesmerizing in her performance that when I've been on set, getting to watch her, I watch her because she's so fun to watch — the work that she's doing. So, I had already studied her, even before knowing that it would be of use to me.

And then I did speak with her. At first, I was sort of like, "What are we doing? Am I going to be over dubbed? Do I sound like her when I'm finally her?" Her voice is so specific, that I just love this idea of her voice like literally coming out of me! But they were like, "No, that's not going to happen." (Laughs.) I was like, "Shucks. Okay, cool. So what can I do then?" So there were subtle shifts with my voice that I could do, and then also I just asked Evan little things, like, "Is there anything sort of physically that you do as her?"

She said, "You know when I do Dolores, if I'm gonna look at someone who's not in my eye line, I look first with my eyes, and then I move my head." She does really subtle things that still make her feel human, but they just feel the tiniest hint of her [being a] host, these tiny little markers other than entirely human. It was small things, like when I'm walking, I try not to move my hands too much. There are other things that I won't say, but yeah, she gave me some specific physical things to think about.

THR: As you started digging into the character, somebody who you already had been studying as you had been watching Evan's performance, who did you find this version of the character to be?

Tessa: I sort of see Dolores this season as this fearsome, ruthless, leader. This leader that begins really thinking about the populace in the sense of liberating the hosts. And that is so singular in her vision, that she realizes that she kind of can't be about all people. She has to be about the people that really can be of use in terms of what her actual long-term plan is. She becomes this woman on a mission. And I think when she's able to be in Hale's shoes, it gives her real safety and power to sort of exercise her vision. That's when she becomes the gunslinger that is now untouchable. So there's real, delicious victory inside of Hale's skin. And then obviously because Hale has represented the spinelessness of the corporation, its brutality. There's something really delicious about them getting to [kill] that entity, and then use that to have it be the ultimate revenge, which is to gain power. There was something really fun in that.
***
Westworld will be returning for a third season on HBO, theoretically after Game of Thrones 8th and final season.
---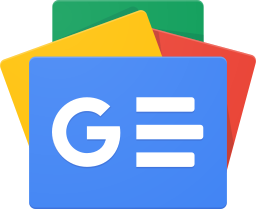 Stay up-to-date and support the site by following Bleeding Cool on Google News today!