The Boys Season 3: Eric Kripke Offers Update; VNN Segment This Week
As far as weeks go, Amazon and showrunner/executive producer Eric Kripke's The Boys are already starting off the week pretty strong. On Sunday at Brazil Comic Con CCXP, the streamer revealed that animated spinoff anthology series The Boys: Diabolical would be making its way to screens next year. And then if you look at your calendar, you'll notice we're only a day away from our monthly "Seven on 7" segment from Vought News Network (VNN) anchor Cameron Coleman (Matthew Edison) which means more juicy intel on what's been going on between seasons (and what might be waiting for our heroes in the third season). But with some time in-between, Kripke checked in to offer a quick but important update on how production was flowing on the series' eagerly-anticipated return.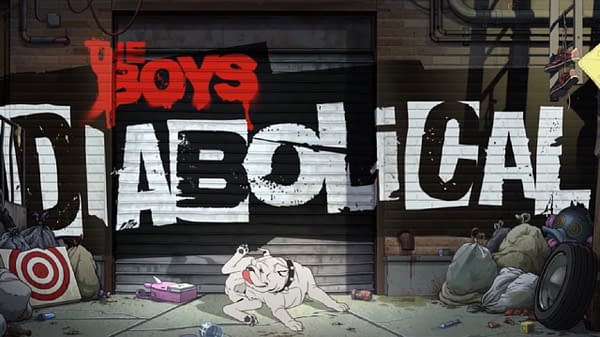 "Our animated spin-off #Diabolical is SO GOOD, but I know you're thirsty for [The Boys] S3 info: picture editing is done. Now lots of VFX & music work to do. I hope to get a Premiere Date out there asap. (I think it could be our best, craziest season yet btw)," Kripke wrote in a tweet earlier today that was accompanied by that still-disturbing GIF of Antony Starr's Homelander "enjoying" some milk:
With the eight-episode animated series set to premiere in 2022, an announcement video revealed just some of the big-time creative names behind the project, including Awkwafina, Eliot Glazer & Ilana Glazer, Evan Goldberg & Seth Rogen, Simon Racioppa, Justin Roiland & Ben Bayouth, Andy Samberg, Aisha Tyler, and more. "We're almost finished with eight episodes of our animated series, 'Diabolical.' We gathered together some incredible creators and we gave them one rule…just kidding, there's no rules. They blew the doors off it," Kripke said when announcing the new spinoff. Now here's a look at Karl Urban aka Butcher making The Boys: Diabolical all official-like in the following video, which also includes more details on the creative team behind the 8-episode project:
Amazon's animated "The Boys" spinoff Diabolical is executive produced by Kripke, Simon Racioppa, Eric Kripke, Seth Rogen, Evan Goldberg, James Weaver, Neal H. Moritz, Pavun Shetty, Ori Marmur, Ken F. Levin, Jason Netter, Garth Ennis, Darick Robertson, Michaela Starr, Loreli Alanís, Chris Prynoski, Shannon Prynoski, and Ben Kalina. Diabolical is produced by Amazon Studios and Sony Pictures Television Studios, with Titmouse, Kripke Enterprises, Original Film, and Point Grey Pictures. The animated anthology is set to premiere sometime in 2022.