The Freak Brothers Preview Where Game of Thrones Alumni Go for Work
With less than a week to go before the next mini-sode adventure in the lives of our time-displaced heroes Freewheelin' Franklin Freek (Woody Harrelson), Fat Freddy Freekowtski (John Goodman), Phineas T. Phreakers (Pete Davidson), and cat Kitty (Tiffany Haddish), the fine folks behind The Freak Brothers are offering fans a sneak preview. Set to hit the show's social channels (IGtv, YouTube, Facebook, Twitter) on Tuesday, July 14, "Ryan and the Reefer Factory" finds our Freaks taking part in the most ultimate of ultimate quests: the Everlasting Doobie. As you're about to see, their journey will force them to confront a cold, hard truth: even an award-winning Game of Thrones alumni need to make a living. Hey, the show's been off the air for a while. Don't judge: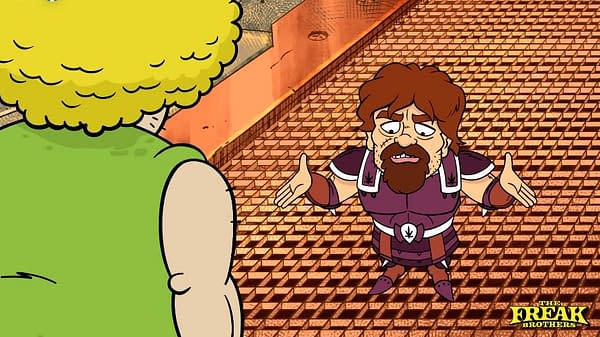 In 1969, life in San Francisco consists of free love, communal living, and political protest. Freewheelin' Franklin Freek (Harrelson), Fat Freddy Freekowtski (Goodman), Phineas T. Phreakers (Davidson) and their mischievous, foul-mouthed cat, Kitty (Haddish) spend their days dodging many things — the draft, the narcs and steady employment – all while searching for an altered state of bliss.

But after partaking of a genetically mutated strain of marijuana, the Freaks wake up 50 years later to discover a much different society. Quickly feeling like fish out of water in a high-tech world of fourth-wave feminism, extreme gentrification, and intense political correctness, the Freaks learn how to navigate life in 2020 — where, surprisingly, their precious cannabis is now legal.
Alan Cohen and Alan Freedland (King of the Hill, America Dad) will serve as Showrunners, Writers, and Executive Produce alongside Executive Producers Courtney Solomon (AFTER, Mr. Church, An American Haunting, CAKE) and Mark Canton (former Chairman of Sony Pictures Entertainment's Columbia Tri-Star Motion Picture Companies, 300, POWER the series). Workaholics alums Adam Devine and Blake Anderson will also voice two new characters as well as Executive Produce.
John Althschuler and Dave Krinsky (Silicon Valley) wrote and are consulting producers while Daniel Lehrer and Jeremy Lehrer (Highly Gifted) serve as writers and Co-Executive Producers. Gilbert Shelton, the creator of "The Fabulous Furry Freak Brothers" also Executive Produces with Manfred Mroczkowski. Jeffrey S. Edell (President of WTG and former Chairman of MySpace parent company Intermix Media, CEO of Soundelux Entertainment, The Kids Are Alright, Killer Elite, The Grey, Just Friends) will serve as a Co-Executive Producer.