"The Good Place" Season 4 "Chillaxing": Fake Monks, Hooded Figues, Exploding Motorcycles, and – What? You Need More? [SPOILER REVIEW]
Welcome back to the neighborhood, humans, Janet, Janet babies, reformed demons, and of course, Derek! It's time once again to take a look at the fourth and final season of NBC's The Good Place. Now while the two-part opener put a nice "cap" on the opening story of the season – trust me, "Chillaxing" proves that the fun is just beginning, while also planting the seeds for an interesting season-long storyline that could impact all of the "Places."
But first? A MAJOR SPOILERS warning with a "spoiler buffer zone" before we get started…
"The Good Place" season 4, episode 3 "Chillaxing": Michael and Eleanor discover something troubling and turn to an unusual source for help. Tahani lends her expertise to assist with one of the new residents.
Chidi is happily enjoying his afterlife, Brent is still being a huge "ash hat" and Tahani is dropping celebrity names like she's Oprah giving away cars… which reminds me…
Before we get into it, you should probably be warned that we will be dropping spoilers… just like Oprah Winfrey giving away cars.
What? Oprah is an icon!
Okay, so back to those spoilers I promised. Chidi started his moral philosophy study group with Simone and Brent as the flagship students…except Brent decided that he should be the teacher, because he went to Princeton and got a B plus in moral ethics. And then he left. So, Chidi went on a picnic – and Kant would agree that it's the right thing to do.
So, Eleanor and Michael are now left with the dilemma of how to make Chidi care about the cause of helping the other humans to become better people.
Their solution? Go back to torturing Chidi! Luckily for them, Eleanor has some real experience with torturing ex-boyfriends.
And what better way to do that than to link him up with our favorite fake Buddhist Monk?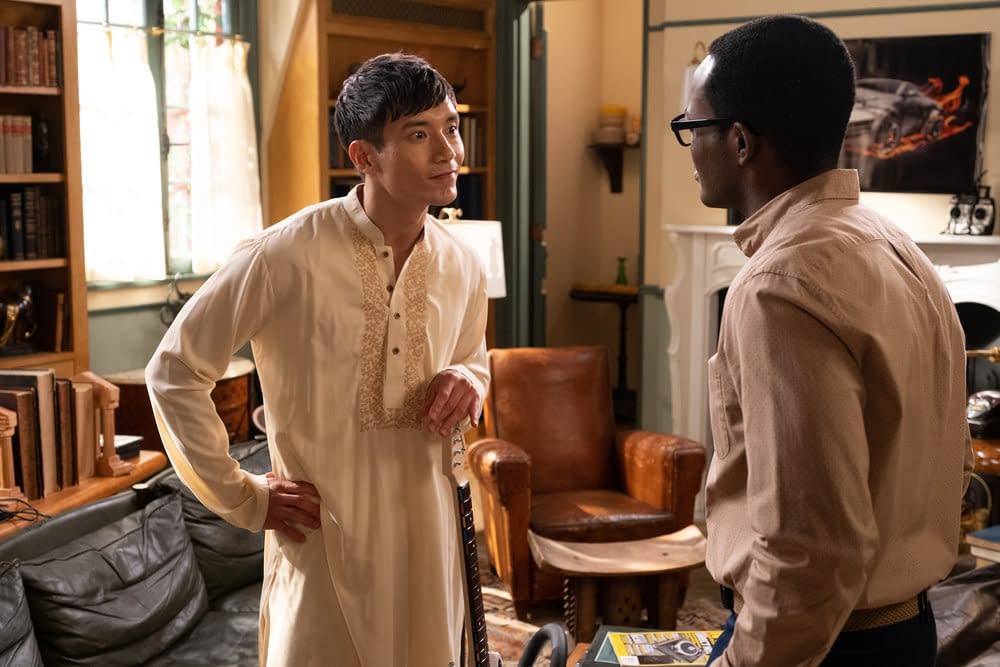 Oh yes- Jason dons his robes again and Eleanor and Michael ask Chidi to help him assimilate to the neighborhood. But the second the door closes, Jason confesses that he's not a monk and Chidi has a stomach ache. Mission accomplished!
Tahani finally takes on tackling John (basically The Good Place version of Perez Hilton), and tries to get him to study ethics…to which she fails at.
Oh – Janet and Jason are dealing with their break-up in fantastic ways. Janet dyed her hair pink and watched Mama Mia 2: Here We Go Again and Jason… probably spent the same time moping and throwing donuts at cars or something.
Eleanor is hanging all of humanity's hope on Chidi – like Superman with nervous diarrhea.
We're pretty sure he can't get more nervous…well, unless Jason gets a baller motorcycle with Pamela Anderson's boobs painted on the side and Chidi has to lie and say it's his.
At which point he completely freaks out and goes to Eleanor and Michael, begging them to do something… or not… or both. Until Eleanor puts a little bit of guilt on the situation and Chidi freaks out and lies, saying that the motorcycle is what's the problem.
Motorcycle Explosion, Part II: The Pam-Cycle Goes Boom! (Just like his one on earth…)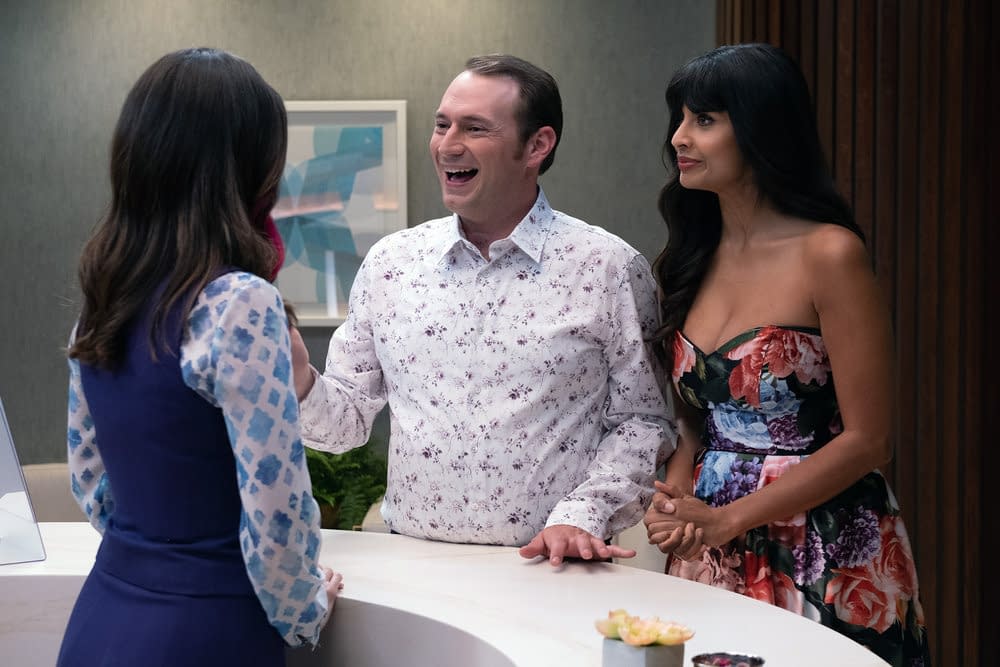 Tahani realizes that she and John weren't so different on Earth, and breaks through to him by creating a real, human connection. Success! He may finally be starting to see celebs and other people as humans with feelings.
Chidi is finally dedicated to teaching Jason ethics in order to help him become a better person, John is on the right path – and last we knew, Simone had conceded that the neighborhood was real and not all in her head.
Everything is on the right track and coming up cacti. (Okay, or roses. But cacti are more common to The Good Place) …even the mysterious hooded figure racing down the railroad tracks in a handcar.
Wait… what?
Maybe it will be a season-long mystery – like it's The Grim Reaper coming for all of them – because there's another circle of The Afterlife? Like Dante's Inferno?
Okay, unlikely. But still – I need to know who the mystery figure is… maybe they should go on FOX's The Masked Singer?.
Hopefully we'll find out more with next week's episode, "Tinker, Tailor, Demon, Spy"…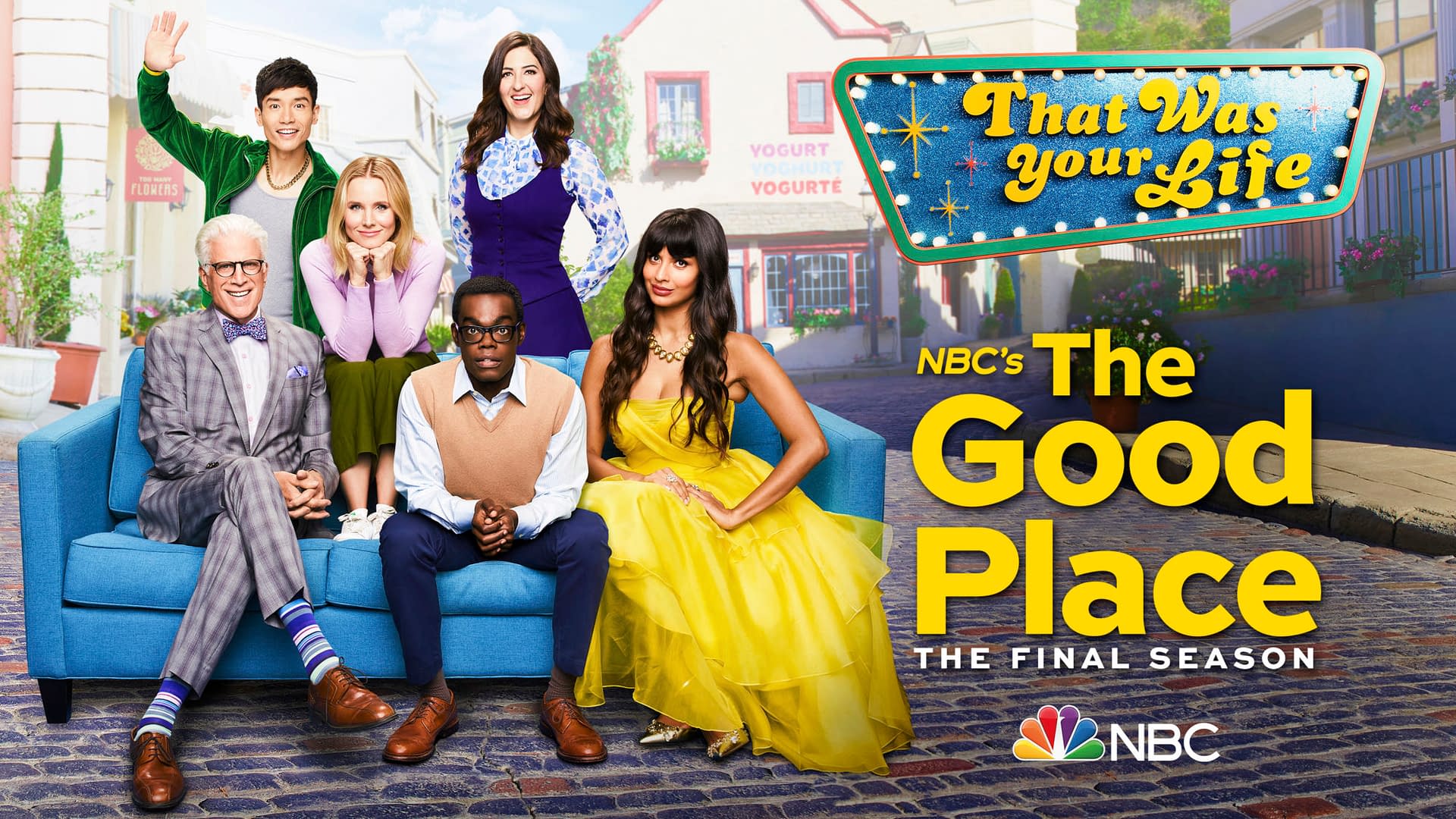 "The Good Place" season 4, episode 4 "Tinker, Tailor, Demon, Spy": Uncertainty abounds when an unexpected visitor arrives.