"The Long Night" Was Dark and Full of Terrors: Carice Van Houten on [SPOILER]'s Exit
We know we're not the only ones who were saddened by the Game of Thrones show characters we lost during season 8 episode 3, "The Long Night". The undead army finally got to Winterfell, and the living did what they could to get through the darkness.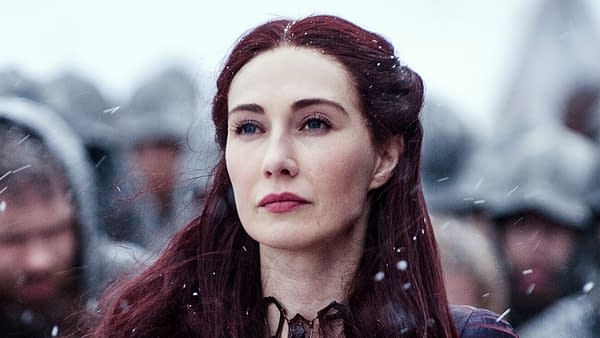 If you HAVEN'T watched the episode yet, be warned that there are spoilers from here on out.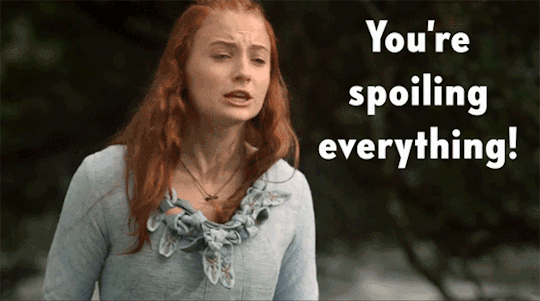 Cue our Red Woman, Melisandre, played by the gorgeous Carice Van Houten. Her fiery Merlin moment with the Dothraki's arakhs was one of the highlights of the episode (literally), and she finally made good on her Lord of Light prophecies. She does her priestly job, bringing the powers of her God to his chosen vessel(s), and fulfills her destiny by dying in a foreign land with the dawn.
Van Houten spoke with Entertainment Weekly during the outlet's visit to the Game of Thrones set, talking about the full circle of her character, and possibilities of the already-announced prequel series being planned by HBO following the end of the show.
"This wasn't an easy part for me at all. It's not like me to be so sure of myself," she reveals. "The first shooting day I had to do the burning of the gods [on the beach at Dragonstone; season 2, episode 1]. I had to do that speech for all the soldiers. So many great actors were there and I had never been so cold in my life — and my character is never supposed to be cold. I got unlucky there because I get cold in the summer. That dress was so fitted I couldn't wear anything underneath. I was so nervous and shy and insecure about what I was going to do and how I was going to do it and I couldn't use [those feelings] because I had to be all about the Lord of Light. A lot of people bought [the performance], which is fun."
At the time, Van Houten didn't know the series end, as she admittedly didn't read ahead. She DID however know about appearing as the old woman again, and that something important with Ayra was going to happen.
"I haven't read the whole season. Why read it when I can see it? But I had a bit of a feeling it was not going to end well for me. I was a bit emotional. I really like that we finally know what she came for, and it's the end of her journey. 'I can go now, my work is done'— without it being really dramatic. It's a life that's been hundreds of years that's come to an end now.

I knew I'd have something to do with Arya. I thought probably something with fire. I did know I was going to come back one more time as an old lady. I expected to live a little bit longer. But I really liked the way they ended my character. She actually saves the day, so she's a bit of a hero in the end, which is cool. For a long time she was hated — and fair enough. I got some points when I brought back Jon.

[The scene with Arya] was good. Your character's going to kick some ass. I felt like that guy in the movie who gives the main character one last push to do it, like in a football game. I thought it was a cool moment."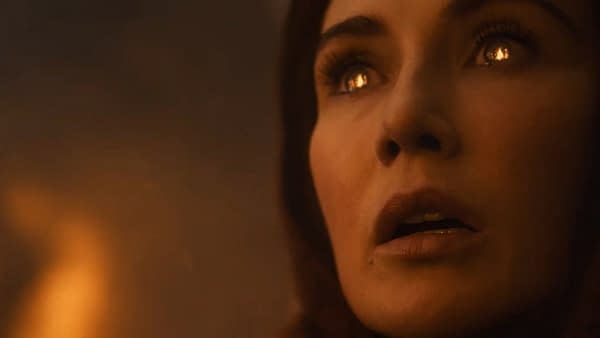 Who did Van Houten wish Melisandre could have had a scene with you ask? Why, the sitting Queen down in Kings Landing, of course.
"I would have loved to have more interaction with other actors. She and Cersei would be a good combination," she said.
As to those prequel series in development for the wonderful world of George R. R. Martin:
Story-wise, there's loads to tell. You can get so much more out of this world. But it's also [showrunners David Benioff and Dan Weiss] and a combination of a lot of factors when something works. I don't want to be cynical, but I believe in the right moment. Maybe they can CGI me into a young girl. At the same time, all good things come to an end. [Tormund Giantsbane actor Kristofer Hivju] says you're actually another person now than when you started.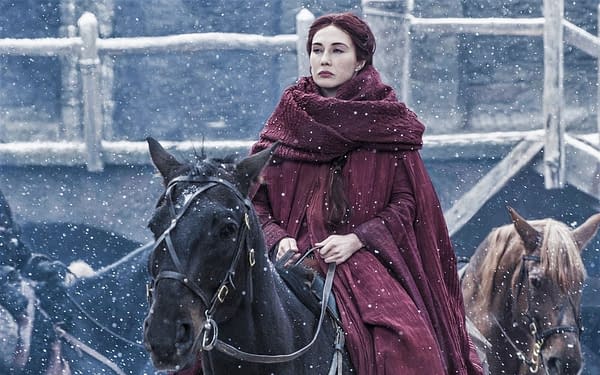 And as to her feelings about the end of Melisandre, Van Houten said, "I'm curious, tomorrow, if I'm going to cry. It wouldn't surprise me if I cry. It was kind of relief. I tried to play it with tiredness but also with relief. I can go now. It's done."
Game of Thrones continues for just three more Sundays on HBO.