Okay, now this is just getting silly. For a second season return that's still four months away, fans of Disney+'s live-action Star Wars spinoff series The Mandalorian have had a lot to be excited about. Rumor mills were grinding overtime with news that Rosario Dawson, Timothy Olyphant, Temuera Morrison, Katee Sackhoff, and Michael Biehn were coming aboard. Series creator Jon Favreau confirmed the October premiere window and that he was returning to direct. Joining his behind the camera are EP Dave Filoni, Peyton Reed (Ant-Man), Robert Rodriguez (Sin City), actor Carl Weathers, and Rick Famuyiwa (Dope), with Sam Hargrave (Extraction) running second-unit to amp up the action. Now, they can add actress and director Bryce Dallas Howard ("Chapter 4: Sanctuary") to that "who's who" list of directors.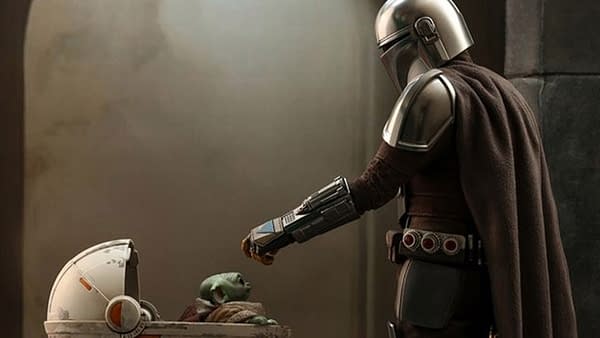 Speaking to Variety Live! to promote her Apple TV+ documentary Dads, Howard explained how excited she was to return and how the behind-the-scenes technology has evolved so much in such a short period of time: "It's so wonderful to be asked back. It's been such a freaking blast. And I have to say the amount of progress that everyone has made behind the scenes, in terms of the technology and what they're able to do from the first season to the second season is kind of mind-blowing." One character who looks to benefit greatly from the upgrade? "The Child" aka Baby Yoda: "Legacy Effects, who did the animatronics — I've worked with them many, many times over the years on 'Terminator' and 'Jurassic' — and they're just constantly improving upon that process of essentially puppeteering and that art form. So, with Baby first season to second season, I'm like 'Is Baby conscious? Like has Baby experienced singularity?'"
Set between the events in Return of the Jedi and The Force Awakens, showrunner Jon Favreau and Dave Filoni's (The Clone Wars) The Mandalorian takes place after the fall of the Empire and before the emergence of the First Order and follows a lone gunfighter in the outer reaches of the galaxy far from the authority of the New Republic. Disney+'s The Mandalorian stars Pedro Pascal, Gina Carano, Nick Nolte, Giancarlo Esposito, Ming-Na Wen, Carl Weathers, Emily Swallow, Omid Abtahi, Werner Herzog, Taika Waititi, Bill Burr, and Mark Boone Jr. star.
Enjoyed this article? Share it!