FOX's second season of its runaway hit competition series The Masked Singer may have delivered it's most shocking reveal to date. This felt like one of the more polarizing episodes – either we felt certain about contestants… or we were at a complete loss.
So with that in mind… let's review the clues and performances to see if we can catch anything new the second time around.
It goes without saying, but just to be on the safe side… MAJOR SPOILERS ahead!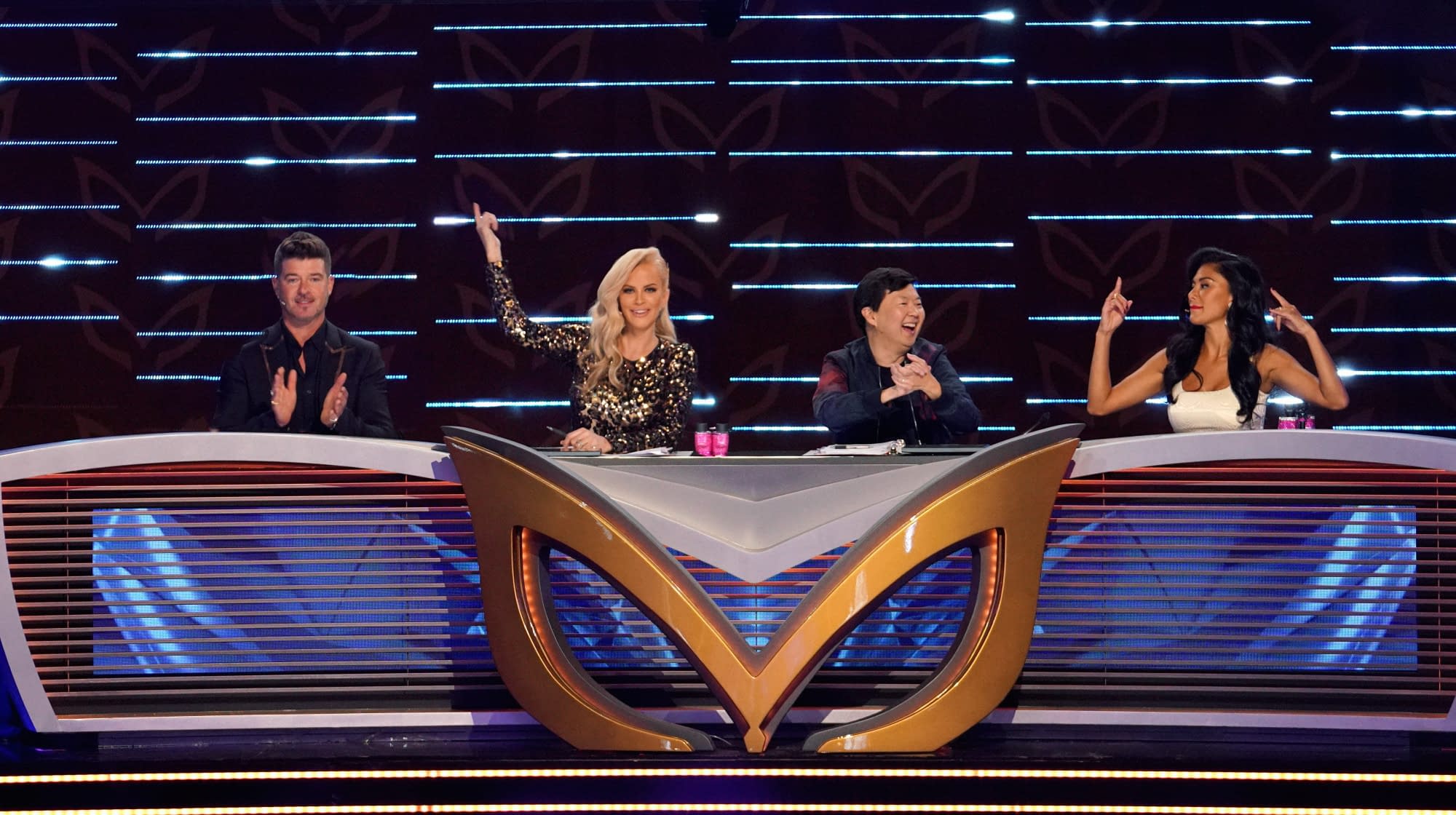 Rose
https://youtu.be/bx-0nkIjHek
Eagle
https://youtu.be/UM-4fiZyZ1o
Fox
https://youtu.be/dHQ-zVvvErk
Penguin
https://youtu.be/3RPpmro87lc
Showdown: "Battle of the Birds"
#EagleMask vs #PenguinMask #TheMaskedSinger be like… pic.twitter.com/VWrnWIeA1c

— Tiffany Tchobanian (#TiffsTake🎬) (@TalkTVwTiffany) October 10, 2019
In this corner: The Eagle!!!
https://youtu.be/6HSrc1Bwjp0
…and in this the corner – The Penguin!!!!
https://youtu.be/u2EaCM4TiHs
The Reveal!
Tiff's Take
● Dr. Drew Pinsky didn't even cross my mind!!! The Eagle costume was totally misleading. A few rock stars or patriotic people fit the look, but the singing voice did not match up with any of them. I was thinking of someone along the lines of Bret Michaels or Lenny Kravitz (although I don't know why he'd ever need to do the show). This might be one of the most mind-blowing reveals in The Masked Singer.
Awesome job on @MaskedSingerFOX @drdrew . @NicoleScherzy thought #EagleMask was me. #DrDrew had me thinking it was me too, lol. 🤘🏻🎸☠️ #TheMaskedSinger #BehindTheMask pic.twitter.com/VPHruE6s08

— Bret Michaels (@bretmichaels) October 11, 2019
● The judges believe Kathy Griffin is Penguin, but I disagree. Her voice and mannerisms don't fit. So I cheated and Googled "blacklisted female comedians." After all, it is part of the fun! I think Penguin could be Mo'Nique because her career has been full of drama that covers items on the "Hit List" – Classroom Bully, Comedy Club Owner, Hollywood Casting Director, Exes, The Press, Myself. Plus? She's a singer. Hmmm…
● The two masks I'm most certain about are Rose and Fox. Some clues are meant to deceive us, but those are the ones we can ignore. After their performances and the on-point hints, I'm willing to bet on these hunches: Rose is Patti LaBelle and Fox is Wayne Brady. It looks like the internet agrees with me but I'm still going off of my gut reaction while watching the episode live:
I'm getting Patti LaBell vibes from #RoseMask 🌹🤔 #TheMaskedSinger

— Tiffany Tchobanian (#TiffsTake🎬) (@TalkTVwTiffany) October 10, 2019
I know I've said this before but #FoxMask REALLY sings like @WayneBrady. No question about it. The clues totally fit. 💯 #TheMaskedSinger @MaskedSingerFOX

— Tiffany Tchobanian (#TiffsTake🎬) (@TalkTVwTiffany) October 10, 2019
Join the guessing game and tweet along with me on Wednesday nights @TalkTVwTiffany! (8 p.m. PST) – and join me here on Bleeding Cool every week as we break down the week's competition and prove just how amazingly bright we are… ;-)