Posted in: Opinion, TV | Tagged: bleeding cool, cable, Castiel, Chuck, Dean, drama, eric kripke, god, horror, Jack, sam, Season 15, streaming, Supernatural, television, the cw, thriller, tv, winchesters
---
How The CW's Supernatural Production Pause Could Help Its Final Run
The CW's Supernatural (and the world) finds itself in social Purgatory as the global coronavirus pandemic dictates a new normal for the world. And yes, it does almost feel like we are living in an episode. Chuck pressed the pause button on and is screwing with Team Free Will just to delay the inevitable finale. Much like Sam and Dean Winchester (Jared Padalecki and Jensen Ackles), the show is living on borrowed time with this sudden suspension. I'm not complaining, because filming would've wrapped by now and the Winchester Saga would be ending this May. Now, the highly-anticipated and bittersweet batch of final episodes (seven to be exact) have been put on hold indefinitely but with the goal of airing them later this year. Judging by EW's first look, it sounds like they're going to put us through a gambit of emotions in "Last Holiday," "Gimmie Shelter," and "Despair."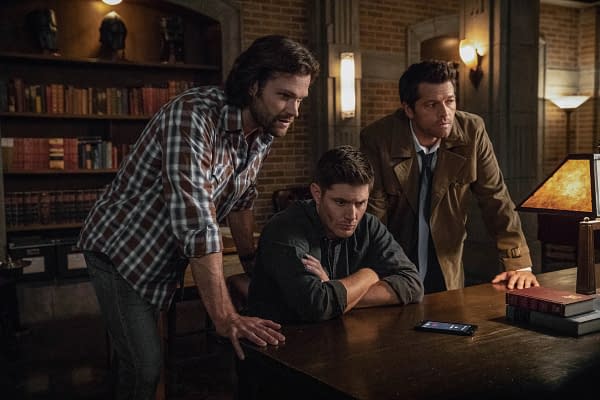 Watching Season 3's "A Very Supernatural Christmas" has become a family tradition and I still cry every damn year, now magine watching the boys celebrate all of the holidays. I'm a goner before the episode even airs. They are definitely going to pound us in the feels during the last few episodes. According to IMDB, the series finale is titled "Carry On." Cue Boyz II Men, pass the Kleenex and leave me in a puddle of tears. This member of the SPN Family isn't eager to let go. I'm already choked up over every "last" bit of press and all of the tear-jerking social media posts. When the boys cry, I cry. Whether it is on-screen or in real life. As of March 1st, the cast was gearing up for the final farewell. Padalecki's post on Ackles' birthday nearly brought me to tears when I first saw it. Seeing the August photo shoot that inspired this bromantic image makes even more moving.
Supernatural stars Ackles, Padalecki, and Mish Collins grace the cover of Entertainment Weekly in celebration of the series finale. Samantha Highfill's heartwarming tribute demonstrates why she has been a valuable member of the SPN Family from the beginning. Insightful interviews, stunning photos, and teary-eyed BTS videos reveal how the cast is letting it all sink in. I've shared many of Highfill's feelings over the years and her beautiful story captures the magic that made Supernatural a historic show. Like I've said before, at its core, this show isn't about myths and monsters. It's about family. That's why I've continued to love Supernatural, for better and for worse.
I shared my initial reaction to the news when Ackles, Padalecki, and Collins made the heartbreaking announcement on Instagram a year ago. I was sad, but not surprised. Like the Winchesters, the series' stars want to go out at the top of their game. I still believe they made the right decision. But I'm not mad about delaying the end either. This unfortunate break gives the cast and crew a chance to recharge after an overly emotional and arduous final season. When filming resumes, the boys will run on a full tank of gas and readily rev Baby up for one last ride.
"I feel like this almost gives us an opportunity to refocus and go into the last two episodes and hit them with everything we got. I think having this break might service the last few episodes better," Ackles tells EW. The showrunners and cast are not taking their farewell lightly. Padalecki says, "This COVID thing has been a crazy eye-opening of what the show has meant and the ultimate finality of it."
Instead of being in the frenzy of creating the last two episodes, the cast and crew get a chance to process their emotions and cherish their time together. I especially second Collins' sentiments, "One possible unintended benefit of it is that it will draw out the end of the show and we'll be able to savor the end for a little bit longer." Awww. Fans appreciate this level of importance and thoughtfulness placed on the remaining episodes.
Let's End Supernatural with 15 Seasons and a Movie
Supernatural has always been a labor of love, both on camera and behind the scenes. Robert Singer (co-showrunner) is concerned about picking-up from where they left-off, "Knowing that this is the end, that makes it a little more difficult. Now, at the end of the day, it's a television show and what we're going through in the world is pretty horrific. But if it was any other season I don't think we'd be feeling quite as stressed about it as we are now." But what if there is a better solution to this awkward pause? We've seen seasons split up before. Hell, we've even seen comeback cinematic finales and sequels. After 15 seasons, Supernatural deserves to go out with a boisterous bang. One hour is not enough time to end an era. At least, not for me.
Here's my hope: Supernatural's final two episodes are turned into a special movie event, like Timeless' "The Miracle of Christmas" and the Psych movies. Doing a movie gives the series finale the kind of gravitas it deserves. It worked well for Smallville, so I'm surprised it hasn't been scheduled that way. Also, a movie could set the precedent for future installments. After all, the actors never shut down the idea of playing Sam and Dean again.
There's been plenty of talk over the years on how a theatrical Supernatural movie would look. Based on Erik Kripke's Amazon Prime hit, The Boys, I'm assuming there'll be a lot more gore and sex. Plus, a movie budget could finally take the boys on a case overseas. (As long as Dean's okay with flying or sailing there). With Supernatural's increasing popularity on Netflix, their endless support from The CW, and a cast and crew that's family, I can definitely see a few more resurrections in store for the Winchesters. As far as the SPN Family is concerned, the boys will always have more work to do.
---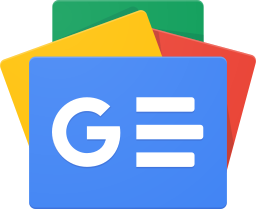 Stay up-to-date and support the site by following Bleeding Cool on Google News today!