"The Office" Co-Stars Jenna Fischer, Angela Kinsey Launching Show-Themed Podcast
Jenna Fischer and Angela Kinsey, who starred on the acclaimed NBC comedy The Office, want to give back to the fans who were with them since day one with their own weekly podcast called Office Ladies, where they review a memorable episode and provide behind-the-scenes stories – in part to commemorate the series' 15th anniversary.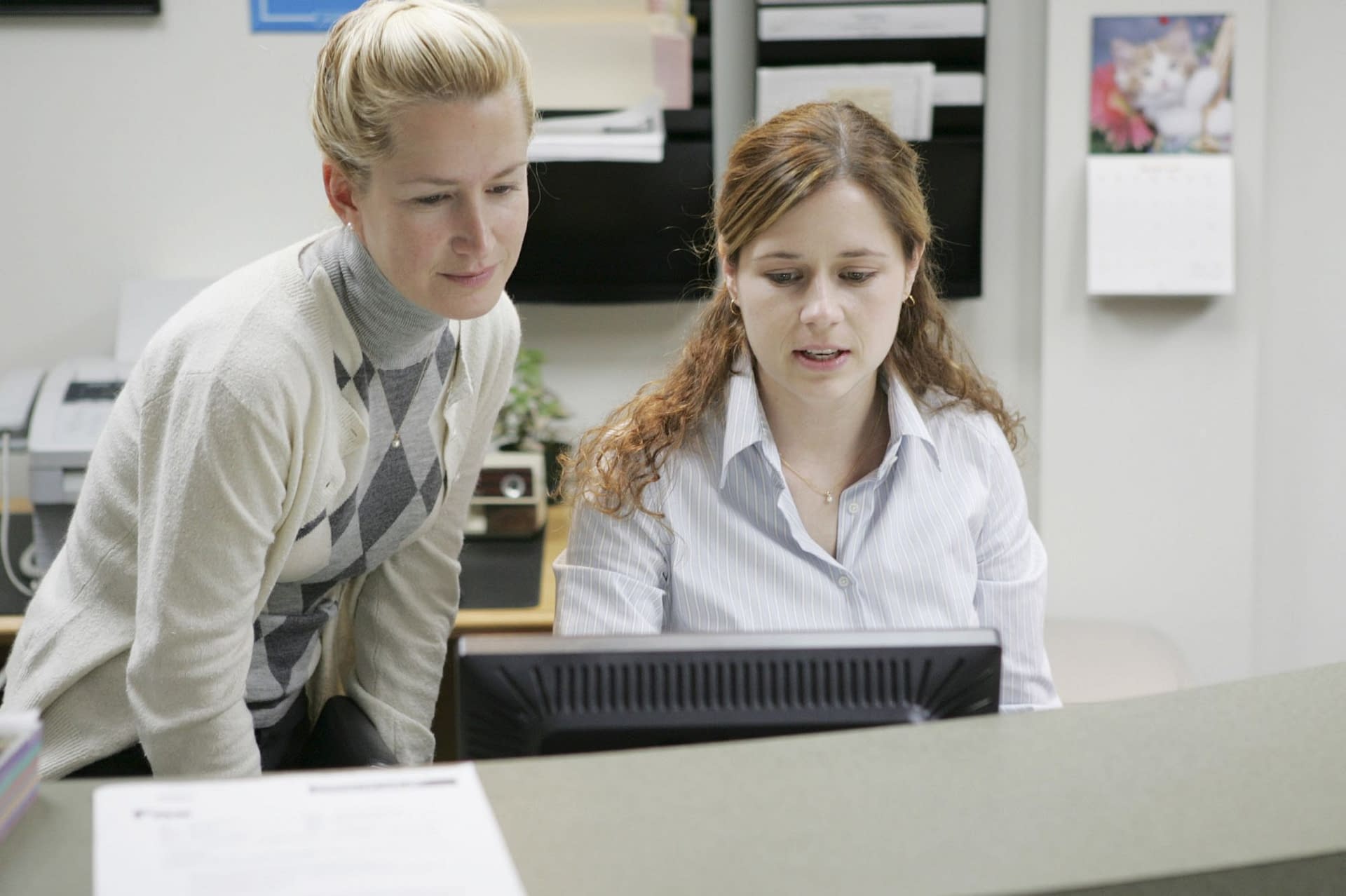 Based on the BBC television series of the same name created by star Ricky Gervais and Stephen Merchant, the two adapted the series for American audiences with Greg Daniels (King of the Hill). While the BBC show lasted three series, its American counterpart on NBC, lasted nine seasons (from 2005-2013), and is currently the 51st ranked show on IMDB – winning several Emmys.
The series also starred Steve Carell, Rainn Wilson, John Krasinski, Leslie David Baker, Brian Baumgartner, Phyllis Smith, Kate Flannery, Oscar Nuñez, B.J. Novak, Mindy Kaling, Ed Helms, and Craig Robinson.
Fischer (Pam) and Kinsey (Angela) became best friends during the show's run and will answer fan questions in addition to their anecdotes. There are no confirmed guests so far from the series, according to reporting from Collider. For Fischer, it will be a chance not only to share their lives on the set, but also offer a window into their lives outside the show.
"I'm excited to be working with my best friend Angela Kinsey. So many memories are flooding in as we go back and watch the episodes – many of which I haven't seen since they aired. As we close in on the 15th anniversary of the show, it seemed like a great time to share our stories and behind-the-scenes trivia with fans. Besides talking about The Office, you can also hear us chat a little about our lives, our Target runs together, our friendship through the years. It's a lot of fun."
For Kinsey, it's an opportunity to relive one of the best experiences in their lives:
"This show combines two of my favorite things: The Office and getting to hang out with my real life BFF, Jenna Fischer! The Office was such an amazing chapter of our lives and it means so much to us that we get to share some of our memories of filming it with our audiences. There'll be lots of behind-the-scenes stories and lots of us just being BFFs. So come on! What are you waiting for? Snuggle up next to me and Jenna on the sofa and let's rewatch The Office together!"
The podcast is set to be part of Earwolf Podcast Network and launches October 16th. In the meantime, you can reminisce their time on The Office on Netflix – until the beginning of 2020 when it leaves for WarnerMedia's HBO Max.